Hi! Like everyone does, I love Taylor Swift! She is my role model and always helps when times are hard. Whenever i get frustrated I run to my room and listen to her songs, because they make me forget about my life, and go to a peaceful place, where everything is right, and i don't have any mean 'friends' to deal with, no humiliations, no yelling, no fighting, because her songs are so nice. I became a Swiftie January of 2011, and i have been ever since, and i will be forever, There is no safer, place, fuller of peace, with me, than Taylor's songs. She has done so much for me, and i thanks her. : )

and if you could, please friend me, read my blogs, and visit my graphic shop. Long Live Taylor Swift. : )
Thankyou.



isn't Meredith so cute?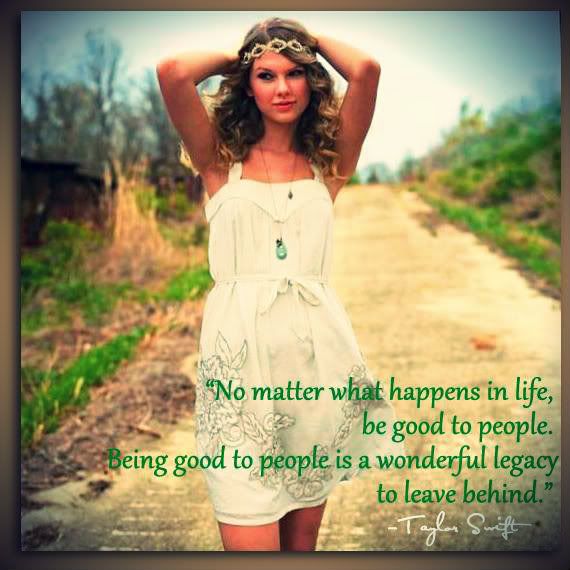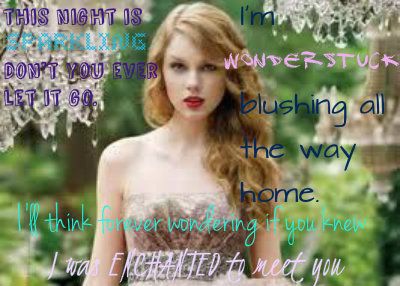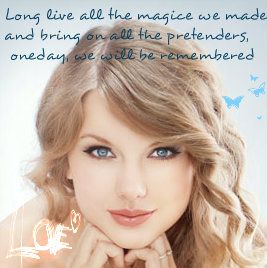 "To me, "FEARLESS" is not the absence of fear. It's not being completely unafraid. To me, FEARLESS is having fears. FEARLESS is having doubts. Lots of them. To me, FEARLESS is living in spite of those things that scare you to death. FEARLESS is falling madly in love again, even though you've been hurt before. FEARLESS is walking into your freshmen year of high school at fifteen. FEARLESS is getting back up and fighting for what you want over and over again… even though every time you've tried before, you've lost. It's FEARLESS to have faith that someday things will change. FEARLESS is having the courage to say goodbye to someone who only hurts you, even if you can't breathe without them. I think it's FEARLESS to fall for your best friend, even though he's in love with someone else. And when someone apologizes to you enough times for things they'll never stop doing, I think it's FEARLESS to stop believing them. It's FEARLESS to say "you're NOT sorry", and walk away. I think loving someone despite what people think is FEARLESS. I think allowing yourself to cry on the bathroom floor is FEARLESS. Letting go is FEARLESS. Then, moving on and being alright…That'sFEARLESS too. But no matter what love throws at you, you have to believe in it. You have to believe in love stories and prince charmings and happily ever after. That's why I write these songs. Because I think love is FEARLESS."
~Taylor Swift

Taylor Swift Taught Me:
to be FEARLESS and to SPEAK NOW
to BREATHE
i'm not just someone on THE OUTSIDE. i am not INVISIBLE. i have A PLACE IN THIS WORLD
to be INNOCENT and to NEVER GROW UP
STAY BEAUTIFUL and never CHANGE becuase i have A PERFECTLY GOOD HEART
how to say YOU'RE NOT SORRY and WE ARE NEVER GETTING BACK TOGETHER
and when to say it's MINE instead of it's OURS
she said i'll be SAFE & SOUND if i keep my EYES OPEN
that i am UNTOUCHABLE
and to ignore those MEAN people
that sometimes it's ok to let TEARDROPS ON MY GUITAR
now i have the confidence to say HEY STEPHEN i am ENCHANTED by you because whenever we touch SPARKS FLY
there's nothing wrong with being HAUNTED by a LAST KISS
the BEST DAY doesn't always have to be a LOVE STORY
she taught me to be BETTER THAN REVENGE
so LONG LIVE taylor swift FOREVER AND ALWAYS




Taylor Swift's new album RED!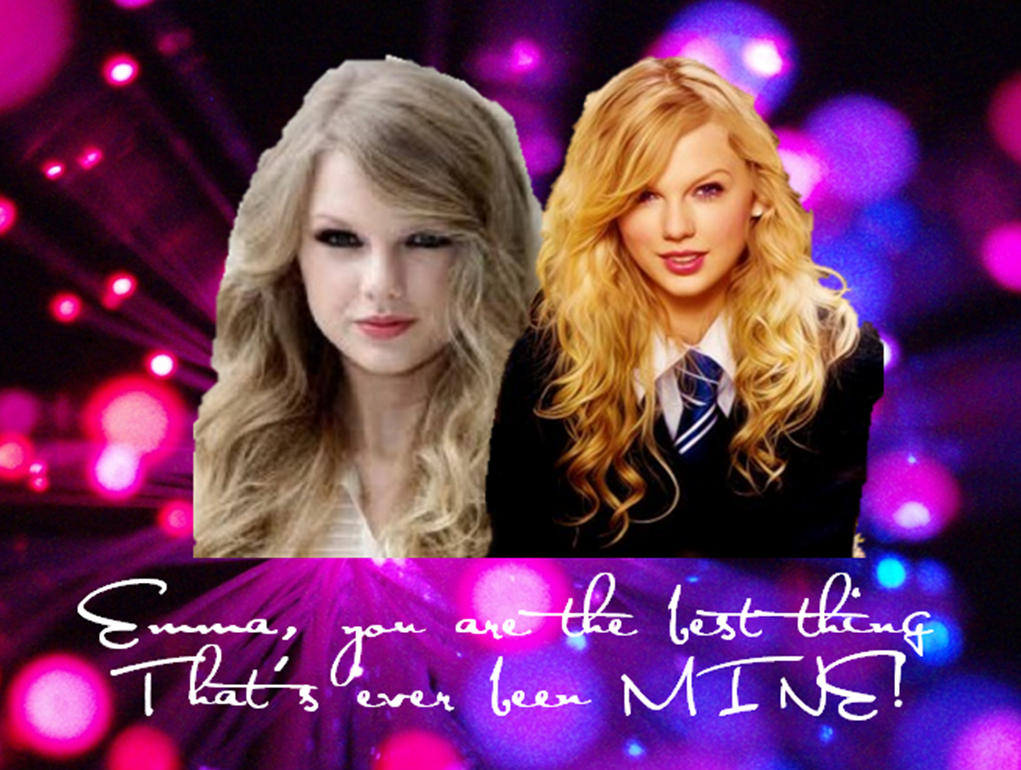 This is from my bff, Chanelle, the best thing that has ever been mine. =)

I am accepting orders for graphic, so just send me a comment or message, and you'll get one as soon as possible. Thanks! =)

I LOVE YOU TAYLOR SWIFT! LONG LIVE!!! =P
Happy Birthday Taylor! It has now been another year of inspiring, singing, writing songs, caring, having fun, being your self, showing others how to be themselves, and loving. Thankyou for being the amazing person you are today. If you ever need anything, your fans are here for you, just like you were there for me, and everyone else when we needed you. Enjoy your enchanting birthday, and...