H



By Dani_pazL! It's amazing!!!! 



Thanks Trixie Swift!!

[url=http://taylorswift.com/forum/all_things_taylor/1981231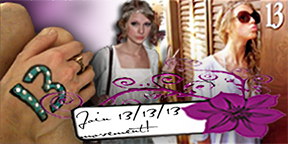 Hey swifties! Here's a quick intro about me. I love love love times 13 Taylor 
swift! I first heard teardrops on my guitar on a clip for radio Disney top ten countdown then announced to my mom on the way to school when it was on the radio that I knew this song! I forgot about then started hearing you belong with me and love story. I didn't know who they were by until my parents decided to get me the fearless album as a gift! I listened to two songs on there and memorized them. I then got speak now and LOVED it! I got her first 
album and then listened to all of them all the way through. I then became a swiftie. One day I wrote a letter to Taylor and read it out loud to my mom. In the letter I included that I hoped to get tickets to her concert in July. Then my mom said maybe we could!!!! I was really really excited!!!!! My aunt hooked us up with tickets and in that time I became an even bigger swiftie! I attempted to get into tparty but didn't because i found out about it the day before the concert and didn't have enough time ti make a good enough poster but I still enjoyed it! And now today here I am spending every free moment on Taylor, spending every penny on taylor merch,etc. Remember to stay beautiful, never grow up, be fearless, and speak now!
Love love love- H



graphic by fearlessforever13! love it!


GIFSoup


GIFSoup



Have you met Taylor? If not then join!!



cody simpson and alli simpson pictures


Three of my fave people!

favorite taylor quote as of right now!


made by me

by me!!


by me :)
TC hasn't been working for me lately. I ge busy and I have a social life and other things I'm interested in like a normal 13 year old girl. I loved every minute of TC and I think it's absolutely wonderful. If you ever complimented me or talked to me I love you. I got to talk to some of my idols on here even (shoutout to maddy, Morgan, Emma, and Bethan <3) I have had experience with graphic...