Hello there! Thanks for visiting my Taylor Connect profile! I'm
Eliza
. I'm
13
years old and I'm from the
Philippines
. Go add me, give comments on my profile, send me messages, and let's be friends!
FACTS ABOUT ME THAT ARE RELATED TO TAYLOR
1. My favorite Taylor song is
A Place In This World
because the tune is nice and I can really relate to it.
2. I became a Taylor
fan
when I heard Teardrops On My Guitar on the radio last 2007.
3. I became a
Swifty
when Fearless came out last 2008. I was 10 years old then.
4. I've been to a
Speak Now Concert
in Manila, Philippines last
February 19, 2011
. It was the best day of my life.. like ever. Mama Swift even said hi to me!
5. My class number since my freshman year in high school (I'm in my sophomore year.) is 13.
6. My freshman batch jersey number is 13. I'm planning to use it for the sophomore one.
The Swifty ID above is made by the oh-so-amazing
thatlittleREDdress
!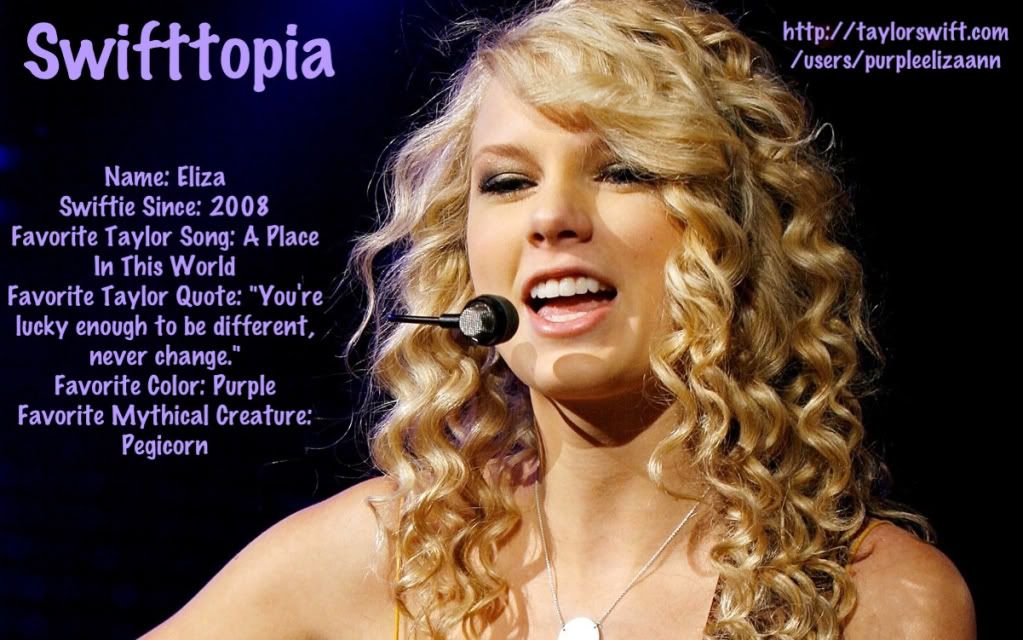 Late 2010. I was in Grade 6. Speak Now World Tour: Manila, Philippines, on February 19, 2011, at the Araneta Coliseum. OH MY GOD, I thought to myself. This was real! I couldn't believe the news. I can finally meet my favorite singer, my role model! I called my parents the moment I got the news and they said yes! The tickets were their graduation gift for me. I was really happy and excited....