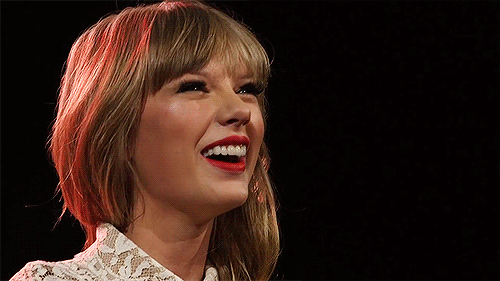 Hello Guys! My name is Sara, I am 17 years old and live in a small town in Germany. Taylor always meant a lot to me but since I went to her Speak Now concert in March 2011, I knew she would stay in my life forever. I had a really hard time in late 2011 and that was when I completely turned to Taylor, because she was the only one who understood what I was going through. Since then she is my favourite person in the world and an inspiring role model to me. Without her I wouldn't be who I am today, I would probably be one of these "cool" girls, going to parties every friday night and drinking too much alcohol. So Taylor kinda saved my life, not because I would be dead without her, but I would've wasted my life away. Because of her I found real friends and prefer staying at home, reading, instead of going to cool parties. That kinda turned me into a wallflower, because the cool kids at school are ignoring me, thinking they are so much better, but I don't care. I have real friends, maybe not eighty of them, but five really close ones. And I have Taylor. She will be by my side, no matter what. She is my heartbeat. She is the only reason why I make it through highschool and my teenage years. To be honest, she is my whole world.




I really love writing stories, I always have so much ideas in my head! Little stories about fantastic creatures and love stories, but most of the time, I am not patient enough to write all of them down. But I still hope I can be a writer someday, sharing my ideas with other people would be the most beautiful gift in the world. I also love reading, I am a total bookworm and I can't stop buying new books, even though I still have enough books to read. I really, really love the UK, I just went to London this spring and I immediately fell for this beautiful city. I have never seen a city that shining, sparkling and breathtaking. I really hope that I can live there someday, maybe not London, but Great Britain in general. Besides Taylor my favourite singer is Colbie Caillat, she is such an angel and her voice is so amazing! I hope she and Taylor will make another duet someday because both of her voices have improved so much! Another obsession is country music. I think I am the only person in my little town who loves country music. Everyone is just listening to the latest hits on the radio. Taylor, even though she isn't really country anymore, introduced me to country music, country musicians are just so real. Their music is so honest and rare that I can relate to every song. They are not afraid of sharing their stories and their experiences with the world and I am really proud to be a listener of that genre.
Thank you so much for reading this, I love you so much and I hope you feel loved every single day of your life, because you deserve it to feel loved. Thank you. -Sara




It was always my biggest dream to meet Taylor. I always dreamed of it. And then it happened and I still have no idea how I deserved that. Here you can read my story: http://thenewromantics1989.tumblr.com/post/76218699106/how-i-met-taylor-alison-swift-i-never-thought

https://twitter.com/#!/riskagoodbye

http://muchsweeterthanfiction.tumblr.com


Well, I got really excited when I saw the London Tour Dates more than one week ago and since then I just realized that it is possible for the other dates for europe to come out every single day. So I got really nervous everytime I turned on my Laptop but all the news were just like: "Taylor added a 4th London show!" and "Taylor added a 5th London show!" and "Taylor announces special guest stars...