Hi! I'm Catherine, but you can also call me Two Headlights Shine. I have also been named Maple Lattes and LikeAPerfectRhyme. I love making graphics and writing songs. I also LOVE Taylor Swift! (No duh!) I got to Speak Now on 10.22.11 I started liking Taylor about 4 years ago, when Fearless came out. I had heard You Belong With Me on the radio several times and I liked it. I started to like Taylor more and more, listening to her songs on YouTube. Then my sister got me Fearless for Christmas. I have been hooked ever since. I also like Demi Lovato, Selena Gomez, Carrie Underwood, Adele, Carly Rae Jepsen and some more. I like to watch Doctor Who, Psych, The Office, Law and Order, and a ton more that I'm not going to list. :)

My life in Taylor GIFs:
I am born:



I discover that I love to sing:



I discover that I am not the oldest, I am the youngest:



My mother starts homeschooling me:



I hear You Belong With Me:



I get Fearless:



My brother goes to college/my parents get divorced:



I go to the Speak Now World Tour:



I hear WANEGBT:



I get RED:



And that is the end of My GIF rant. If you read it you are AWESOME.

Here are my songwriting awards(you can find my songs in my blogs!)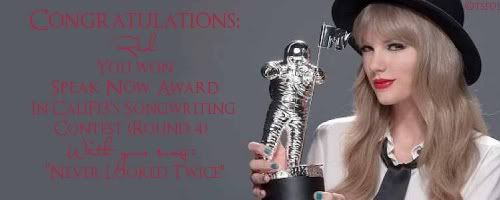 And here are some of my awards for graphic contests!


Lots of Love,
Maple Lattes
I am learning guitar and I'm soooooooooo excited!!!