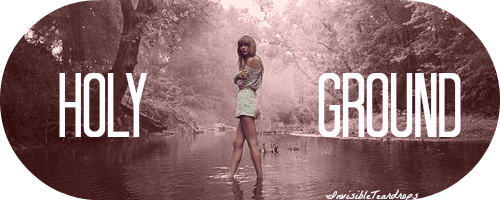 Hey! Welcome to my profile! I'm InvisibleTeardrops, and I'm thirteen. :D My best friend and fellow Merlin fan is HauntedForever :3
I changed my avatar from 'Dear John' to 'I Knew You Were Trouble' c:
I like playing guitar, singing and writing songs, but I always forget my own tunes. *facepalm*
My lucky number is 22, and I may have freaked out when I saw there was a song called 22, there's 22 tracks on the Red Deluxe Edition (which I have) and Taylor is 22. It's a sign ;)

I'm a British Swiftie, I guess you could say I have a 'posh voice', but to be honest I really want an Irish accent. :P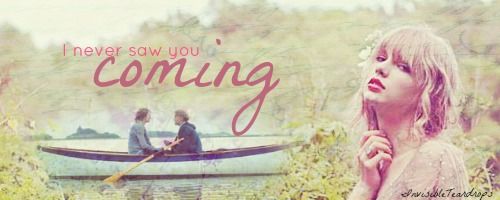 I LOVELOVELOVE...
-Taylor and her music
-Merlin ;D
-my awesome friends and family :D
- Les Miserables! :D

My username is derived from two of the most meaningful Taylor songs, for me. Teardrops on My Guitar and Invisible, both about loving someone who doesn't notice.

I don't have a favourite Taylor song because they're all so good but it's usually the one I relate to most at the time..
I like Merlin, so expect fangirling if I find something about it here. :P
I also like Sherlock, Doctor Who, and Les Miserables. Mention Enjolras once in a while, and I'll be the happiest fangirl in the world. :P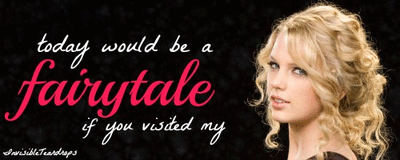 My Taylor Story
I first heard Taylor's music at a bowling alley. :D
They had the music video for Teardrops on My Guitar playing on one of the TVs, and I found myself just watching it instead of actually bowling. I couldn't remember the name of the girl singing (TAYLOR), so I left it for a while.
My mum then bought me Fearless a couple of months later. I loved it immediately and was pleased to find that on the UK version they had Teardrops on My Guitar, which quickly became my favourite.
I liked her music but only became a Swiftie after I bought Speak Now in early 2012. Now I'm addicted, and I've also got the deluxe edition of Red which has been on repeat since I got it xD
I've never been to a Taylor concert but I'd love to, perhaps the Red tour will be my time,once it's in Britain :3
And that concludes my Taylor story! :D



I may also have a tendency to go all geography nerd on you, sorry about that. xD
I've also discovered a love of songwriting since joining Taylor Connect! Yay! :D


Another update about like (months later) I forgot my Taylor Connect password. I haven't been on here in months xD Since I was last here, I found a love of Sherlock, Les Miserables, Doctor Who, Tangled, and many other things..... I'm still a fangirl. :P

Colin Morgan, AKA Merlin, AKA the best actor EVER.
\/



-when you think Tim McGraw, I hope you think of me - you're just another picture to burn - he's the reason for the teardrops on my guitar - trying to find a place in this world - I've never been anywhere as cold as you - I've never been on the outside - you're tied together with a smile but you're coming undone - I hope your life leads you back to my door, but if it don't, stay beautiful - you should've said no , baby and you might still have me - Our mamas rolled their eyes and said oh, my my my - our song is the way you laugh - and I'm only me when I'm with you - like shadows in a faded light, oh we're invisible - why would you wanna break a perfectly good heart? - with you I'd dance in a storm in my best dress, fearless - when you're fifteen , don't forget to look before you fall - it's a love story, baby just say yes - hey stephen, I know looks can be deceiving but I know I saw a light in you - now it's too late for you and your white horse to come around - why can't you see you belong with me - I can't breathe without you, but I have to - I know that you see what you're doing to me, tell me why - I don't believe you baby like I did before, you're not sorry - you're so in love that you act insane, and that's the way I loved you - 'cause I was there when you said forever and always - but I know I had the best day with you today - these things will change - you are the best thing that's ever been mine - I see sparks fly whenever you smile - I go back to december all the time - and they said speak now - dear john, I see it all now that you're gone - some day I'll be living in a big old city, and all you're ever gonna be is mean - and the story of us looks a lot like a tragedy now - just try to never grow up - I was enchanted to meet you - there is nothing I do better than revenge - you're still an innocent - can't turn back now, I'm haunted - never thought we'd have our last kiss - long live the walls we crashed through - this is a state of grace - loving him was red - this hope is treacherous - I knew you were trouble when you walked in - I remember it all too well - everything will be alright if we just keep dancing like we're 22 - every time I don't, I almost do - this time, I'm telling you, I'm telling you... we are never ever getting back together - I think it's best if we both stay, stay, stay - this is the last time I'm asking you this - and right there where we stood is holy ground - what a sad beautiful tragic love affair - can you tell me you're the lucky one? - all I know since yesterday is everything has changed - dancing like we're made of starlight - but on a Wednesday, in a cafe, I watched it begin again - but there was one thing missing, and that was the moment I knew - I don't wanna miss you in this way.. come back...be here - don't look at me, you got a girl at home and everybody knows that -


I won third place in a round of DjSwift's graphics contest! Proud :D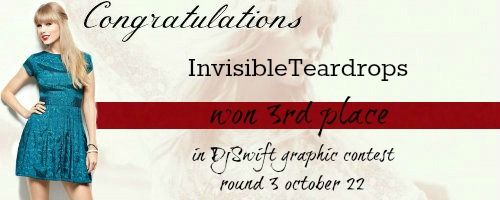 First place in a round of SwiftieKat's songwriting contest! I legitimately freaked out when I heard this.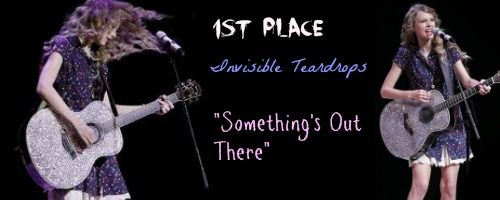 I got second place! I was really pleased c:

ME :D I haven't been here for months!! It's nice to be back again :D Not much has changed in terms of layout, which is nice, I can find my way around. :3 I might not be on much - having kind of forgotten my password and then not really remembering to come on here after I got it back - but I'll make an appearance once in a while. :P Basically, I'm really sorry if I didn't reply...