(credited to TheWorldsBiggestTaylorFan)


(credited to BabyJustSayYes13)


(credited to STAY STAY MINE FOREVER 13)











(credited to taylorredlover)

Source: Uploaded by user via Kristen Renee' on Pinterest
(credited to FearlessGirlWithAGuitar)
Source: s1278.beta.photobucket.com via Kristen Renee' on Pinterest
(credited to RockStarRonan)
(credited to Taylorisamazing)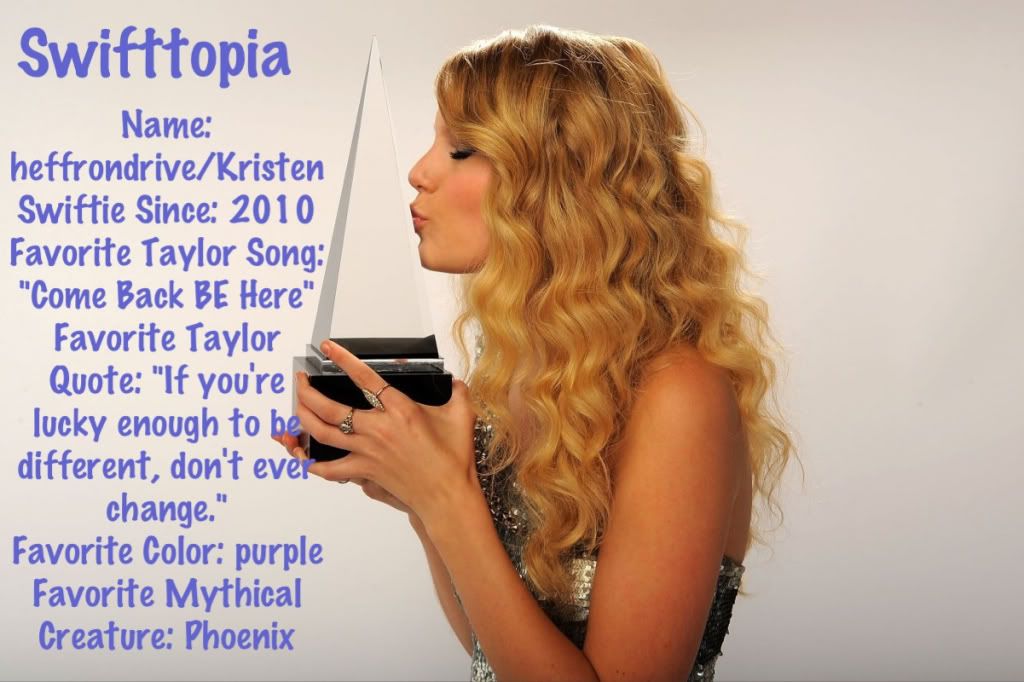 Hello beautiful Swifites!!! I am Kristen, aka heffrondrive!!! Welcome to my (messy) profile! One of my favorite quotes is "Life's too short to be organized." - Kendall Schmidt, so that shall be applied to my profile as it is to the rest of my life :).
Let's start at the beginning- my username. Heffron Drive is my band. Well, not really, at least not yet! I dream of one day joining the band as a backup singer/songwriter. The two current members are Dustin Belt and Kendall Schmidt. The three of us were in my old profile picture. I met them and Logan Henderson on May 11, 2013, in Ocala, FL, an "i was enchanted to meet you" moment i shall never ever forget :)
Okay, moving on from my brief fangirl-moment, let's get to know me! That's the point of a profile, right? Hi, I'm Kristen! The most important thing about me is that I am a very, very strong Christian. I'd be absolutely nothing and nowhere without my Jesus. I am an identical twin and a big sister. I have a dog named Marco, who's quite cute! I wish i had a potbellied pig, though! :) I'm 17, born July 31st. . I write like there is no tomorrow. One of my teachers once used the term "prolific writer", and i think that describes me pretty well!
On TC, I am a songwriter. I am also the host of the T Factor: Ultimate Songwriting Battle.
In real life, I'm actually a pretty introverted person. I'm a dedicated Lovatic, Rusher, Driver, and Swiftie. I believe in dreaming in impossible things because for me, those are the dreams that come true :)
13 facts About Me!!
1. I can speak American Sign Language.
2. I've been published 3 times as a poet.
3. I'm left-handed, but i was born ambidextrious (able to write with both hands).
4. I love cooking and baking.
5. My favorite author is Robin Jones Gunn. I wrote her a letter, and she wrote back!!
6. I've taken up story writing.
7. My favorite colors are purple, red, black, and pink.
8. I want to learn to skateboard.
9. I'm the younger twin by a minute.
10. I'm a senior in high school.
11. I like moustaches!!!
12. I hate being called "smart." I'd rather be recognized for something I actually accomplished, like writing or a play.
13. my favorite Taylor song is "Superman."
(credited to sm160)
13 Music Artists I Love!
1. Demi Lovato
2. Heffron Drive
3. Big Time Rush
4. Taylor Swift
5. Katelyn Tarver
6. Jamie Grace
7. Rachel Chan
8. Hunter Hayes
9. Ravenna
10. Tara J. King
11. JONAS LA soundtrack
12. High School Musical cast
13. Camp Rock cast
13 Random Things I love!!!
1. Maggie Stiefvater books
2. 90's shows
3. Boy Meets World
4. matzo ball soup
5. onions
6. acoustic music
7. Full House
8. Big Time Rush!!!!!
9. the beach
10. England
11. notebooks and pens
12. heart-to-heart talks
13. being goofy :)
"It is good to give thanks to the LORD, to sing praises to your name, O Most High..."- Psalm 92:1
"I can do all this through Him who gives me strength."- Philippians 4:13
/www.quizopolis.com/taylor-swift-song-name/name-generator/5197/">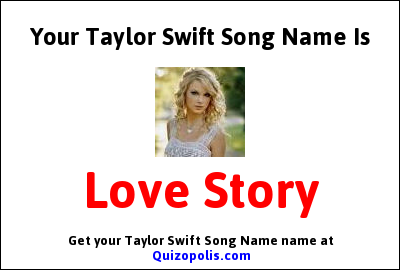 (credited to xolovinghimwasredxo)
(credited to 22Red)

(credited to MollySwift13)


Hello beautiful Swifties! This one is for the songwriters! My songwriting contest The T Factor: Ultimate Songwriting Challenge is back for a fourth season, and I'd be enchanted if you'd check it out! Click here and audition, pretty please! Oh, and we also need someone to make graphics, so please let me know if you want to! Thanks! Stay strong and fearless, Kristen