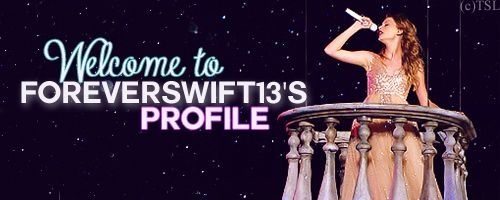 My name's Megan, but you can call me Megs if you like

I'm a huge, commited, loving, dedicated, to the ends of the earth, devoted, forever and always, wholehearted Swiftie. I became a Swiftie in 2008, when I first heard Love Story. That song really struck a chord with me, and introduced me to so much more than just Taylor, it opened up my hopeless romanticness (I was just 11 at the time!), it introduced me to country, and made me the music fanatic I am today. I have Taylor to thank for all of that.

Taylor. Taylor is everything to me. She is such an important part of my life, and people mock me, or tell I'm too obsessed with her, but it's not there's to speculate if it's wrong. Taylor has done more for me than most of those people could even comprehend, so I honestly don't care about their opinion. Taylor's cried with me through the tough times, and made my life shine even brighter through the good. She's made me the person I am today, someone I am happy to be. Taylor taught me that it's okay to be different, and that you shouldn't change who you are for anyone - and slowly I am completely learning this, even though it isn't always easy. All I really want is to be able to thank Taylor for the magnificent impact she's had on my life, but even that wouldn't be enough - she was there for me when I felt like I had noone, and no 'thank you' can show someone just how much that means, but it's a start. Taylor's helped to create who I am, she's made me a much more positive person, she's taught me to channel my feelings, to Speak Now and ultimately, to lead a Fearless life. Above all she's given me something, and someone I can always believe in.

Being a Swiftie makes my whole world much more radiant, the buzz I get from seeing a Taylor tweet, watching a video, listening to a song, or buying a magazine, or some merchandise is something I never want to disappear from my life.

Going to a proper Taylor concert is a huge dream of mine, it's frustrating due to the fact that I've been a fan since before the Fearless tour, but I wasn't able to go. The same thing happened with the Speak Now tour, and I am determined it will not happen for Red. I've been saving my money for nearly three years now, and I will go to that concert! Hopefully more than once.

07/10/12 was the best day. It was the day I finally got to see Taylor. It was the Teen Awards and I can't tell you how amazing, and stunning that day was. On every level. When The Agency came on stage I was going crazy, loads of people around me where oblivious to who they were but I was screaming and jumping going crazy and Caitlin waved at me. I will never, ever, ever forget that moment. It was the most exciting, fantastic thing ever - I am so grateful for that wave. At this point I was in floods of tears, however when Taylor came on stage, I was completely awe-stricken, it was like time had stopped. I couldn't cry, I couldn't do anything apart from sing my heart out! It all felt so surreal and when I got home I was just so so happy, and then it all came back to me, it makes me cry thinking about it, but I'm so so grateful for that day. To my amazing Daddy for driving me and my friends to Wembley, to Taylor's management for agreeing to Taylor performing in London, to BBC for arranging this stunning event, to all the volunteers who worked so hard to make it all possible, and of course, as always, to you Taylor. Thank you for making the 7th October 2012 one of the best days of my whole life.

I find it really difficult to put my feelings into words with Taylor, it's like my heart swells with everything she does. I feel like I can't love or look up to her anymore, yet she does it every time! She always finds a way to make me love her even more than I felt possible. Taylor's made me grow up seeing things in certain ways, because of her I love sparkles, and pretty dresses, and guitars, and melodies, and lyrics, and winter, and autumn leaves, and Nashville, and baking and cats. All things I loved anyway, but I love them all the more for Taylor. She's made me whimsical, a dreamer, a lover, a believer.

As I mentioned above, music is my world. It's another thing I can't describe, but I feel like I understand and love it more than many of the people around me, who take it for granted. It's so important and special to me. I am a huge fan of Taylor (obviously!), Parachute are my absolute second favourites *and my favourite band*, I love Will in particular
aside from those two I love Safetysuit, Switchfoot, The Band Perry, Coldplay, Colbie Caillat, Ed Sheeran, Demi Lovato, fun., Lady Antebellum, Owl City and Rascal Flatts, to name a few. Music is my shining light, my favourite thing in the world.

I'm gonna dedicate this next part of my profile to Parachute. Besides from Taylor they are my absolute world. I adore them with all my heart, their music and their humor and most of all their lyrics! I fall more in love with them every day. They've helped me through a lot of bad days and I will never be able to thank them enough for it. They are so adorable and their songs make me so happy and hopeful for everything. I can't really describe it but when I hear their music I picture how I want my life to be, it makes me feel so optimistic for the future, and I love them for making me feel that way. Thank you guys. I love you more than you'll ever know!


I love him so much omg.



I play guitar because of Taylor. I'm not particuarly good at it, I'm self taught and I don't get a whole lot of time for it, but I do try. I adore and love my family. They're always, always there for me and I will never be able to thank them enough - but I hope they know that I love them to the moon and back. I also love reading. I adore romantic teen books, which are hugely cliche and obvious - but I love them all the same - Sarah Dessen is my favourite, her ability of creating characters and scenes is astounding, I feel like I am the girl in the book. I want my own Dexter, Dave, Eli, Owen or Nate. I'm the same with films - anything teeny and adorable. I just love love, and relationships. And all I really want to accomplish in my life is having a relationship where you never tire of the other person. I want someone I can bake with, watch cheesy films with, have waterfights with, dance in a storm with, someone who will go to Taylor Swift concerts with me and travel the world, who will help me start my own record label up in Nashville (another dream of mine). I just want someone who loves me for me. I want a fairytale ending.

And obviously, my huge, outrageous, out of this world, manic, crazy dream is to meet the one, and only, Taylor Alison Swift. My role model and my best friend. If that never happens, I hope you know Taylor, that I love you, and I will always be thankful to you for everything.

I love making new friends, even if I am a little awkward sometimes, so please drop a comment and say hi, I'd be enchanted to meet you.


all my love love love



Took me more than a day to do this but heyyy! day 2. one female celebrity you would like to meet? This one's obvious! The one, the only Taylor Swift! I could list why but it would literally be too long and take me hours and hours and hours and possibly even days. She means everything to me and that is all!