^Thanks to ImJustGonnaShake Clockwork Design's graphic shop

You may know me from somewhere else, so if you are wondering, I thought I'd put my social Taylor Swift accounts info here:
-Twitter= @TaylorSMontreal
https://twitter.com/TaylorSMontreal
-Facebook Page: https://www.facebook.com/PaintThisTownRedBringTaylorToMontreal
It's specific to Montreal, but anyone is welcome, and I post a lot of stuff about Taylor in general, or also Taylor in Canada in general.
Pinterest: This is the link to my Taylor Swift board:
http://www.pinterest.com/dancetothisbeat/taylor-swift/
Tumblr: I am being a swiftie: http://beingaswiftie.tumblr.com/




Graphic by me^



Many thanks to the fabulous Maddie from Skyline Design! Go check her out, she is awesome :)

Join the Our Song Vevo Certified Project!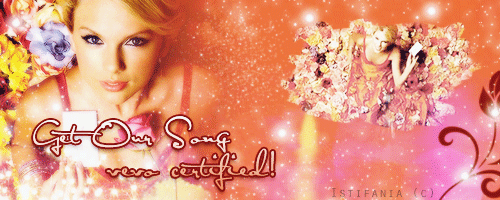 Thanks to the fantasticly talented iloveyourhandshake from Cascade Designs!

My favorite musical artists at the moment, not including Taylor Swift, because that is just obvious.



(made by me)

Please, have a laugh!

Hey, if anyone is interrested, I am selling a magazine on ebay. It's actually my first sell! I know the shipping is expensive, but it's actually what it costs, as magazines are heavy. To me, this magazine has one of her best photoshoots ever. Magazine on ebay