Hi, I'm swiftie a long time - 6 years now! My name is Vicky and I'm 20!
I'm here often but I don't make anymore graphics shops and other stuffs because I don't come here everyday.
But I like meet new people and if you
add me as friend
I would be so
HAPPY!




Song which I humming to myself when I am doing something is IKYWT and now also sometimes Shake it OFF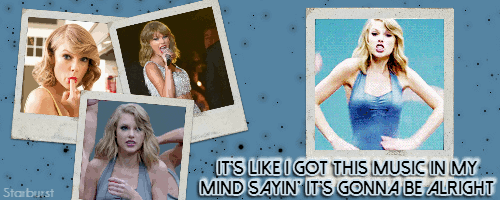 One of my biggest dream is meet Taylor - I know a chance to meet her personal is not big, but I hope that she will come to my country with her tour. Like c'mon OneRepublic was in November, Lady Gaga was here and even Ed Sheeran was in Latvia. So I hope so much that she will come to Latvia, too. So I'm very very EXCITED about 1989 tour!!!





After the 2014 olympic games I start watching hockey, because I realise it's pretty interesting!And my country is playing so good!




My favorite qoute from Taylor is:




1. Welcome to New York:
Kaleidoscope of loud heartbeats




2. Blank Space: You're the king baby I'm your queen



Audra

3. Style:
You got that James Dean daydream look in your eye
And I got that red lip classic thing that you like
4. Out of the Woods: Twenty stitches in a hospital room
5. All You Had to Do Was Stay: People like you always want back the love they pushed aside
But people like me are gone forever
When you say goodbye
6. Shake It Off: I go on too many dates
But I can't make them stay
7. I Wish You Would: I miss you too much to be mad anymore
8. Wildest Dreams: He's so tall, and handsome as hell.
He's so bad but he does it so well
9. Bad Blood: You live with ghosts
10. How You Get the Girl: Broke your heart, I'll put it back together
11. This Love: This love is glowing in the dark



Carol

12. I Know Places: They are the hunters, we are the foxes and we run.
13. Clean: I screamed so loud but no one heard a thing
-------------------------------------------------------------------------------------------------------
14. Wonderland: Didn't it all seem new and exciting
15. You R in Love: One night he wakes, strange look on his face
Pauses, then says, you're my best friend
And you knew what it was, he is in love
16. New Romantics: I could built a castle out of all the bricks they threw at me.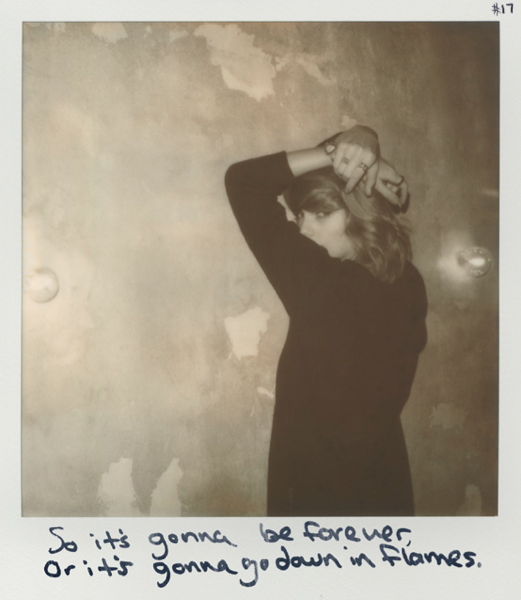 I like a lot of tv shows, I don't have one type but a lot of them are about medicine (Saving Hope, Trauma, Grey's anatomy..)




I think "Primeval" is one of the show who is unrated and it should have more series




In time I found out that I pretty much like a country music (not only Taylor's)




I have two cats




I'm bad at singing but I can dance ; D




I had a official Latvian page, but I had to delete because I didn't have a time to post a news in time, but I liked that experience and it was intresting.




My fave color is white and blue, I like dream catchers, I am weird and crazy in good way, I hate coffe, favorite place - Latvia, home and Estonia. I want go one day to France, see New York and London, be in Italy.
My fave thing in life - my life and my family.




"I have friends around me all the time. I've started painting more. I've been working out a lot. I've started to really take pride in being strong. I love the album I made. I love that I moved to New York. So in terms of being happy, I've never been closer to that." /TS/




Thanks for reading all this! : )





Thanks about graphics to: Nia;Emily; Starburst; ASecretStory; Mint; ShakeItOff; Starburst; justanotherday; Maddie; StarlightKath

No Items

There is nothing to display yet, check back soon.
Recent Blogs
No Items

There is nothing to display yet, check back soon.