Hey guys! I'm Copes :)

I am obsessed with music. Pretty much anything related to music, I love it. It should be obvious by the rest of my profile :) My favorite Swifty songs are probably Ours, Both of Us, Long Live, 22, and Picture to Burn. And I'm also currently obsessed with Haunted. But I pretty much like them all :) My friend Abby, who's written some really cool songs (go check them out! Her profile is "fearlessbroadwaybaby"), introduced me to this site, and it's so cool! It's a really neat community :)

Random Taylor gifs:

Beautimous. That is all.



Haha!



Me to that one person I can't stand -



Happens all the time.



So adorable!



Ohmygoodness I love this :)



Why is Taylor so stinking adorable???



And yet another



My favorite things:
Music: ALLOFIT Be it piano, guitar, spotify, soundcloud, YouTube, or anything else, you name it, I'm into it :)
Person: My guy. He's awesome, and cool, and is not afraid to say what he's thinking.
Color: I'd have to go with blue. But I like purple too :)
Song: Must I choose? Uhm, no. But I will list some of my favorite bands, with bunches of unnecessary gifs

Alex Goot - ALL of his covers. Especially California Gurls and This Kiss



Andy Grammer - Keep Your Head Up, Fine by Me



Coldplay - Paradise, Clocks, Viva La Vida, Life in Technicolor, Lost, Every Teardrop is a Waterfall



Enya - Oronico Flow, May it Be



Greyson Chance - Little London Girl, Unfriend You, Paparazzi, Waiting Outside the Lines



Hunter Hayes - Storm Warning, Everybody's Got Somebody but Me, Somebody's Heartbreak, Cry with You, A Thing About You



Hot Chelle Rae - Tonight Tonight, I Like It Like That, Downtown Girl, Radio



Imagine Dragons - Demons, My Fault, It's Time, Radioactive, Bleeding Out, Every Night, Cha-Ching



Journey - Separate Ways, Don't Stop Believing, Faithfully

(with a little kid history thrown in :))

Katy Perry - The One That Got Away, Hot N Cold, Part of Me, Roar



Maroon 5 - She Will be Loved, Payphone, Daylight, Never Gonna Leave This Bed



Matt Kearney - Hey Mama, Ships in the Night, Closer to Love, Nothing Left to Lose



Mayday Parade - Uhm, all of it? My current fave is Miserable at Best

[url=http://25.media.tumblr.com/tumblr_mdd73vpWNs1rrgjbqo1_500.gif]http://25.media.tumblr.com/tumblr_mdd73vpWNs1rrgjbqo1_500.gif[/url][img]

Michael Henry and Justin Robinett - All of their covers, especially Man in the Mirror, What the Hell, Separate Ways, Fall for You, Hallelujah

Never Shout Never - Same as Mayday Parade, FREAKINGALLOFIT. Faves right now are Happy, CheaterCheaterBestFriendEater, and Trouble.
[img][url=http://25.media.tumblr.com/tumblr_mcmohlqwIZ1reg25wo1_500.gif]http://25.media.tumblr.com/tumblr_mcmohlqwIZ1reg25wo1_500.gif[/url][img]

Newsies - Sure, not technically a band, but whatever. I love Carrying the Banner, King of New York, and Santa Fe especially.
[img="http://24.media.tumblr.com/tumblr_m9t0rjuO3k1r3rvfao8_250.gif" alt=""]


One Direction - Yes, I'm afraid I'm a bit of a Directionator. I really like Kiss You, WMYB, Best Song Ever, and One Thing



Owl City - If My Heart Was a House, Deer in the Headlights, Sunburn, When Can I See you Again



Phillip Phillips - Gone, Gone, Gone, and Home



Piano Guys - WMYB, LOTR, Mission Impossible, Cello Song, and Begin Again



The Ready Set - Young Forever, Killer, Love Like Woe, Hollywood Dream



Relient K - Must Have Done Something Right, In Love with the 80's, Sadie Hawkins Dance



Train - 50 Ways to Say Goodbye, Drive By, Drops of Jupiter, Hey Soul Sister



The Vespers - Flower, Flower; Got No Friends, Better Now


Other randomness:
I have three little sisters
I'm 15, a sophomore, and 5'8"
My friends are AWESOME
I love being myself, and I try not to care what others think.
One of my favoritest places in the world is New Life Ranch
Psych is amazing









"The stakes are high, the water's rough, but this love is ours"
x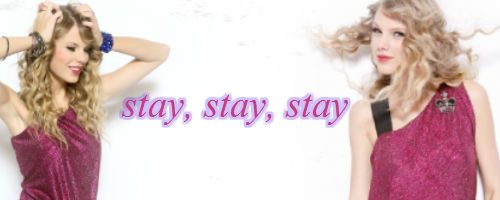 Creds to TheDelicateBeginningRush





Creds to Abby (FearlessBroadwayBaby - http://taylorswift.com/users/goingback2december) for the last pic!