Full interview for the magazine Yo Dona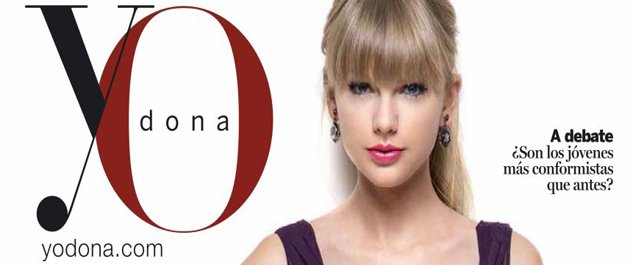 About to turn 23 years old, Taylor Swift generates around envy, fears and sighs of admiration. Displacing Lady Gaga, who in 2010 snatched the second contest in platinum sold more albums in the first week of release the album - both had surpassed the million copies - there is no artist in music with so much power: it is not only the sales, selling and nothing more, if not the image of a good role model, formal, traditional and often strong - their lyrics are written in terms of messages to ex-boyfriends. Clothing brands, phones and perfumes extend the contracts skyrocketing, and millions of girls wanting to be like her, living the stamp of success.

On this side of the coast understand its size, but in the United States his music and his image is only a treasure that his label, Universal, with a zeal extreme care. Nothing disturbs the calculated perfection of America's sweetheart. Do not talk about her private life, and his team does everything possible to avoid conflicting themes, the taboo, as it ends with Conor Kennedy, four years younger, son of Robert F. Kennedy - nephew of John F. And Ted Kennedy - a relationship that if done, she would have joined the royalty of the United States. Any question that obliges opine on something other than music, she gets away with a negative tangent.

Short and direct, Taylor is not intimidated. Shows up even uncomfortable. Immediately someone from their press team decides there is no time for questions after 20 minutes of failed attempts to get into your heart and run the script, even find a trace of sincere sympathy in their studied distance. Perhaps we will never know what's behind that mask to make her talk about psychoanalysis of his lyrics. While, released his fourth album, Red, with changes in his usual style - with an air of sticky pop country western to pop production and catchy melodies, but also a new electronic processing - with the comfort of knowing that there are millions of people willing to follow it with his eyes closed.

Yo Dona: What is the metaphor behind the choice of Red as the title of his last album?
Taylor: It has to do with what you bring, is an intense color, heart, makes me think of fall. Me conveys passion, anger, sadness ... Emotions are what inspired me during the year.

The songs are filled with encrypted messages to ex-boyfriends and are his way of explaining his life. How to convert music into an object of psychoanalysis?
For me writing is a way to analyze and understand my feelings. Not a psychoanalysis, there is so much depth. I need to make it so. The best way I can express emotions through music is, and why I write about myself. There are daily, but as I write songs that happen to me things.

On this album, the lyrics do not seem subject to change of focus, but rather the form of music. You want that?
I arrived at my fourth album, and when it reaches that point, you can choose between two things: release the same album again or change the way you do things. Before this dilemma, I decided to have proof. I searched for new producers and collaborators, not afraid of change. But was risking the same pattern, not evolved, then decide to do something about it.

Part of his fans expected a teen disco and more frivolous, at least listen to the first single, We Are Never Ever Getting Back Together, they were right?
We believe that the first single sets the tone for the whole album, but not so. It is very varied and sometimes much better.

You always cites Shania Twain as her musical reference. His influences have changed in recent years?
They continually change. I listen to music varied, has many things that influence me and this album were more.

On the cover of his new album, only to see his lips. What would you suggest that?
It is an approach very intense, and yes, her lips are symbolic, focus on red and reflect the strong emotions of the album. Not all songs have to do with a release of energy, has also sadness, sense of loss of loved ones ... I need to go places very intimate, where you can think, process and understand the events that happened to me. A very small and very private. Hence why the lips.

That lipstick you used? Red Russian?
I do not remember. We seek one that convey warmth, which was strong and contrasted with the shadow.

What is your relationship with the makeup? Do you like it or bother you?
When I'm working on a show, a gala evening or an interview, always take makeup. There are cameras everywhere. But it's something I try to avoid as much as possible, I am not abusing much, in my day-to-day use little.

His image is always on a look of simple country girl, flowery dresses. In one clip, however, you're in pajamas, and your album cover nothing more than a hat shading. How would you define your style?
Me influencio by what inspires me in a concrete moment. Right now what attracts me is the fashion of the 50s and 60s, women feminine and elegant. But I'm not alone in this, always observe what's around me, I fixed on television and in magazines. For example, at the MTV Movie Awards I showed up in shorts and a striped shirt. From time to change that is good.

There are precedents in style folk-pop girls who leave the restrained style of skirts and braids to adopt a more sexy. We will see a Taylor Swift spicier?
Impossible. With music I can try it, it is my duty as an artist, but not with my image. The clothes you choose is a function of who I am. Never see me transform into another person with so I can not and I will not judge anyone.

Many teenagers see you as a role model and want to be like you. You feel responsible for them?
I guess I should be. The fans pay a lot of attention in everything I do and sing my songs. They analyze this last detail and this implies a responsibility. I believe that as an artist, it makes me different, my songs express many important things for people, and through them establish a communication with my fans, who can understand and converse with me in whatever the distance.

You are one of the most coveted objects in the press. Te somehow disrupts the paparazzi?
I do not deny that in my life there are several things that bother me. The paparazzi who follow me to every corner is something that undermines my spirits, sometimes will not even have to leave home. And also when they write things about me that are not true.

And how do you protect against that?
I learned that it's not worth cope. It is a terrible nuisance. But there are many other good things that outweigh this inconvenience. For example: My fans are very respectful. Follow writing about my life, but I will not talk about her in interviews.