My name is Alex and I'm from Germany. Thank you so much for visiting my Profile.
I love MUSIC. Music is everything to me. I love a lot of different kinds of music. And you can sum it up in well pretty much anything rock and TAYLOR SWIFT of course.





1.I would die for pineapple ice cream (no kidding, I would!)




2.My bed is my best friend. (My other best friend knows and she understands ;D)




Let's sleep

3.I'm quite random at times (like you know start-dancing-in-the-middle-of-the-hallway random)





4. I love Music, I seriously do and I love all kinds of stuff so I'm gonna tryy my hardest and list my absolute favorites without giving you an endless list so here I go:
I LOVE Bon Jovi. MY absolute favorite Songs are this ain't a lovesong, you give love a bad name and wanted dead or alive but like them all
I also really like Halestorm, 3 doors down, theory of a deadman and all those Kind of bands
Some of my favorite Songs are also:
Prime Circle- Time kills us all
Metallica- turn the page
the Killers- Mr. Brightside
U2- ordinary love
rise against- People live here
The pretty reckless- Goin' down
volbeat- Lola Montez
guns'n'roses- civil war
and the list goes oooooooon......

5. I absolutely LOVE watching TV and movies. I think the only Thing I'll ever be truely in love with is my TV. Possible future boyfriends will always be second to Fringe, the mentalist, NCIS and HIMYM(at least until the finale) and of course all those great movies like men in black, Harry Potter and so many awesome comedies like this means war, no strings attached and just go with it




and NO! I'm not (completely) obsessed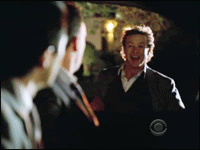 6. I speak german (duh!), english and a Little bit French and spanish

7. I love to laugh. I laugh at everything. Like seriously everything. I mean it.



I have a hat just like that. It's actually my grandma's but I've been having it for like 3 years now and she ain't gettin' it back.




So thank you for reading my Profile I hope you liked it and feel free to add or message me. I Promise I will reply.:D I love Meeting new People and chatting about random stuff and Taylor.





you find yourself at my door just like all those times before you wear your best apology but I was there to watch you leave and all the times I let you in just for you to go again





Thanks so much to PiecesIntoPlace for this awesome graphic

I wish you all a happy new year and that at least some dreams come true. I hope that the next year will be better than this on if it was bad or that it will stay as good as this one if it was good. I wish you the strength to stand up for yourself and others, to speak the truth or stay quiet if you have to, to make a change in the world and to be yourself. Here's to 2014. A new year full of new...