SWIFTIE ID:
Taylor fan since: 2007
Favorite Song: Enchanted
Favorite Lyric: "All those other girls, well they're beautiful, but would they write a song for you?"
Favorite Music Video: Bad Blood
Favorite Album: Speak Now

Hey everyone! I'm 21, & I'm a computer scientist, though I wouldn't mind being Taylor's backup singer too :P In my free time, I love singing, video games, and teaching myself guitar. I love making graphics, but don't really make them that often.

In 2007, I heard this magical song called Teardrops on my Guitar. And all I could think was "OMG. story of my life!". But I stopped doing that after I realized EVERY Taylor song was, in some way the story of my life. Eventually I downloaded Fearless, and then the debut album. My very first concert was the Speak Now World Tour. RED was amazing to listen to these last few years. And now...I'm just honestly glad I found a singer that not only makes great music, but is like a personal therapist. Her songs never fail to make me happy.


My welcome banner was made by the very talented TanyaxOh :)

~~~~~~~~~~~~~~~~~~~~~~~~~~~~~~~~~~~~~~~~~~~~~~~~~~~~~~~~~~~~~~~
GRAPHICS
I don't have a graphic shop, but if anyone wants a graphic I would be happy to make them one!
Here are some examples: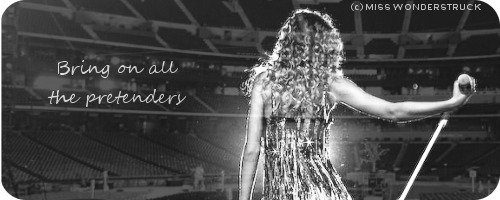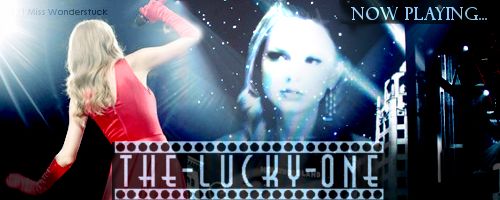 BTW, these are all up for grabs if anyone wants them :)

Signatures made for me by other people: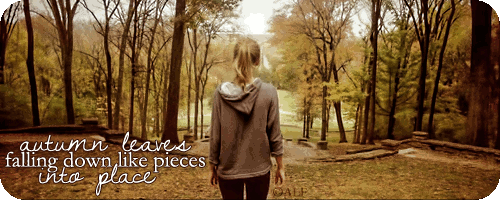 This was my signature for most of the RED era.
Autumn Leaves Falling, Kathryn, thatlingeringquestion, TaylorHeart13, Daya. Thank you ALL!

~~~~~~~~~~~~~~~~~~~~~~~~~~~~~~~~~~~~~~~~~~~~~~~~~~~~~~~~~~~~~~~



BTW...
-I'm an environmentalist
-and a feminist
-basically the girl your parents warned you about
-my favorite book series would still have to be Harry Potter
-but I have a personal extreme love for Katniss Everdeen
-Orange Is the New Black, Once Upon a Time, Parks and Rec, and My Little Pony, hit me up!
-I love Pokemon and Sonic the Hedgehog
-Pokemon battle me? (send me a message. warning though, I'm good)
-my favorite band is the Goo Goo Dolls
-if you have any song recommendations you should tell me :)
-hats are awesome
-except fedoras
-the boy/girl ratio at my college is about 70/30.
-so if you're a chick interested in math & science, DON'T GIVE UP!
-CATS FOREVER
-(Dogs are amazing too)
-Anything cute, really
-Sorry dung beetle, you're still important
-I'm a bit sarcastic
-but still the most optimistic cynical person you will ever meet

And now, please enjoy some of my favorite gifs: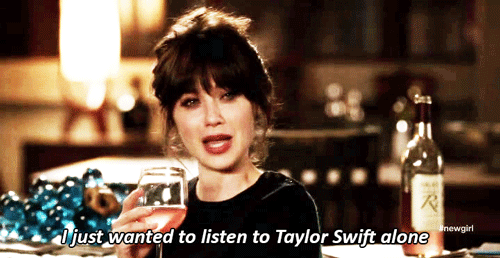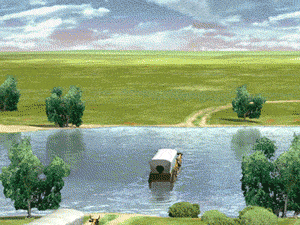 this one is the CUTEST ASDFGJKLJ;DDRFNAHHHHHHH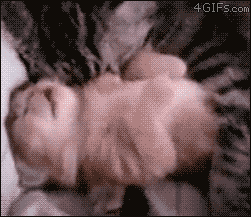 For people who don't like Taylor:



And one of my favorite Ellen moments:



I don't come on TC as often as I used to, but I'll still try to respond to messages and stuff. You can catch me on Tumblr, talking about everything that's been banned from on here.

Sayanora!

XOXO
Miss Wonderstruck


Rapunzel: I've been looking out of a window for eighteen years, dreaming about what I might feel like when those lights rise in the sky. What if it's not everything I dreamed it would be? Flynn Rider: It will be. Rapunzel: And what if it is? What do I do then? Flynn Rider: Well, that's the good part I guess. You get to go find a new dream. Unlike the rest of my family, I was born...