WE ARE NEVER EVER GETTING BACK TOGETHER FACTS
Hello, Swifties. So, I think you have watched WANEGBT music video on TV. I was so excited. The video is so amazing, isn't it? So, I think you also have known that WANEGBT belongs to Jake. But here, let me share you some facts about that song..


The name of the man in that video is Noah. And as you can see, Noah has same appearance with Jake.




Maybe you are wondering why the band were wearing "big rabbit" costume. It's because in 2001, Jake Gyllenhaal starred in "DONNIE DARKO" which featured a life-sized rabbit.



You can see when the man called Taylor and there was a girl wearing glasses. The girl very similar to Minka Kelly who was rumored to be dating Jake after his break up with Miss Swift.





At the end of the video, the man knocked the door when Taylor danced in her home with people. Did you notice that he is sporting a puffy jacket Jake wears in the couple's infamous picture together? You know, when Jake and Taylor was spotted when they walked and laughed together.






Taylor recently did a VMA promo video with Kevin Hart in which he puts his face on Jake's body as he pokes fun the song.





You know when the man gave Taylor a scarf on the video. At the photos when Jake and Taylor was spotted walk in the street together, Taylor wore a scarf. And that is Jake's scarf.

Taylor got a $100K birthday bracelet from Jake. And in the video, if you notice, Taylor wearing the bracelet.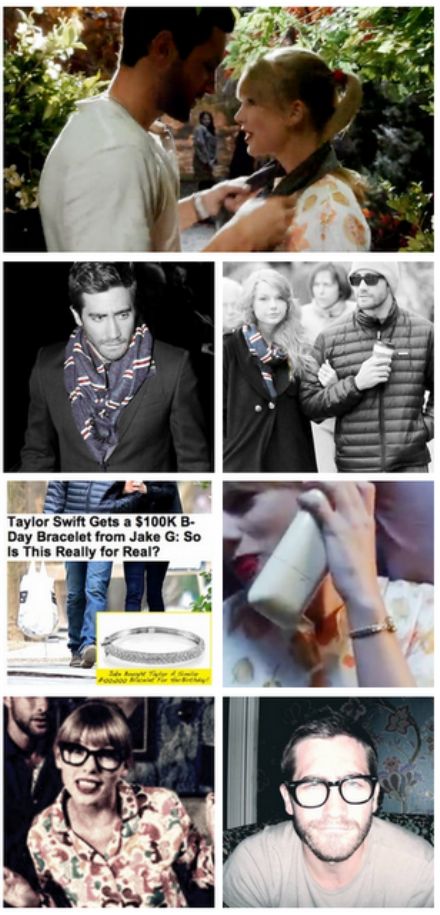 "When you said you needed space… What?". That lyrics describe Jake. As we know that Jake really hate paparazzi who took pictures of them and always followed them whenever the go.

In the music video, you can see Taylor and Noah had a fight in a car. It same with when Jake and Taylor are in Jake's car and there were so many paparazzi. Jake got mad and he called polices.





So. That's all I know about the facts of WANEGBT music video. If you have any facts, please share. I'll so glad. I'm sorry if I made a mistake about that. Xx.

Love you, Swifties.

Wida