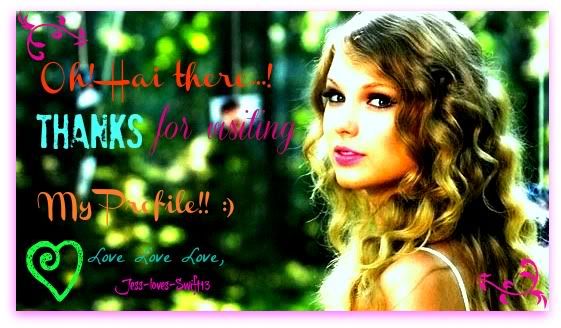 My names Jess! :) I'm 14! Ima Swiftie and a Directioner! I love to play guitar and laugh! Music is my life! I love it! simple as! :D Jelly beans are my faves! I mean how can you not love small sweet colourful things?! haha! Taylor is a really big inspiration for me.. She inspired me to play guitar and now I'm so glad I learned cuz its not like mah life! :L Now that you're reading this why don't you go on over and click the ADD AS FRIEND button! ;) Thanks for viewing my page!
xoxo,
Irish Swiftie,
Jess! :)

Swiftie since 2009-Forever! :) x
So, as most of you know, Red will be out OCTOBER FREAKING 22ND!! I'm so excited!! 16 tracks of pure Taylor Awesomeness! Plus ED SHEERAN will be on a track!! AGH! I.LOVE.ED.SHEERAN. That's the song I want to hear the most! Ed Sheeran = Fave male singer. Taylor Swift = Fave Female singer. Them together? EPICNESS! I just read that 'We are never ever getting back together' Is the FASTEST...