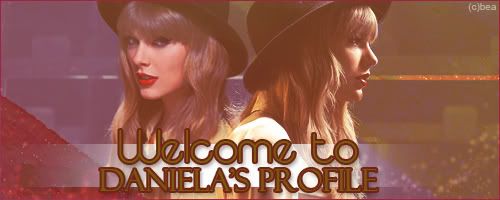 By the wonderful Bea
Hi! My name is Daniela, you can call me Dani or whatever you want, ;) . I'm 20 and I'm from Peru (Latin America).
Well I don't like to talk so much about me hahaha but I like to read, doing some art work, now I'm into photography and I love doing graphics....so be free to request in my graphic shop :D
I love Taylor Swift. Her songs are simply amazing! I have never been to one of her concerts :( but hope one day she come to Latin America and obviosly I will go hahahah
Thanks for visiting my profile!
Love
Dani
HOW AWESOME IS THAT!?!?! IM SO HAPPY RIGHT NOW!