Hi! Well I'm Aliceinwonderland, born on the 19th of March and a sophomore in college. I don't get to get on here very much, because I'm always to busy with school work. But I try to get on as much as I can to reply to comments or request graphics or make and accept friend requests. :) Anyway, I have seen Taylor Swift in concert three times. I am hoping I can see her again on tour soon now that 1989 came out. I love cats and dogs, I have a bunch of cats and two dogs. Christmas is my favorite holiday, I hate the cold weather, I love Taylor Swift, one of my favorite book series is the Hunger Games, and I love to read.
Anyway feel free to comment and send me a friend request. Sometimes it takes me a while to respond to comments but I get to them as soon as I can!
Fearlessly Aliceinwonderland.


Made by TanyaxOh


credit to Cerulean


Credit to Smitha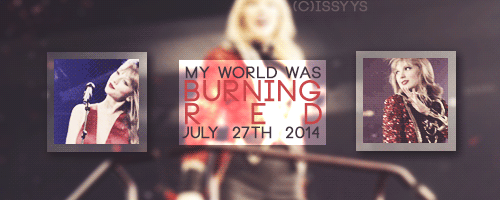 made by issy
Avatar made by Katie
So I was watching the shake it off video and I didn't recognize any of the band members so I was wondering does anyone know she still has the same band? or did most of the members leave/get fired?