Hi,
I am ONLINE:)
Welcome!!! I am so glad you have came to my profile!!! I hope you have a nice time!!
Since getting my profile reviewed I have had to turn to renovating it. I got a score of 7/20 for my last profile so I hope that I get a better score next time round!!!! Here was the results:
@SwiftyGrace#13
don't like the beginning. NEEDS to be more welcoming. interesting about your ambition. to much detail. people get depressed having to read all that. just need simple small facts and some detail

Friendliness(Do you welcome your visitors?) 1/6
Neatness(Is your profile neat and not cluttered with random things?) 3/6
Personalized(Did you personalize your account with info about you?) 2/4
Interesting(Does your account draw attention and is it fun?) 1/4

im sorry total 7/20

So an extra effort is needed for me to get a better score!!!
What I'm gonna do is put lots of graphics and GIFS on so you can do stuff, maybe put on a Taylor wordsearch so you can pass the time and also write some stuff about me!!

Okay, well I'm called Lucy. I am a very ugly person but I (think!) I have a nice bubbly personality!
So anyway, My ambition is to become as BIG as Taylor and to one day hold her hand and sing with her on stage (by then though she might be over 30!)
Aww!! Isn't this sweet!!! RonanMellark did this for me


Oh Don't forget to friend Katniss Mellark and her sister as they are my BFFAA on here!! LOVE you Rosie!!!!!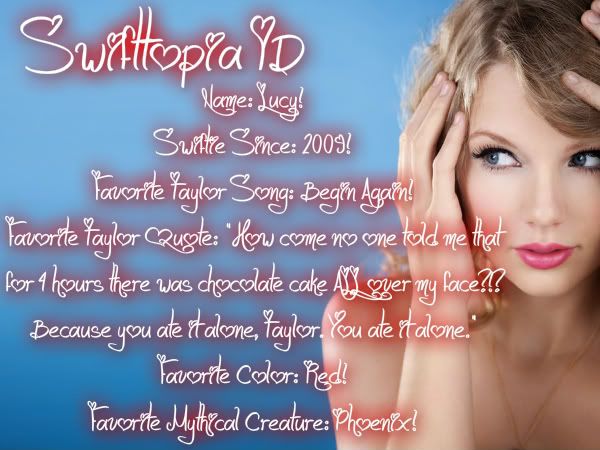 [IMG}



Music Playlist at MixPod.com






adopt your own virtual pet!
Okay so there is this guy I liked and I was chatting to him for ages a while back, and I stopped for a while because I went on holiday. SO i came back and started chatting to him again. I told my friend I liked him and she spilled to him and then he asked me 'Do you like me?' and I went 'For a while' and he said something then he said ' I asked you out and you said no' and I was shocked because...