Hi I'm Kay, frequently known for changing her mind, Swiftie, and music lover all around. I am very sarcastic. I love the Hunger Games, the bass guitar, Johnny Depp, the sun, acting, hanging out with my friends, TAYLOR SWIFT! I could go on about her.

Music is my life. Without it, I would not be able to survive. I play Bass Guitar, Alto Saxophone, and I sing a little. I have a band called 4th Avenue with my best friend (SwiftieForever13) and two others. My favorite musicians/singers are Adele, Maroon 5, One Direction, Goyte, U2, The Wanted, Katy Perry, Taylor Swift!

I love Greece, Paris, and the Caribbean, and I love to travel. I love Pirates of the Caribbean, and Lost... Even though it's off season. I will never change my overtalketive self or my desire to be myself. I love strawberries, watermelon and the color red.
I hope to be a famous actress or musician someday, and to meet Taylor.

My favorite Album of Taylors is Red and my favorite songs are Starlight, The Last Time, Red, Enchanted, Story of Us, Back to December... I love to read and have read The Hunger Games, Harry Potter, Twilight, and the Percy Jackson Series. I'm allergic to chocolate (I know, it's torture), and have now found out that mint ice cream doesn't exist, only mint-chocolate chip! I love curling up on a winter day with a cozy blanket and a movie (or book).

I love to smile and laugh…. I have a very loud laugh; my friends call it a cackle. :D

I'm also the kind of girl who loves night time. Night-swimming is the best too, when you can't see underwater and your just freezing.... Some may not like it, but it's the best feeling for me! I also love looking at the stars or just lying back and soaking in the moon light.

Thanks for reading :D

Never forget the essance of your spark,
May the odds be ever in your favor,
Swiftie Forever and always,
~Kay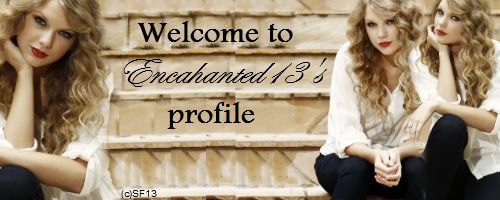 No Items

There is nothing to display yet, check back soon.
Recent Blogs
No Items

There is nothing to display yet, check back soon.