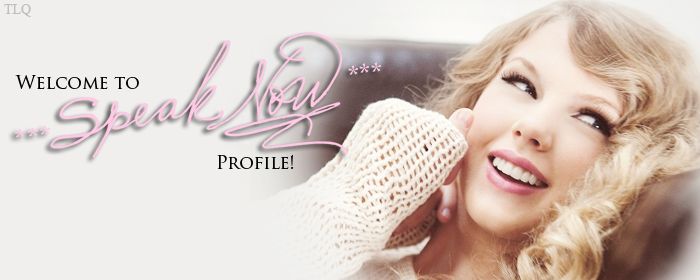 Hi! Like everyone else on this website, I am a huge fan of Taylor Allison Swift. She is my inspiration, and I don't know what I would do without her and her music.
Random Facts About Me:
.I love cats
.I went to the Speak Now and Red concerts
.I want to be an actor/singer/model
.I love choclate and baking
.I am 15 and a sophomore
.I love Harry Potter
.I am really girly

Taylor's Songs I Relate To Most:
.A Place In This World
.Never Grow Up
.Stay Beautiful
.The Best Day
.The Outside
.Mean
.Im Only Me When Im With You
.Hey Stephen
.Christmas Must Be Something More

Thanks for reading this! Feel free to friend me or message me! Please check my best friend and mine's music video to Elizabeth Huett's song "Never Know" at the link below:
http://www.youtube.com/watch?v=f9mL7xyYScw&feature=plcp
Remember always be Fearless and Speak Now!


The fabulous grapic above is made by Primafacie!


The beautiful graphic is made by Swiftlookalike!


The amazing graphic above is made by autumn leaves falling! Also my welcome banner is by the wonderful thatlingeringquestion!
No Items

There is nothing to display yet, check back soon.
Recent Blogs
No Items

There is nothing to display yet, check back soon.