Just livin' the cat life...

But other than that I have been a fan of Taylor for years. She is the most talented and smart singer/songwriter out there. I especially love going to her concerts because I like talking with the other people there and Taylor always has some surprises in store for us.

(Just a warning before you read this. If you have an aversion to the word "awesome" you may want to just keep on movin'.)

The 1989 Era:
Future Tour Dates ( So Excited!!!)
8/1/15 - Vancouver, BC
8/8/15 - Seattle, WA
10/31/15 - Tampa, FL (Last US Show & in the PIT - So Psyched!!!!)


The RED Era:
I managed to see 4 concerts this time, i was only planning to go see 3 concerts this time since the final 2 show were in Nashville and i would have to pay for airfare and hotels and such but i said i would see a 4th show if I got pit seats for Portland. I was extremely lucky and managed to get an email. I was so nervous when buying the pit seat because if i screwed it up i probably wouldn't get a second chance.

Portland, OR
My first show was Portland in the pit, I got there a day early to get a lay of the arena because the pit was General Admission i wanted to be up against the stage if I could. The next day i wanted to be there around noon but didn't get there until 1pm. I hoped I didn't screw up for showing up later than i had planned but when i got there only 3 people were there. Over the next few hours more people showed up but i got to know more about the people who got there early. The arena staff were having fun teasing us saying they would let us in early before the posted time. When we got in i got separated from the people i was hanging with but i had like a whole side all to myself for a few minutes. I ran like a spaz up and down the length of the catwalk for a minute and took a picture of the empty pit on my side.
What can i say about the concert, Taylor and the band were so close. Ed was so good but i already knew he would be. I managed to touch Taylor's hand!!! She looked like she made a concerted effort to go to each side of the pit once or twice. I had never had so much fun. I managed to get on the fan cam too. SOOO many awesome pics. I didn't even try to look for the band since i couldn't leave the line or lose my spot. I was so hungry and thirsty after the concert. I hadn't eaten or drank in over 12 hours.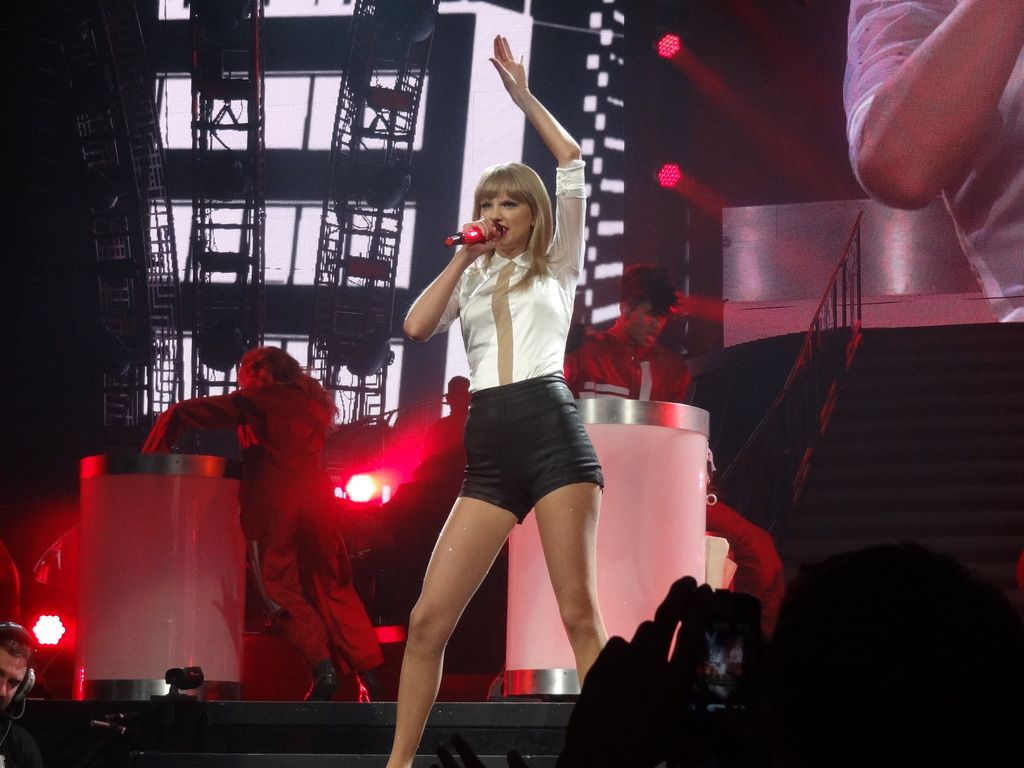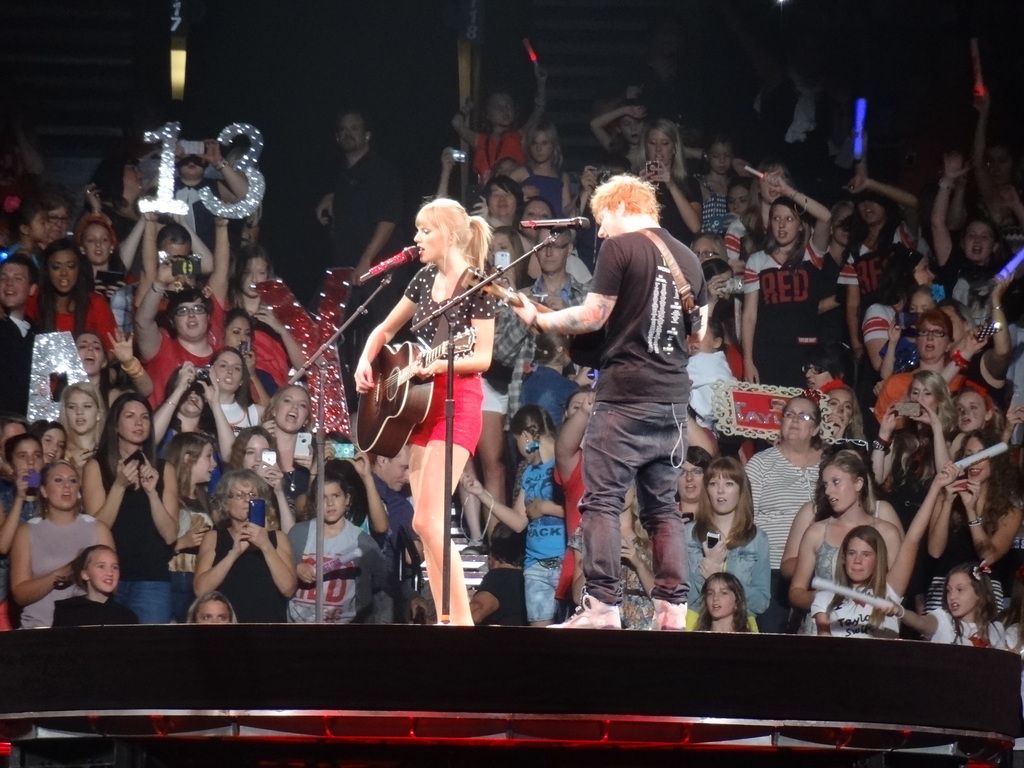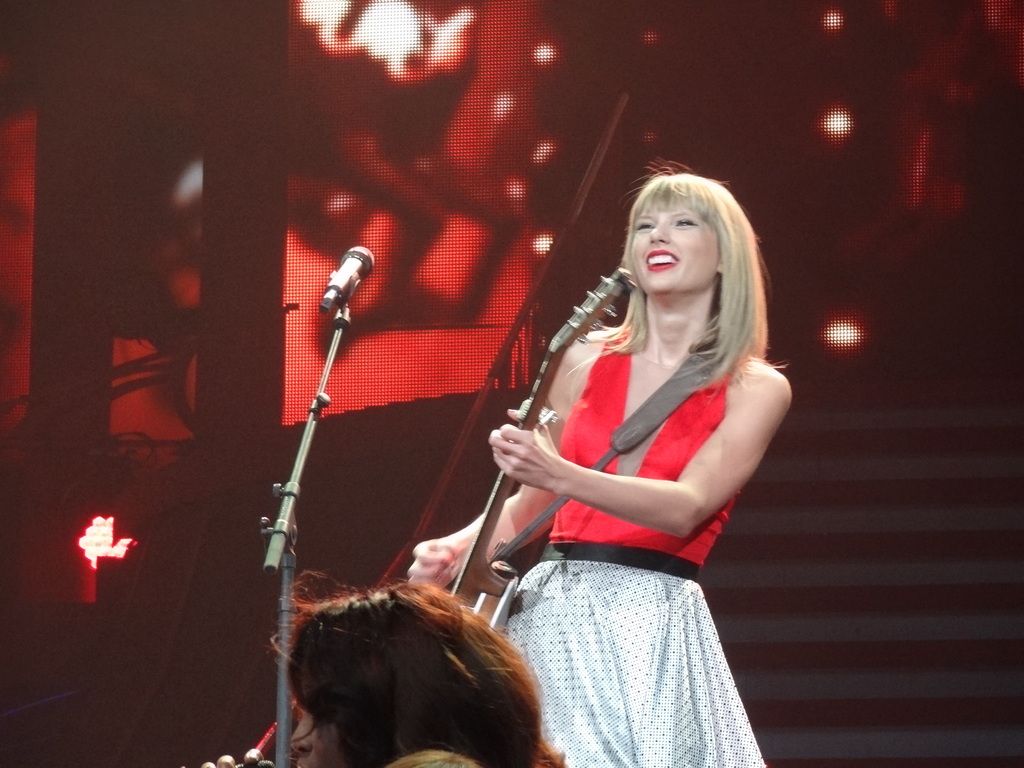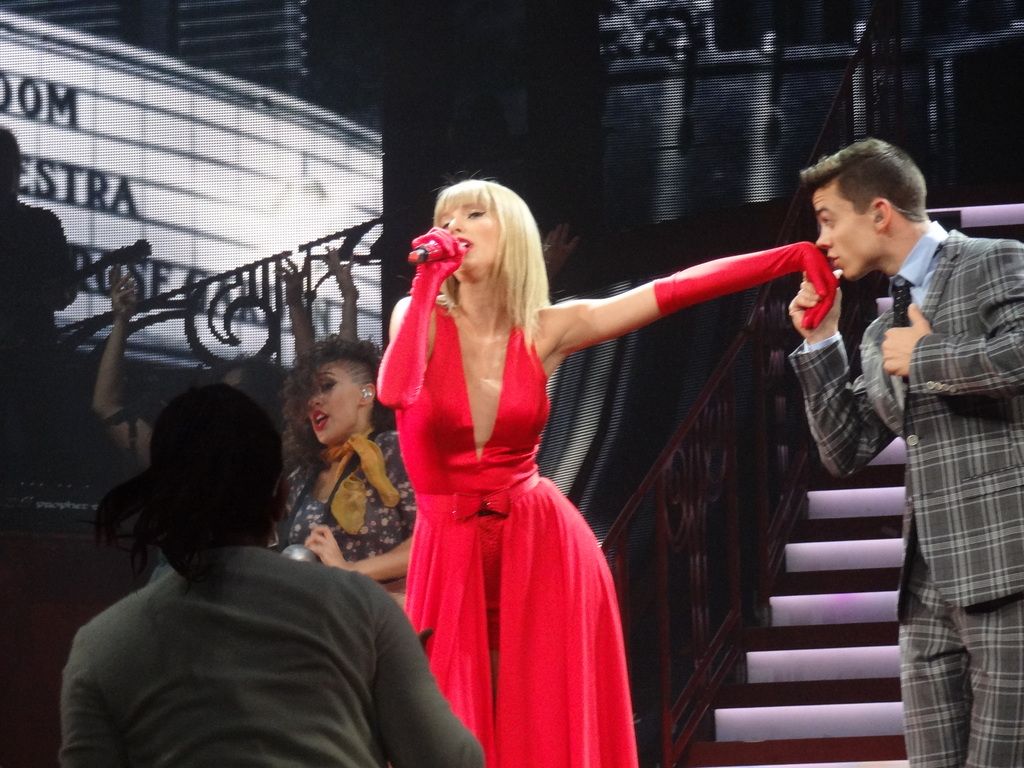 Tacoma, WA
Next day was my concert in Tacoma. Amos was the only one who came out and visit with us which is ok because i am sure The Agency has a lot of things to prepare for a concert. Tacoma concert was a lot of fun. And after the concert I saw the band leave because i recognized Grant's silhouette inside the van.



Taylor being Taylor... :)



Ed doing his props... :)

Nashville, TN
I had a few weeks to prepare for Nashville. I was so pumped. When I first boarded the plane I was wondering where all the guitars were. These were just normal people. Stereotype shattered... When i first touched down in Nashville dropped by the bus stop at the Airport where the final scene of "Ours" was shot. Geek alert, I know, but it was there. Nashville is such an great city. I know why Taylor fell in love with the place. The following day was the first of the 3 final concerts in Nashville. I chose to sit back by the B Stage because i had been towards the front the previous 2 shows. Taylor was sick but still she managed to put on a good show. I had a spare ticket (not near my seat though) so rather than sell it to the scalpers I went up into the back of the stadium in the nose bleeds and gave someone a ticket upgrade. People were wary of course but i finally found someone to take it. When you see the concert a bunch of times you really start to notice all the effort put into the show and all the things going on besides Taylor. Luke Bryan came on to sing "I don't want this night to end" with Taylor. I love that song especially with Taylor singing along to it. Halfway through the show I heard a commotion behind me. Andrea had chosen 2 girls behind me to go to Club Red which was pretty awesome. They were crying and everyone around them were congratulating them and it was nice to share the moment.
I chose not to get tickets for the next night's concert to my regret later once i heard Rascal Flatts had made an appearance. Another one of my Fav's. I visited the Opry, was still entertaining but I was still thinking about the concert i was missing.
I had breakfast the next day at Pancake Pantry and while I was waiting to get a seat the "Waldo's" made an appearance for a bit. If you went to the final Nashville concert you know what I mean.
Then came the final show i had shelled out the big bucks for the Ultimate ticket package. I managed to finally meet Caitlyn and David. She was carrying her fiddle. Matt put on a guy's foam mohawk. Definitely picture worthy. I was tempted to ask Caitlyn to open up her case but there is probably some insurance thing against that. I managed to get 3rd row almost in the center. It was almost as good as being in the pit. Taylor was still sick. I felt so bad for her but it was still a great show. Hunter Hayes was the guest for tonight's show. And he was so good... Once again i had a blast.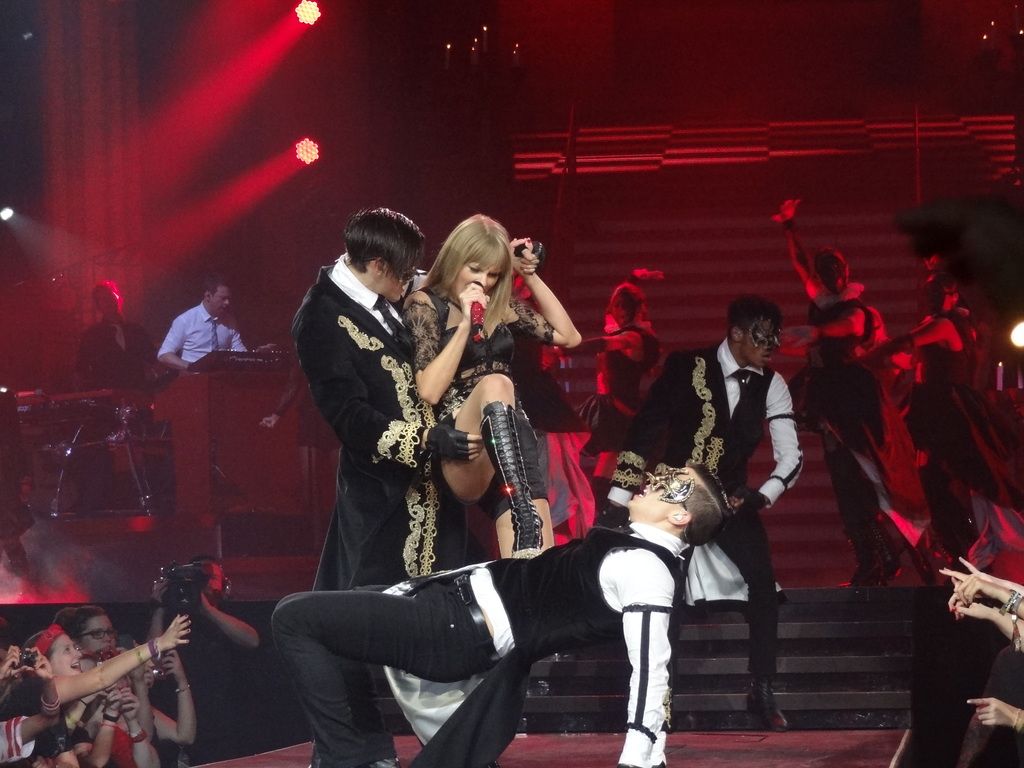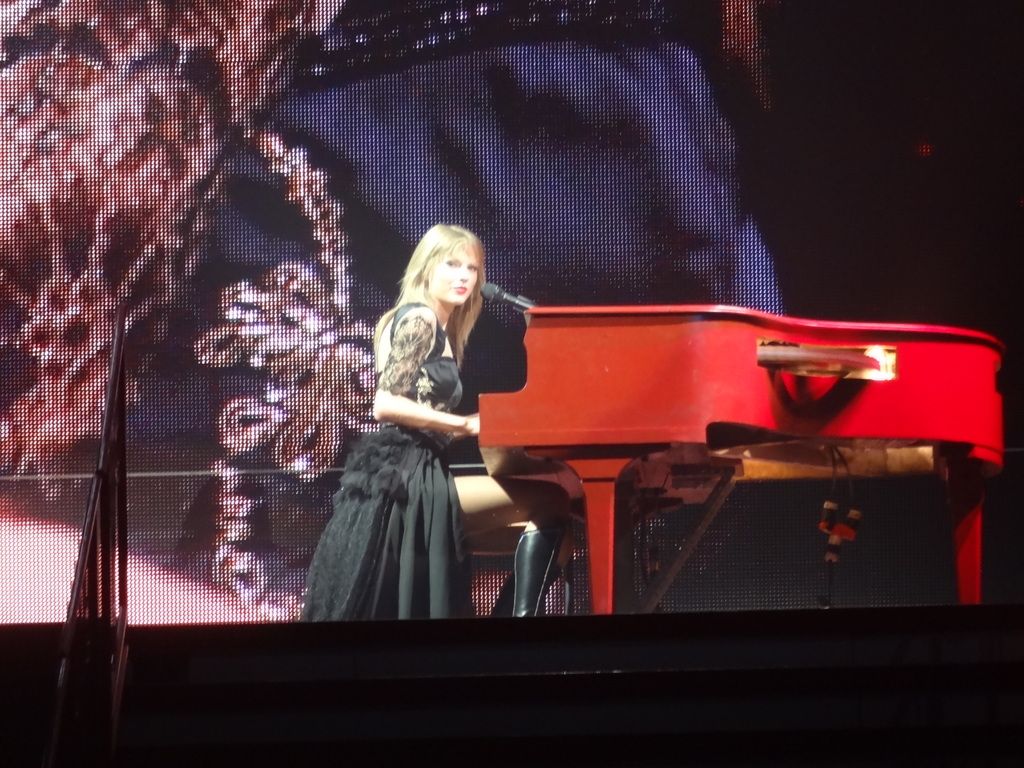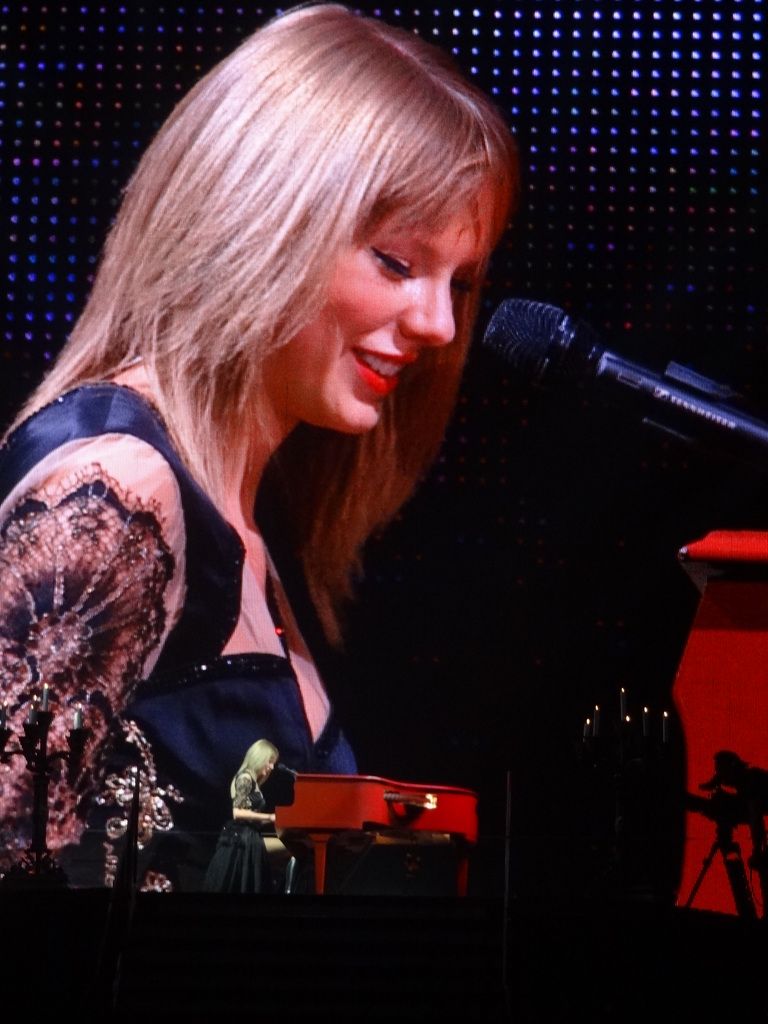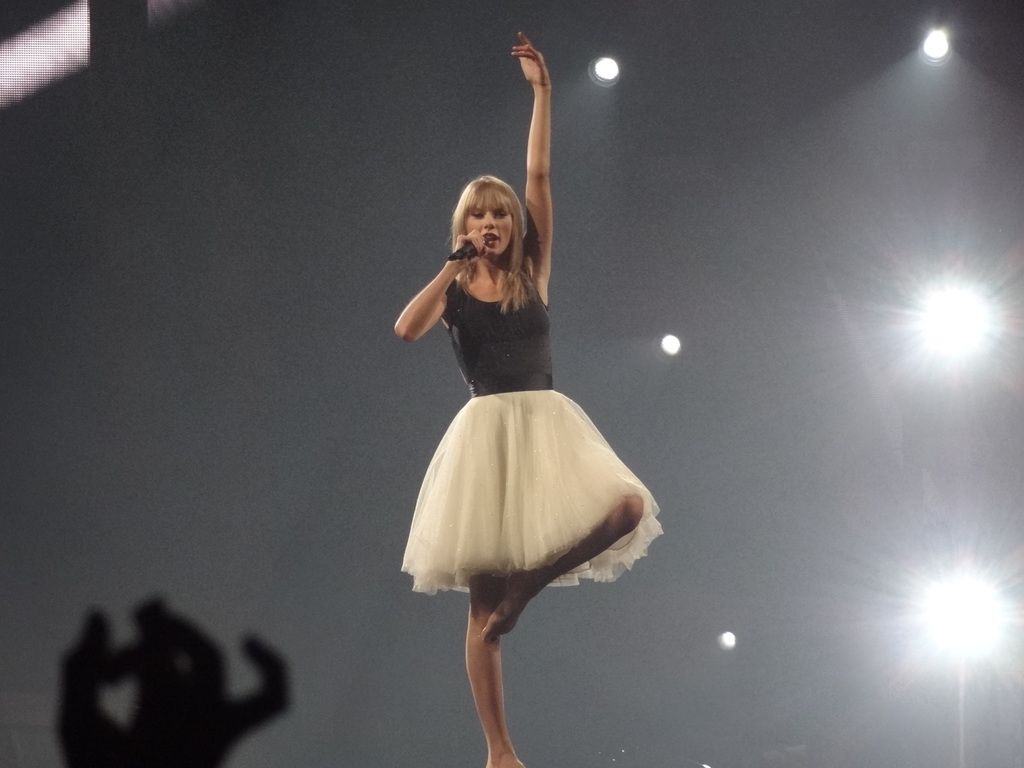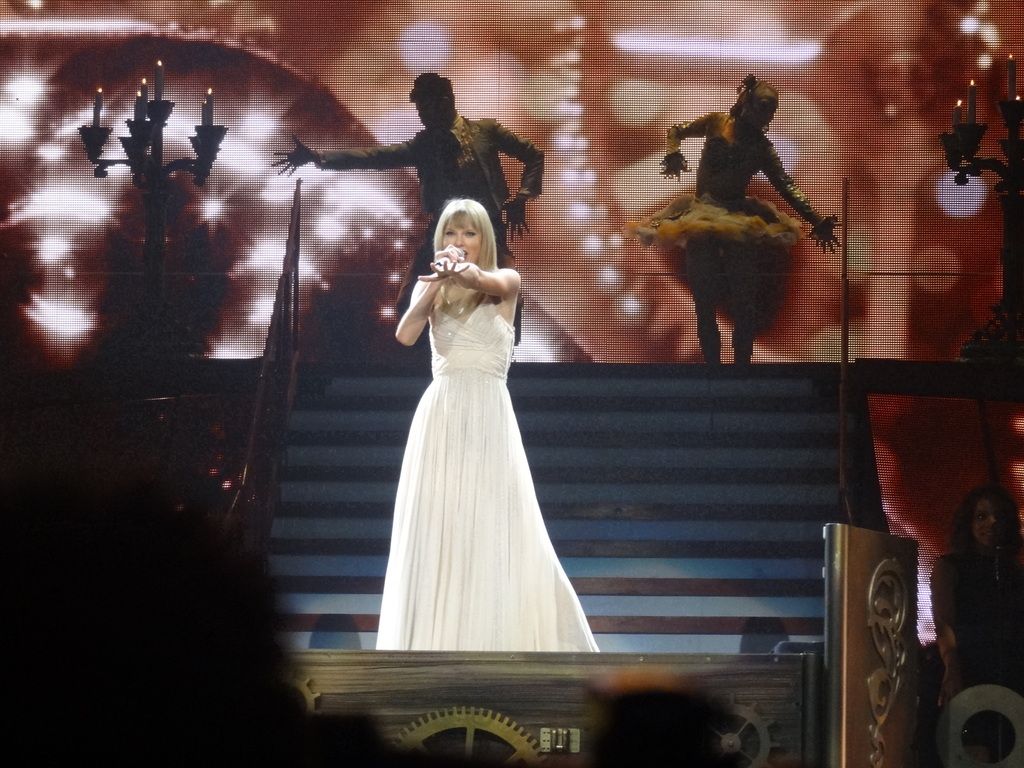 The Speak Now Era:

Tacoma, WA
I had been a fan of Taylor's music for a few years already but couldn't stand not going to one of her concerts anymore. I went there a few hours early because i was hoping to possibly catch Taylor or the Band drive in to the Arena. I was meeting a friend there to hang out before the concert so I saw the tour buses parked outside so i had to call her just to freak out over the phone that this was happening.



After a few hours walking around the arena with no luck of seeing any of the band or Taylor it was time to head in to see the show and i was welcomed by this.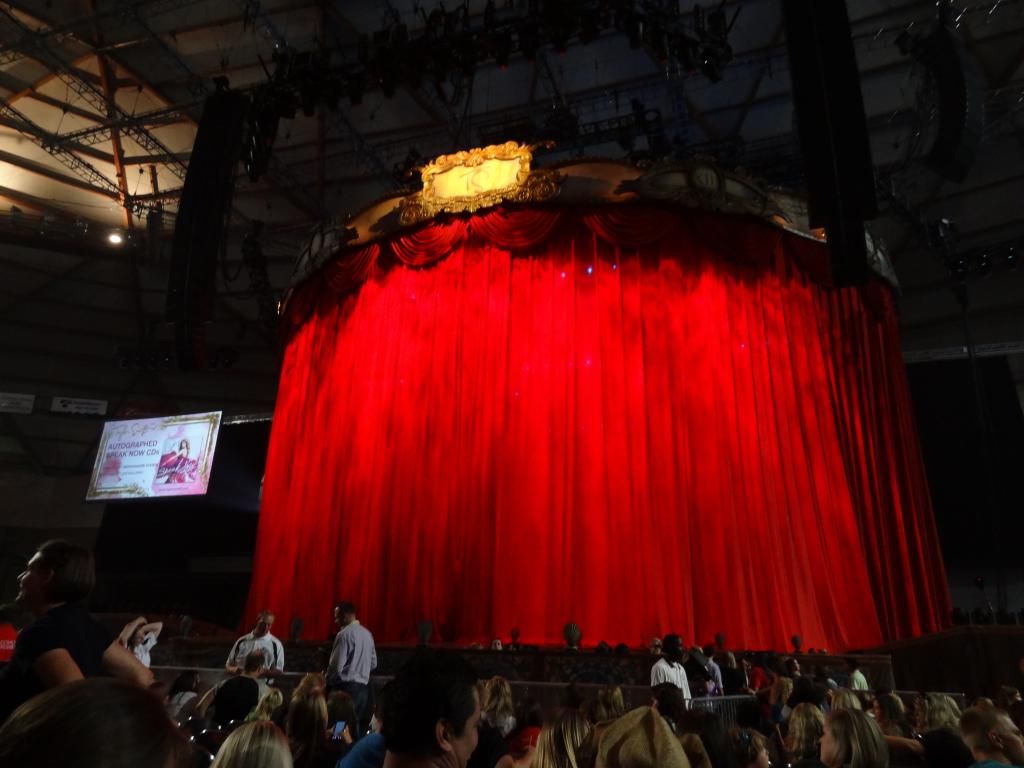 After what seemed like forever the lights dimmed and i have never heard such a deafening screams from around me but i didn't mind because part of it was me. Then she rose up in the smoke looking flawless and the concert began.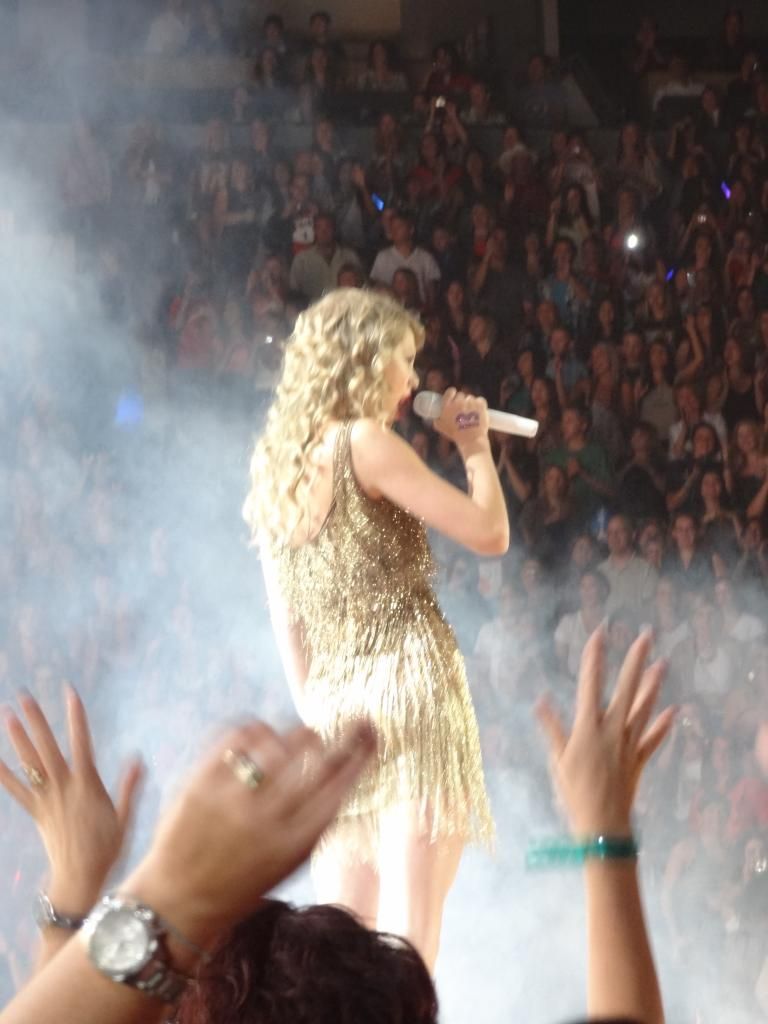 The concert was amazing but i especially loved the part where it was just her and her guitar sitting at the tree.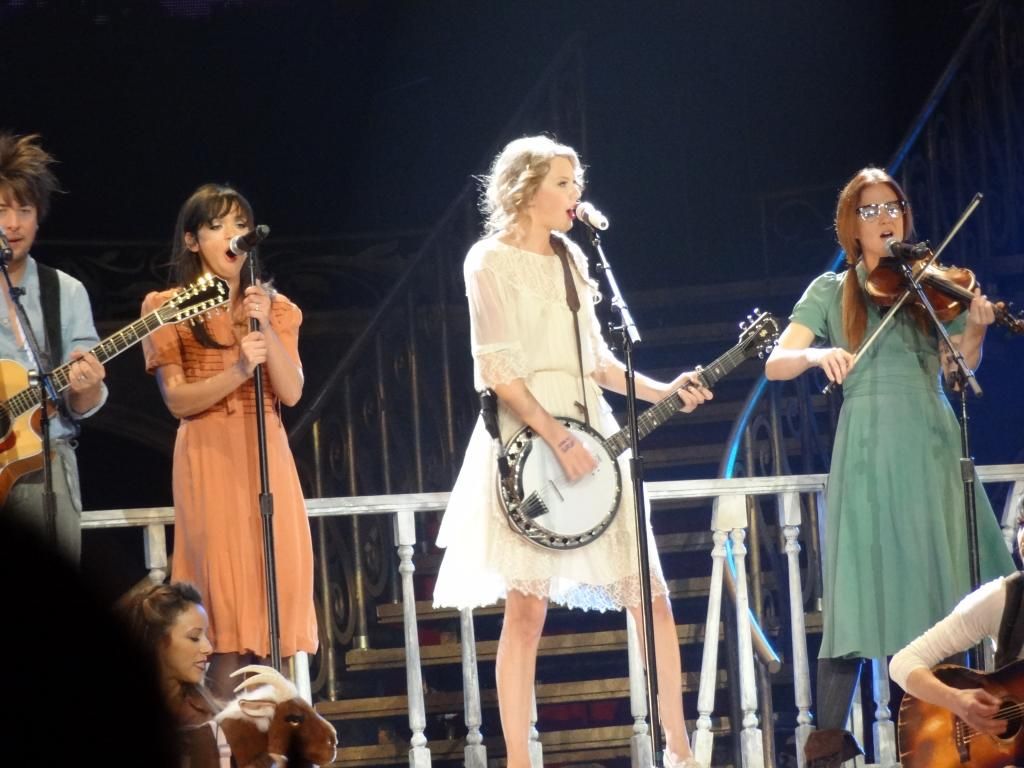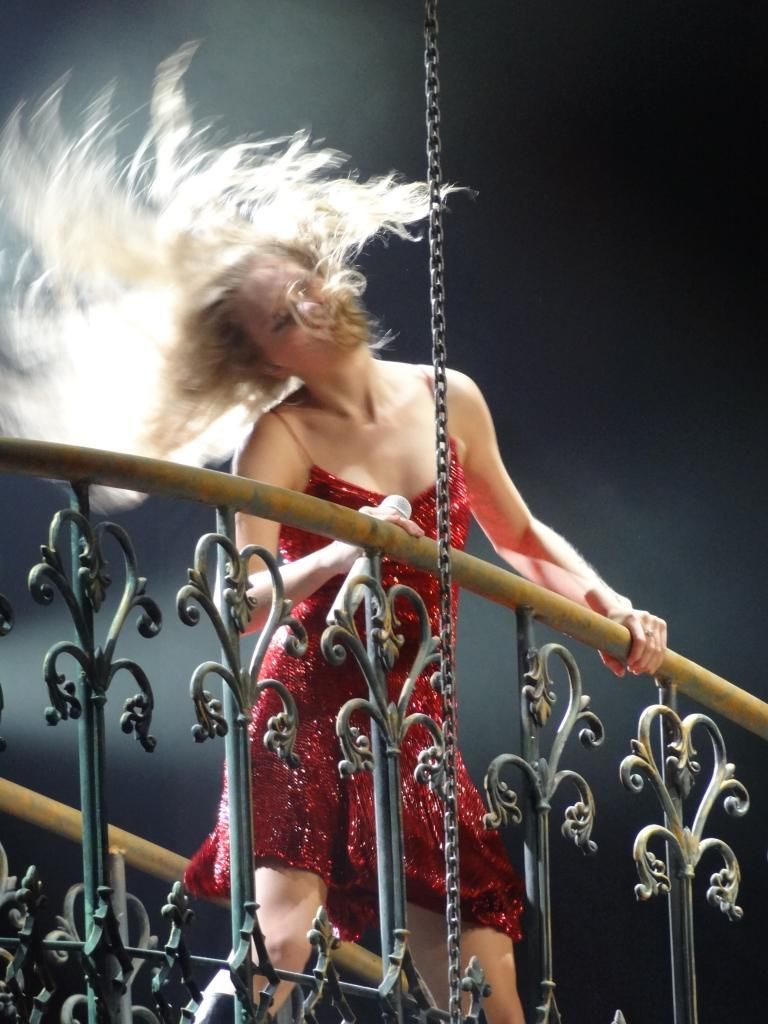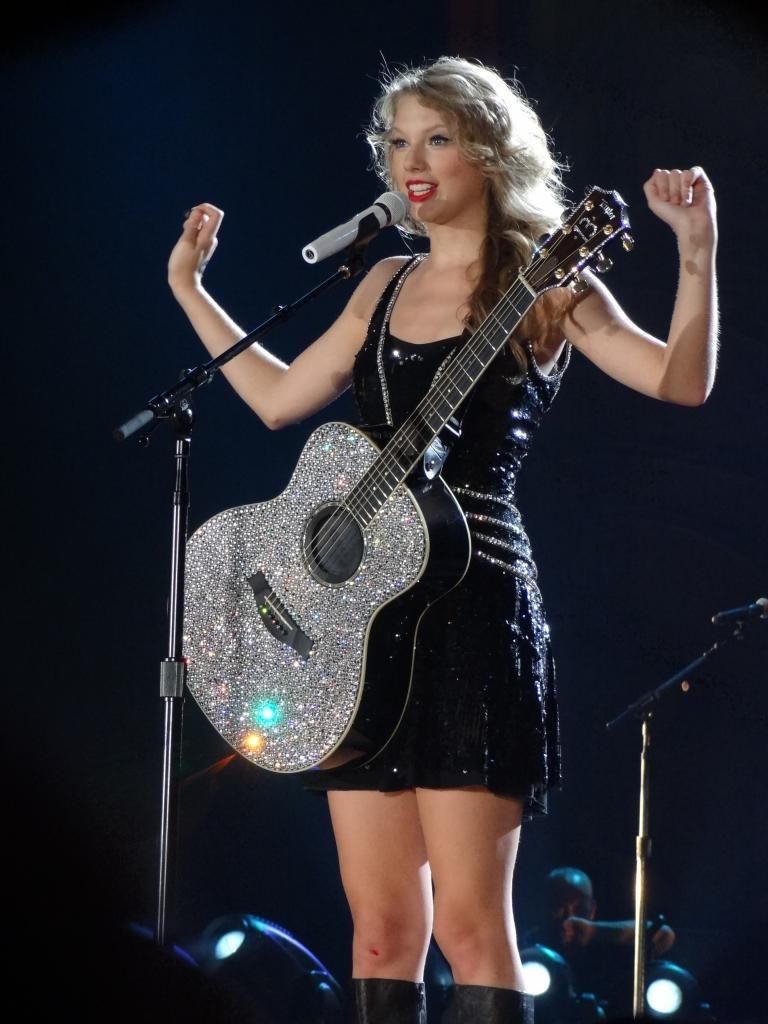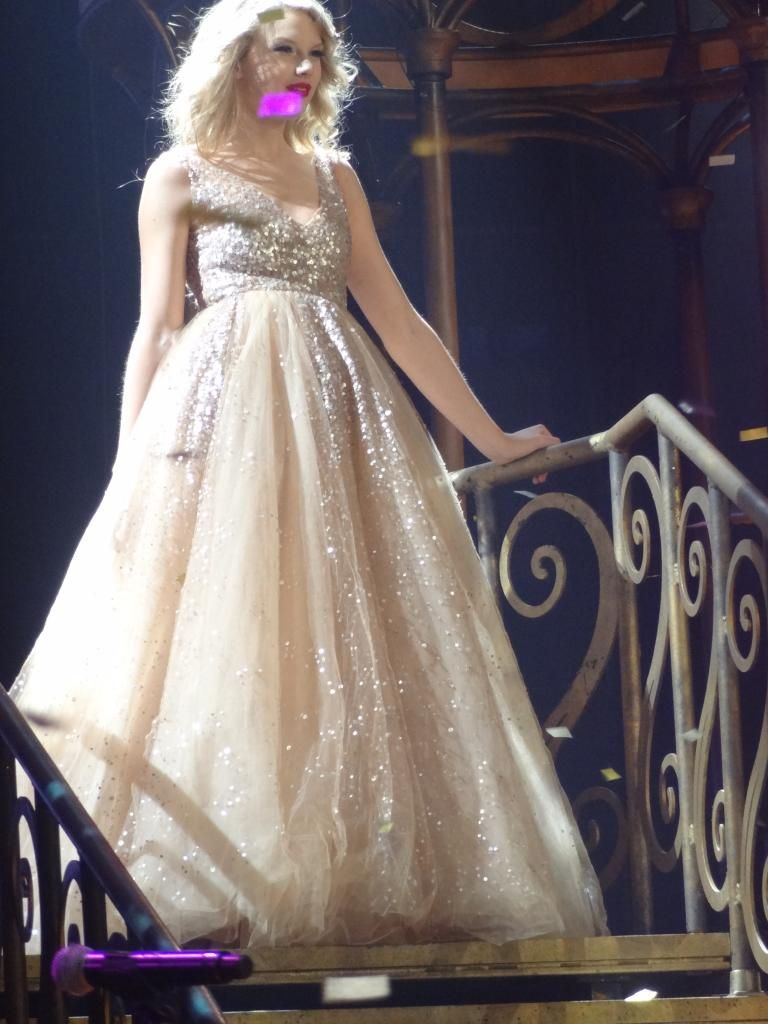 I was looking forward to Enchanted but my favorite then became Last Kiss. Such a good song....

I didn't want the concert or the night to end but i had 2 more concerts to look forward to in Vancouver B.C. in a few days.

Vancouver B.C., Canada
The night before the concert i didn't get to my hotel room until about 1am and didn't get to sleep until 6am because i was getting ready for the concert the next day. I got up around 10am because i wanted there early again. I was so psyched i didn't even know how tired i was. I lucked out this time because I managed to meet a few of the band before the concert. I managed to meet Amos. He was nice enough to hang out and talk with everyone for a few minutes before he had to go back in to get ready and do sound check. A few of us waved at Al through the windshield in the van he was in and he took a picture of us through the glass. The concert was just as amazing as the previous one i saw a few days earlier and we were lucky enough to have a surprise guest. It was Tal Bachman, he sang "She's so high" with Taylor which was awesome. I was lucky enough to have 2nd row seat so I was so close. I was 3rd seat in from the end so when Speak Now ended Taylor was so close when she passed by but not close enough. After the concert i crashed but i got up early again because this was my final concert of the tour. I was lucky enough to meet Amos again and also Daniel this time.
I really enjoyed this concert too but as i was heading back to my hotel i turned back around halfway on the hopes of catching Taylor leaving or the band. I found everyone on one side of the arena near the busses. I met Grant this time, i had just missed Caitlyn and Liz by a few minutes. Doh...
After it was over I was sad that I didn't have anymore concerts to go to and there still was another few months left of the tour. I stayed in Vancouver for a few days to see the sights since i hadn't been there before.

New York, NY
After a few weeks i was kind of sad that it was over for me but people were still going to concerts or still looking forward to theirs so i decided to go crazy and see if it was possible to go see the last concert of the tour since i hadn't ever been to a last concert of anyone's tour especially Taylor's. It was in New York and I hadn't been there before but my friends said i was a little crazy/brave for going there by myself. I decided to be like a "rock star" and only go for 2 days, Red-eye the night before the concert and head back the morning after. I was thinking about not getting a hotel room but i got one anyways. I didn't sleep on the flight because i was so excited. First time in NY and first last concert. Central Park was awesome and so full of history. I even visited the iron bridge Taylor performed below a few month earlier for the Thanksgiving Special. The park tour ended about 3pm so i decided to go scout Madison Square Garden before the concert. After an hour i headed back to hotel to get ready for the concert then the sky decided to open up and if you haven't been there for a NY shower they you have no idea. Luckily i brought an umbrella, but that didn't help much. Some of Taylor fans were hanging around outside in hopes of seeing Taylor or the band. Grant and Amos came out to visit and I got to meet Amos's wife. She is so nice too. A lot just had hoodies and were drenched but still happy. I tried to help with my umbrella the best i could but by the time the concert rolled around i was drenched from my legs down. I went to my seat and waited for the concert to start and I was lucky enough to get an Aisle seat in the 14th row. I was so lucky again. I was hoping enough to be close enough to Taylor to tell her how much i loved her music and how awesome she was but I was going to have to wait and see. As i was sitting there waiting i saw a couple of people walking down the aisle and i was like "Hey he looks familiar" but i was like No... I let him into my row and a few seat down i hear "Scotty!!!" I swear my eyes must have popped out of my head and my mouth wide open. It was
No Items

There is nothing to display yet, check back soon.
Recent Blogs
No Items

There is nothing to display yet, check back soon.