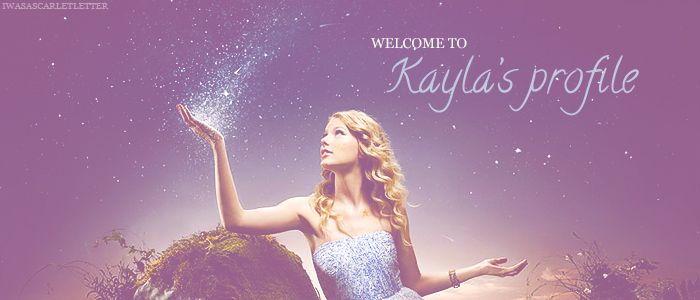 Hey There! My name is Kayla! I'm 23 years young. I used to live in Michigan, but now I live in Florida. I've been a Swiftie from the very beginning. I heard Tim McGraw on the radio when it first came out & thought it was the greatest song I had ever heard. Then came Teardrops on My Guitar, that song was the song that changed EVERYTHING for me. Taylor quickly became my idol after that. I am very lucky to of seen her in concert 5 times, soon to be 6 in October! Taylor has changed my life in so many wonderful magnificent ways. I have met so many wonderful people because of her as well. I love meeting new people, I love to write, paint & draw. Taylor is my inspiration, she is always so wonderful and sweet when she meets her fans which makes me love her even more. I love reading fan meet and greet stories because I love Taylor more and more when I hear how amazing she was. I'm a dreamer & i'm always dreaming impossible dreams :)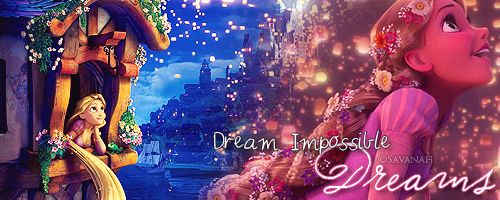 This is my Taylor Story of how I became a fan & how she has changed my life! This is going to be long, so if you read it THANK YOU SO MUCH!! :] I worked really hard on writing it!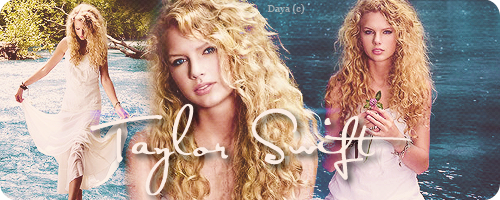 This is how my Taylor story begins. I was going through a rough time in my love life, I was in love with my best friend of then 6 years and all he would do was talk about his girlfriend or a girl he liked. It crushed me, I was so in love with him and he didn't even know it. One day I heard Teardrops on My Guitar on the radio, I had heard Tim McGraw and LOVED it, but I hadn't looked to much into Taylor's music yet. But after hearing Teardrops on My Guitar EVERYTHING changed for me, that was the song that helped me through the situation I was having with my best friend. We still stayed best friends, but it was very hard on me. I had watched him with different girls every year for over 6 years, all of those girls hated me which made it worse. They did not like the friendship that me & my best friend had. I had went out with my mom after I became obsessed with those two songs and bought Taylor's first album. I listened to Taylor's entire album that night and could not believe how talented she was, I could relate to EVERY song on the album. It was incredible, I had never felt so connected with someone before. It felt like she was writing songs about my life. My life soon became very Taylorfied lol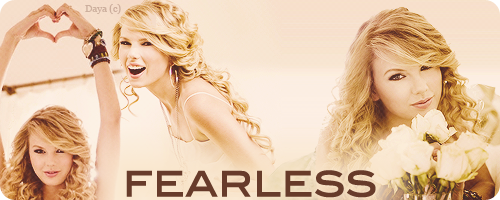 Then when she announced the release of Fearless I was freaking out at that point because I had become such a HUGE fan of hers. I could not wait to see what songs she had in store for us this time around. I had saw the pre-order box sets for Fearless, the price was WAY out of my price range at that point, but I had to have it, so in order to pay for it I got my very first job that fall. When that package came in the mail I was BEYOND THRILLED. I went straight to my room and played the entire album 6 times that night. Taylor amazed me even more with this album. I was going through another bad time in my love life, that year I had 2 guys make me fall for them and changed their minds in the end. I was still in love with my best friend, but tried to move on. Forever & Always, White Horse & You're Not Sorry were the songs that really helped me with those awful guys. You Belong With Me was the PERFECT song for me and my best friend because I would always see him with some other girl wishing that I was her. Taylor was the one who got me through the year. I was so depressed after those guys had treated me so badly. I didn't feel like living anymore, I just felt so awful & alone, but Taylor showed me that I needed to be Fearless and that everything would turn out the way it should in the end. She was the only one that seemed to understand my problems and that made me feel so good that I wasn't the only one that had those things happen to them.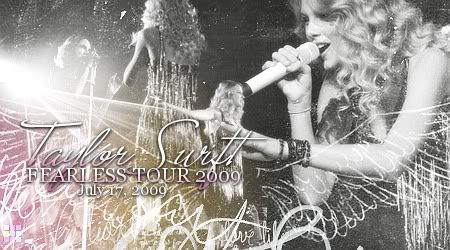 When Taylor announced the Fearless Tour I was so excited. I had NEVER seen her in concert before. I stayed home from school the day the tickets went on sale to make sure that I was able to get tickets. My mom and I went to her concert in Columbus, Ohio instead of here in Michigan because the Ohio show was actually closer to us then the Michigan show. We had TERRIBLE seats, but I didn't care because I was going to get to see my idol LIVE IN PERSON! We got to the show 12 hours before it started just to see if we could possibly meet her. Andrea (Taylor's Mom) came out and we got guitar picks and then she started handing out wristbands for pit seats, this was when they actually looked at peoples tickets to make sure they weren't on the floor because they already had awesome seats and she wanted to only give the pit wristbands to people with bad seats. For the Second half of the Fearless Tour I never saw anyone check tickets and one girl & her friends already had floor seats & still got pit wristbands! Anways...Andrea asked everyone who had floor seats to step to the side, then she asked whoever had bad seats to show her your tickets and I showed her mine and she said "Wow, you're WAY up there, here's wristbands for pit seats." I started crying at this point. I couldn't believe we were going to have the BEST seats in the arena. I was touching the stage the entire time, that was the GREATEST concert I had EVER been to. I got to touch Kellie's hand & Rachel from Gloriana. Sadly Taylor never touched anyones had on my side of the pit :( But she was right infront of us a lot of the time :) Should've Said No & Our Song were my two FAVORITE performances. This was the best night ever. I will never ever forget July 17th, 2009. When Taylor announced the second leg of the tour my mom and I both went to her 2 Detroit, Michigan shows 2 nights in a row, we had awful seats both nights, but I didn't care. I enjoyed the every minute of both nights. I didn't waste time worrying about the T-Party like most people, yeah it would've been awesome to go to it, but I had the BEST time even in the worst seats. Being in the same room as her was enough for me. It wasn't about the T-Party. I didn't even know about it during the first concert. I found out before the other 2 Fearless shows, but didn't want to make it all about it because I didn't want to get let down if I didn't get in.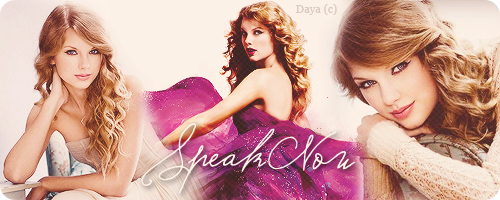 Then we get to 2010…When Taylor announced Speak Now during her live chat. I jumped up so excited and almost broke my laptop haha I was SUPER excited that she was FINALLY going to release Sparks Fly, that was one of my favorite songs ever. I pre-ordered it as soon as it was available. Mine became my favorite song when it was released in August, the video blew me away. I LOVED it! That will always be one of my favorite videos. I love the outdoor videos like Mine, Tim McGraw & Love Story. When my Speak Now album came in the mail I did the same thing as I did with Fearless, went straight to my room and played it the entire night. Mean was my anthem for a friend that I used to have in my life, she had been one of my really good friends and then just turned plain Mean, she lied to me and used me for anything that would benefit her. Last Kiss was the song the really helped me get through the end of a relationship I had, that song still makes me cry to this day because I always go back to thinking about that sad time in my life. Speak Now was such a powerful album and means so much to me.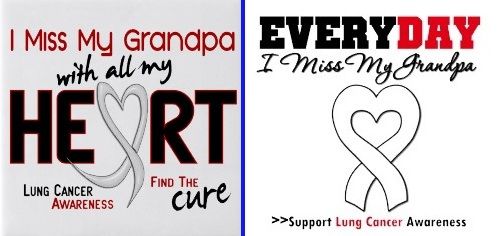 In April 2011 I lost one of the greatest men I have ever had in my life, my Grandpa. This was the MOST depressing day of my life. I was so close to him, I literally thought my world was ending. He was diagnosed with lung cancer that February, the doctors tried to treat it, but it had spread too fast. They said that he would live only 10 months to live, sadly he only live 2 months after that. He got better for about 2 weeks, he got to come home from the hospital, we thought he was getting better and then he got really sick again. He couldn't think straight anymore. His last 2 weeks with us he could no longer speak, he was barely awake in the hospital. I couldn't bare the thought of going to the hospital and seeing him like that, but I didn't want to regret it late either. I couldn't decide what I wanted to do, then I heard Fearless on the radio and thought that was a sign that I needed to be Fearless and go see him. I walked into that hospital room and instantly started crying, he was lying there still as can be, he was sleeping, my grandma woke him up and said that I was there to see him. He opened his eyes, saw me and then smiled. He couldn't speak though which killed me, there was so much that I wanted to say to him. I wish I had spoke up sooner, listen to Taylor, don't wait, Speak Now. I told him I loved him so much. I didn't know if he knew or understood, but I told him. That day was the last time he opened his eyes and the last day he had smiled. He passed on not long after that. I was just so sad and depressed. I took 3 weeks off of work, I just sat at home in bed. My best friend Ben, the one I mentioned earlier that I had been so in love with for so many years…we hadn't been as close anymore before this happened, but when it did he was there for me more then ever. I was so happy. I didn't have many friends then and he was there with me through it all. He stayed with me the day my grandpa had passed away and was there for the funeral and held my hand through the entire service. It was so nice having him there for me. For everyone that doesn't spend enough time or talk to their grandparents, talk to them now, spend time with them now. You don't get enough time with them! I stayed the night at my grandma and grandpa's house at least twice a week for 2 years, plus a lot of times when I was little and it still wasn't enough. I loved my grandpa so much and still cry thinking about him. It hasn't gotten an easier. I miss him so much & think about him all the time. I know he's in a better place, but I wish I could have him back here with me.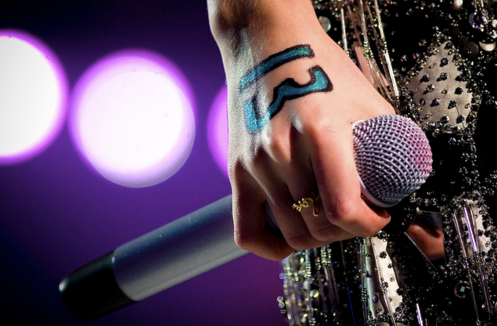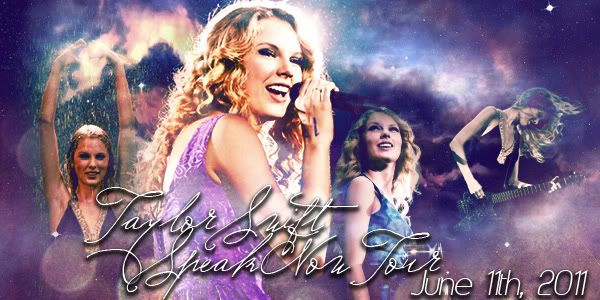 I was so lucky to be able to go to the Speak Now Tour on June 11, 2011 at Detroit's Ford Field! I was so excited. I was lucky enough to be able to get pit tickets. Me and a friend of mine were going and were able to get pit tickets. I had thought this was the greatest thing ever after how AMAZING pit was on the Fearless Tour. Boy was I wrong...my show was a stadium show so the pit was SUPER tall. We could only see Taylor when she was right infront of us which wasn't very often. Almost the entire show we had to watch the giant screen. But we still had a GREAT time! Taylor is and forever always will be my idol.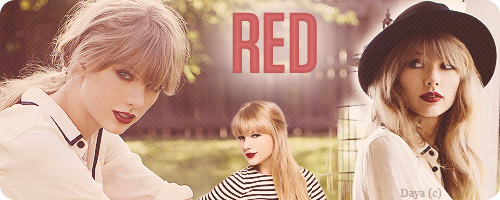 Red blew my mind when it came out. I love every song on the album, its really hard to pick a favorite! My favorites list has changed so many times haha I really love Red, Stay Stay Stay & Come Back...Be Here, but all of the other songs are AMAZING as well! I ended up buying 7 copes of Red, yes I said 7 copies lol I bought 2 Target editions, 3 Walmart Editions & 2 of the regular editions. I wanted to be able to keep some new and sealed and I also wanted to help Taylor's sales :) I wanted Taylor to have an amazing week like we did with the Red release! She does so much for the fans so I wanted to do this for her.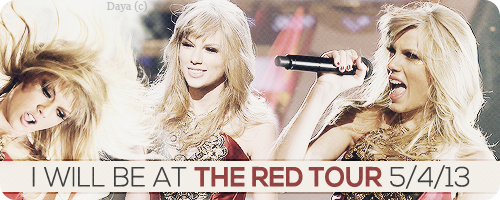 The Red Tour was INCREDIBLE! I'm so glad that I was lucky enough to get tickets. The show blew my mind. Taylor amazes me even more every time I see her on tour. She always manages to top the last tour she had which seems impossible, but she always does it. I can't wait to see what's in store for the 1989 tour.

1989 is by far my favorite album so far. I wasn't sure how it would be with Taylor moving on to pop music, but she nailed it!!!! I'm blown away by her talent. Wildest Dreams and Wonderland are by far my favorite songs. But I love every single song. I hope she is able to play most of them on tour because this album is epic! :)



My other favorite things include drawing & painting. My favorite TV Shows are 7th Heaven, Heartland, Supernatural, Wildfire, 90210, Castle, Little House on the Prairie, The Secret Life of the American Teenager, Switched at Birth, The Lying Game, Dawson's Creek, Kyle XY & Lincoln Heights. My favorite movies are Tangled, The Love Comes Softly Series & Pirates of the Caribbean.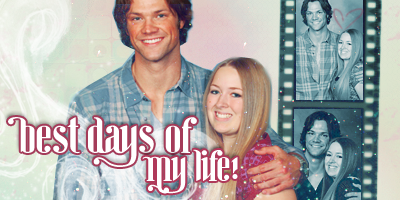 I'm a BIG fan of Jared Padalecki from Supernatural. I first became a fan of his when he played Dean on Gilmore Girls. I was lucky enough to be able to meet him twice at 2 different Supernatural Conventions. I met some of the other stars as well. Unfortunately I still haven't met Jensen, but hope to one day :) I met Jared April 6th, 2008 & September 28th, 2008 :)



Thank you so much to whoever read this. I know it was long. This is my story and I'm glad that I could share it with you. If you have any
I know that everyone wants to win this photo contest with Sony on Facebook...but if anyone is feeling EXTRA generous please vote for my album. This would be a dream come true for me. Search for my name: Kayla Schafer. My album is all Taylor Pictures :) THANK YOU THANK YOU THANK YOU to anyone that votes for me! :) https://apps.facebook.com/taylorswiftcloseup/