Hey Swifties :)!





My name is Meggie and I'm 18. I'm the biggest Taylor fan ever but that's probably everyone here :)!
Feel free to send me a friend request or a message.





I fell in love with my hero Taylor about 4 years ago during the Fearless era. Since then she helped me through every tragedy, taught me how strong love can grow and how easy it is to lose the person who means the most to you, she made me smile about mean people and haters and showed me the significance of being FEARLESS, SPEAKING NOW and thinking RED :). In conclusion you can say that Taylor's music is always around me guiding me the right way or helping me to survive in hard times ;)
Thank you Taylor, I will always be grateful for your existence... I love you





I'm pretty sure I'd be a different girl if I hadn't stumbled over Taylor. She inspires me everyday to be a nicer person, to become a better songwriter and to stand up for myself and others.
I'm the kind of girl that's interested in many many things, I have a lot of conflicting sides but as you can see somehow they suit each other :D

First of all I have to say that MUSIC means everything to me. I can't describe it exactly but you can compare my feelings for music with an intensive, long, strong relationship. Music makes me happy and is my daily accompanist. Yes, sometimes it even feels like I breathe music instead of air. I know this might sound crazy but it's just impossible to show how important music is to me :D
I started singing before talking and over the years I also learned how to play the piano. Last year I started teaching myself how to play the guitar. Nevertheless singing is MY instrument :) You can do it everywhere and don't need anything for it except your voice. On days without school or days where I don't meet friends I'm just singing the entire day and I REALLY mean the entire day :D Well it's just my passion ;)
Oh and I also write songs. When I'm feeling misunderstood, neglected or just sad, over-excited, magical or completely happy I grab a paper, a pen and the guitar or I sit down at my piano and I try to find the right words and chords... I was about 8 years old when I wrote my first real song and since then I've written tons of them haha :D
"People haven't always been there for me but music always has." is my favorite Taylor quote. It fits perfectly into my life.





I'm also concerned about my style. To be honest I spent a lot of time painting my nails, watching make up tutorials or going shopping :). I have way too much high heels, rings, clothes, make-up and all that stuff but I just love to dress up like all these stars :D Taylor is a huge inspiration...
I love her style in that one:





In contrast I'm a real grind... no joking :D I'm that kind of pupil who's diappointed when she gets a B instead of an A haha :D I don't really know why I'm such an ambitious student but well I think in the end it's no disadvantage :D





In my free time I like to meet my friends or go to partys with them... I love dancing and laughing and just doing silly things :D The 22 video looks almost like a perfect summer to me ;)





I also love western riding. Deep inside of me I'm a real country girl ;) The smell of horses just has something homey that always makes me feel alright again.





I'm a hopeless romantic. I think I'm actually the same as Taylor when it comes to love and dreams about the prince who will come around to pick me up one day ;) Taylor made me believe in true love that will last forever...





Daydreaming is one of my favorite things to do haha :D I have a huge fantasy (way too huge sometimes :D) but I love it. Creating magical, sparkling worlds sometimes can be really relaxing and always calms me down. Because of Taylor I became a even bigger dreamer I think...





Like Taylor I love all kinds of food... nutella, pizza, ice-cream, all kinds of candies... mmmmh... it's such a curse :D ! Just because of them I go jogging and swimming, do rope skipping and dance a lot (I hate sports !) but otherwise I would burst I think :D





Besides Taylor I listen to Beyoncé, Lana Del Rey, John Mayer, Katy Perry, Demi Lovato, Rihanna, Christina Aguilera, The Pretty Reckless, Miley Cryus, Selena Gomez, Nicki Minaj,...
I love the TV series Supernatural, The Vampire Diaries, Fringe, Eureka,...

There are so many other sides of me but I don't ant to annoy you even longer :D Thanks for reading this all. I really appreciate that ;)

Here are just some graphics of the different eras I really really adore:


Taylor Swift era:





Fearless era:





Speak Now era:





Red era: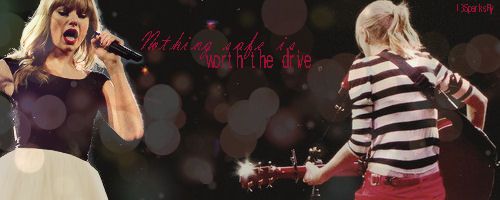 3/12/2011 was the most marvellous day ever ! That was the night I saw my idol Taylor perform for the very first time ! I'm from Germany and it was her first and only concert there. When she came out I tried soooo hard not to cry (I was scared my make-up would be all over my face :D). In these 2 hours I danced and laughed and sung and screamed like I never had done before. I still can't believe that I actually saw Taylor !! I was enchanted to meet you ! My biggest wish is to get a chance to talk to her and to hug her one day...
First song we EVER (like EVER) heard from Taylor . Praise to country-star Tim McGraw. The first cut is the deepest. These three sentences pop up in my mind when I think about the first Taylor single Tim McGraw, the song that changed her life completely. Taylor is probably still thanking God for the day she wrote it In my opinion Tim McGraw is such a sweet song that on...