Credit for these goes to the awesome TanyaxOh, Next two by TanyaxOh, Bea, Music21, Songbird13, the rest made by me

Official Swangster :D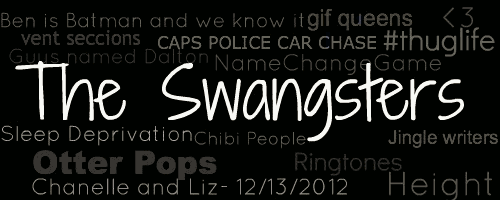 Made by the wonderful LikeAFirework

"You said the way my blue eyes shined, put those Georgia stars to shame that night, I said that's a lie"

Those lyrics from Taylor's song "Tim McGraw" that I first heard in 2006 was the start of my love for her.
I was so happy to be able to see her opening up for Rascall Flatts on April 11th 2008 and her Fearless show on April 11th, 2010. And her Speak Now show on September 3rd, 2011.



Made by Bea

To describe myself I'm just a guy swiftie who loves writing songs and making graphics. As well as singing, dancing, drawing, and playing guitar. And I'd hope to be able to do all of these as a career later on in life.

The one thing in life I'm most thankful for are my family and friends. The ones who inspire me and keep me going every day.

My Best Swiftie Friends
Liz (coconutcoffee08)
Amy (rawkstar498)
Ben (Alkanshel)
Hannah (Sparkles)
Ian (Iantaylor13)
Scott (Singlovetaylor13)
Shannon (Likeafirework)
Anna (liveinlove05)
Chanelle (Chanelle)
Fearlessforeverandalways
Tanya (tanyaxoh)

Also one thing you should know about me is the fact I have the mouth of a sailor, which sucks because it's pretty hard to not curse on this site xD

Music is my passion, and I don't think there's a thing on this world I would rather be more into and more involved in than anything else.
I grew up listening to Shania Twain, Faith Hill, and Martina McBride, and as I was introduced to new music, such as pop and other related genres that I still listen to to this day. I fell in love with artists such as: Britney Spears, The Black Eyed Peas, Beyonce/Destiny's Child (The group she was in when she first started), 50 Cent, Tupac, Mariah Carey, Avril Lavigne, and Kelly Clarkson.

One thing about us swifties is that we are hopeless romantics which is something I can easily connect to other people with. We share something that no other fan base shares. And I'm happy to have TC to be able to do this... Also...



What you get from my personality is an optimistic person who loves people and has a good sense of humor.
As long as you don't get on my bad side you're okay :)

My favorite books tie between: Harry Potter, the Percy Jackson series, and The Hunger Games Series.

My favorite number is 11. Because it's been such a lucky and wonderful number in my life. I can get into detail about the many reason why 11 has been amazing. But that'd take up a lot of space in this profile :)

My favorite shows are Friends, Whitney, New Girl, Awkward.,That 70's Show, Full House, Parks and Recreation, Modern Family, Cougar Town, Law and Order SVU, and America's Best Dance Crew

My favorite colors are green and silver (our school colors)

My favorite movies are The Hangover, Talladega Nights,
Harry potter, Hunger Games, and the Taylor Swift Journey to Fearless/ Speak Now World Tour DVD

My favorite singers:




My favorite Taylor (non-song lyric) quote is



Made by the amazing Kiki

I'm really obsessed with YouTube, it's like my life, and if you guys can, please check out my favorite youtubers :). My favorites are: iJustine, Tobuscus, Jenna Marbles, Shane Dawson, Olga Kay, Dailygrace, supereeego, and sergiorazta.
It's like necessary that you check them out they're ridiculously funny!
Some of them are kind of adult-related youtubers. So if you're old enough to watch these videos you should really check them out!

And speaking of YouTube videos, I also post videos of me playing guitar, if you want to check out my channel (please do) click here.


Made by LilyLily13

Thanks so much for coming to my profile :)
And I'll be happy to get to know you!
Love
swiftiesunite


Songbird13, Kiki, Me
(Previous avatars)
I know, a typical blog about Red, and I honestly think that this is a great direction Taylor is headed. Every song is unique and different yet you still get to see Taylor the way we love her, with the beautiful lyrics and catchy beats. I have a lot of favorites on the album, the ones that were non-previously released. Are Treacherous, 22, Everything Has Changed and The Last Time. My...