Taylor's Street Style
I recently wrote a blog post about Taylor's red carpet style, and I thought it would be interesting to do one about her out-and-about, everyday style as well. I personally think these outfits are more representative of her aesthetic and personality since they aren't selected by her stylist and she has complete control over them. (I'm not saying she doesn't have a choice in her red carpet outfits, but those options are usually narrowed down by the stylist.)

I have chosen my 10 faovrite looks and listed them in order by year, but not necessarily by date. Enjoy!



Bringing out her inner country girl, Taylor wore a Yoana Baraschi dress while arriving at the Sydney airport in early 2009. It was bright pink but featured very home-sewn-esque white trim and she paired it with cowboy boots plus a slouchy leather bag.



Taylor arrived at her hotel in London in summer of 2009 looking equal parts chic, bohemian, and preppy. She wore a heather gray cardigan over a navy blue top and white skirt with a wide Western-inspired belt, complete with a canary yellow bag and brown sandals with buckle detailing. Cute but perfectly casual.



Being in London seems to have a positive affect on Taylor's fashion sense! She left a restaurant in 2009 in a classic white trench coat and black knee-high boots with a little floral-bordered purse.. How very Kate Moss of her. ;) Considering how much it rains in the UK, I'd say this outfit is both stylish and functional.



Taylor was spotted walking in Sydney in 2010 in a gray strapless dress with a gorgeous rose print and yellow lining. She also wore peeptoe pumps with bows, that ever-so-practical hobo bag, a simple headband, and a long necklace. The girl knows how to accessorize!



Back in Beverly Hills, Taylor stopped for coffee with friends wearing--gasp--denim shorts! She wore a navy blue loose top and light wash distressed American Eagle jean shorts and a neat little key necklace.



Taylor took a stroll in Sydney in 2010 with Caitlin in a red cardigan, black bustier top, zip-up floral skirt, striped tights and beige ankle-strap shoes. I love that this look is a little bit edgy and not as girly as usual. It has a slightly darker color palette which is great.



Taylor arrived at a radio station in New York City in 2011 looking pretty in a blue Tibi frock with exquisite swirls, a dress Blake Lively also happened to wear. Taylor used a little skinny belt to cinch her dress and give it some shape and definition. The shoes are the same ones she wore (below) in London.



Taylor went shopping in 2011 here in the States in a Ralph Lauren sweater, yellow skirt and fuschia peeptoe shoes. The cerulean handbag further proves she can work easily and effortlessly with color, plus her signature red lips and 13-on-hand make an appearance here!



London again :) I don't live there, but I swear there must be something in the water that makes people look especially good. Taylor left her hotel in 2011 in a red strapless dress with a funky pattern I can only describe as little white pickup sticks. She also donned pale gray bow flats and a long-sleeved cardigan which she wore in many other outfits while in London as well.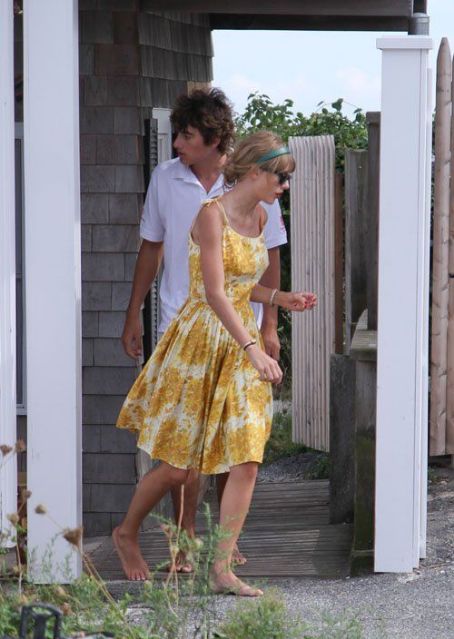 Taylor looked sophisticated and polished (even barefoot) in a sundress with yellow-gold print and a turquoise headband on a date with Conor Kennedy this year. It's the perfect beachside dress. Relaxed but still true to her style.