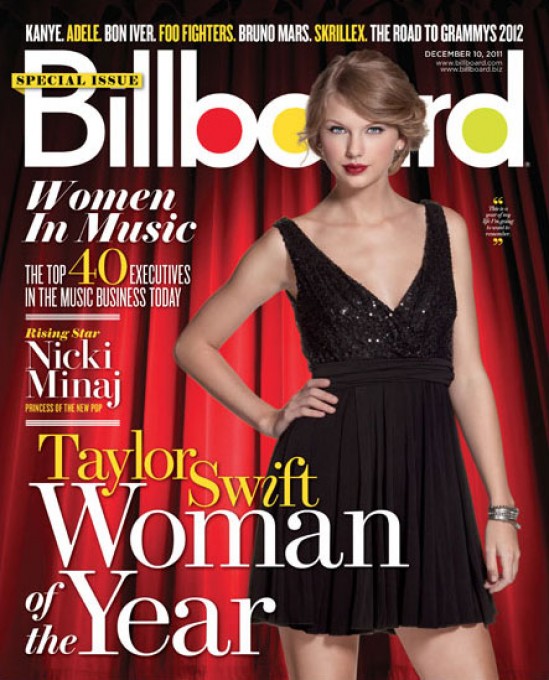 TAYLOR COVERS BILLBOARD AS "WOMAN OF THE YEAR"
Billboard Magazine has honored Taylor as the 2011 Woman of the Year! The annual award celebrates the achievements of a trailblazing female recording artist during the past 12 months and acknowledges her overall success and leadership in the music business.
Check out a sample of the article below and be sure to pick up a copy on newsstands now!
Congratulations on being Billboard's Woman of the Year.
Thank you. It is pretty cool.
Just a few weeks ago was the five-year anniversary of your first album, released when you were 16. Now you're Woman of the Year. Where do you see yourself on that scale of girl and woman?
Growing up in this position, making music, writing songs and having everyone hear what I'm going through since I was about 16 years old, now I'm 21 about to be 22 -- I wouldn't have had it any other way. On a scale of being a girl or teenager or woman, I never tried to be the one to label myself which of those three I was. I've just tried to grow up in the most natural and gradual process that I possibly can and make choices I feel are right for me and my fans. Whether I'm a woman now, or whatever, is up to my fans to decide, not for me. I really haven't felt the need to make some bold statement of maturity or make the "dark" record yet.
Given the Woman of the Year honor, what women do you consider to be your role models, and why?
I have a lot of role models. Faith Hill is a big role model. Reese Witherspoon is a role model of mine-she's not in music, but I love everything she stands for. Shawn Colvin is a huge model for me. Her writing has been consistently great and thoughtful and wistful and beautiful. And also-[he's] not a girl-but Kris Kristofferson has been a big role model for me. When I look at people who I feel have really lived their lives and recorded their lives in music so beautifully, those are my role models. They've all taught me lessons just by example.
Available on Taylor Swift NOW, Only from AT&T

On display March 3,2017 - August 13,2017

Watch the official lyric video for "I Don't Wanna Live Forever (Fifty Shades Darker)" here!