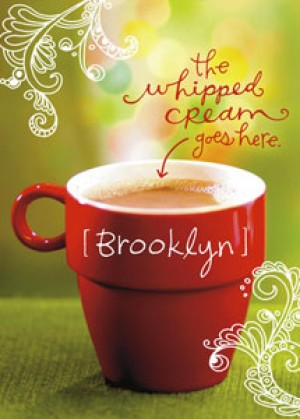 American Greetings and Taylor Celebrate their Love of the Holidays
Tis the season for giving, and American Greetings Corporation and Taylor Swift are doing their part with the introduction of all new holiday cards and gifts and a very special promotion that has launched on Facebook. This year's Taylor Swift holiday collection includes new greeting cards, boxed cards, two collectible ornaments, and 13 personalized paper cards at Cardstore.com.
The latest cards from Taylor are highlighted by her appealing casual writing style, inspiring photography, expressive hand lettering, and joyful designs that make every greeting memorable. This year's holiday collection features everything from festive scenes like stockings hanging on a mantle, beautifully wrapped packages, and elegant decorations to the small, charming joys of children catching falling snow and a deliciously warm cup of hot chocolate just begging for a little whipped cream.
For those that want to add even more of themselves to the trademark Taylor style, Cardstore.com has 13 designs that can be accented with personal messages, favorite photos, and your own signature. Best of all, you can customize your greetings and mail them directly from the site to share warm wishes with all of your family and friends in no time at all!
In addition to all of these great new ways to commemorate the holidays, American Greetings has even more cheer to spread with the American Greetings13 Days of Taylor sweepstakes. The special promotion features 13 straight days of giveaways inspired by the singer-songwriter's love of the season. Each day a new gift package will be introduced on Facebook and three winners will be randomly selected. Every daily prize includes a copy of SPEAK NOW WORLD TOUR – LIVE, the CD/DVD set of Taylor's 2011 Speak Now concert.
Winners will be treated to packages highlighted by an amazing collection of prizes that reflect all the joys of the season. Fans can register now for the promotion via Facebook and drawings will begin on Thursday, December 1 and run through Monday, December 12, with the final winners being selected on Taylor's birthday, Tuesday, December 13. For a complete list of prizes available, visit the Taylor Swift page at AmericanGreetings.com: www.americangreetings.com/taylorswift.
"The American Greetings 13 Days of Taylor sweepstakes is the perfect way to celebrate a season that Taylor absolutely loves in a way that commemorates the small moments and cherished memories that shape her holiday cards," states Lindsay Kalback, from the Taylor Swift brand management team at American Greetings. "This year's holiday collection emphasizes Taylor's love of the season and, in typical Taylor style, it does so with a unique twist on the traditions that remind us all that this truly is a magical time of year."
For more information on the American Greetings 13 Days of Taylor sweepstakes and to find out where you can buy all of the latest Taylor Swift holiday cards and gifts, visit www.americangreetings.com/taylorswift. For more information on American Greetings, including store locations in your area, please visit us at www.corporate.americangreetings.com. You can also follow us on Twitter at www.twitter.com/amgreetings and on Facebook at www.facebook.com/AmericanGreetings.
Available on Taylor Swift NOW, Only from AT&T

On display March 3,2017 - August 13,2017

Watch the official lyric video for "I Don't Wanna Live Forever (Fifty Shades Darker)" here!