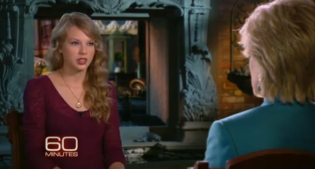 "60 MINUTES" PROFILE OF TAYLOR TO AIR SUNDAY, NOVEMBER 20TH AT 7 PM ET / PT ON CBS
Four-time Grammy winner and Billboard's 2011 Woman of the Year Taylor Swift will be profiled this Sunday, November 20th, on CBS News' 60 Minutes. The segment includes concert and backstage footage from Taylor's blockbuster Speak Now World Tour, and correspondent Lesley Stahl's in-depth report offers viewers a candid conversation with Taylor, as well as a first-ever glimpse inside her Nashville condominium. An advance clip from the show is online now at: http://www.cbsnews.com/video/watch/?id=7388517n. CBS News may make additional advance clips available at www.60minutes.com and www.60minutesovertime.com in the days leading up to the broadcast. The full profile will be posted online at www.60minutes.com immediately after the show airs.
The 60 Minutes profile comes on the eve of the November 21st Big Machine Records release of SPEAK NOW WORLD TOUR – LIVE, CD / DVD combo-pak sets of the show. The North American leg of the tour wraps with sold-out shows at Madison Square Garden on November 21st and 22nd, and the tour has been extended into 2012 with shows in Australia and New Zealand.
Watch a preview of the interview here on the Taylorswift.com videos page.
Available on Taylor Swift NOW, Only from AT&T

On display March 3,2017 - August 13,2017

Watch the official lyric video for "I Don't Wanna Live Forever (Fifty Shades Darker)" here!