TC Founder - Joined the new Taylor Connect during the preview period (Feb 2012 - May 2012)

Attention Grabber - How to achieve: draw attention to your profile!

So Popular - How to achieve: become friends with over 130 other Taylor fans!

Conversationalist - how to achieve: reach a certain threshold of wall posts on your profile from other users. How many you ask? You'll have to wait and see!

Casual Poster - How to achieve: reach the threshold of 13 posts in the forums.
Serious Poster - How to achieve: reach a certain threshold of posts in the forums. How many you ask? You'll have to wait and see!
Super-Serious Poster - How to achieve: reach a certain threshold of posts in the forums. How many you ask? You'll have to wait and see!
Slight Obsession - - How to achieve: reach a certain threshold of posts in the forums. How many you ask? You'll have to wait and see!
Taylor Connect Is Life - How to achieve: reach a VERY high threshold of posts in the forums. How many you ask? It will take you a while to get there :)
June 14, 2011 Up close with Taylor
After seeing Taylor twice on the incredible Fearless tour and tons of work on my fan sites & activity on the official boards, all the hard work was about to pay off. We secured floor seat tickets by the sound booth area to the Speak Now tour the first night she would be playing in our state (MN). Just over a week to the show we made posters because we didn't know if they would be allowed on the floor (they weren't, but it was fun anyway and got us pepped up). After buying several packs of glitter glue & getting either $13 in change or something with 13 cents for change, I had an inkling that something big was going to happen because 13 is Taylor's #. Everywhere I went for 2 weeks, I saw 13.

So it's finally the day before the concert. I turn on the tv, a Taylor video is on. I get my tour book and new posters of her in the mail. Then, I check my e-mail to find out from Jordan (aka J. moderator) that we would be going BACKSTAGE to meet her before the show the next night and we were upgraded to the pit! I started shaking & crying exactly as I did right after she called, I was so incredibly happy. After e-mails and the phone call I was finally meeting my friend Taylor in person for the first time! I had been buying & saving gifts for her with the thought of giving them to her mom or a staff person.

I made darn sure we wouldn't be late for anything. There were 3 of us and only 2 of us knew what was happening and we had to get going early so we would be on time. I pretended that I was going to the bathroom or something but I snuck over to will call to collect our passes for the night. We didn't let the youngest one on about going backstage or being in the pit until she was sitting in the Covergirl chair after we entered with our original tickets. It was getting close to time to meet to go backstage, so after I saw where we would have sat I went up and gave her the backstage bracelet and pit ticket. She was totally surprised, and we were finally relieved we could talk about it openly.

So we wander around the spot we're supposed to meet and are led down stairs & halls. We get stopped just outside the beautiful T-Party room (it's the most beautiful backstage room I've ever seen) and are given free gloss balms from Covergirl. They go over the rules, and even though they didn't want us taking pics I snuck a couple in the T-Party room just to remember it. We saw several dresses she wore onstage the last time we saw her there. Sunglasses, boots, the huge bear from Valentine's Day (I watched it the day before this). Finally we see her silhouette in the photo booth just outside the T-Party room. We were the last in line for our little group that went in together. As we waited to meet her I thought back to the e-mails and phone call to be sure I would be able to talk to her in person too.

Finally the curtain opens and we're walking right to Taylor. She looked flawless and she is just soooo sweet. First thing she did was say "Hiiiiii how are you?" while giving each of us a hug. We have a brief interactive convo (told her she was our angel) and I pull out the main thing I got her as a gift - the pegicorn (flying unicorn). A WHITE one, just like the ringtone I had the day I talked to her on the phone. She loved it and said it would be in her dressing room. So then we had to get our picture taken, get our pre-signed picture and go.

I don't know if I'll ever meet her again, but I'll definitely remember this night. I was enchanted to meet her! Oh yeah, and the show was amazing! When she came up on stage I couldn't believe I had just hugged her and got my picture with her! I'm the one with the glasses, imitation headband & Speak Now shirt.



Jennifer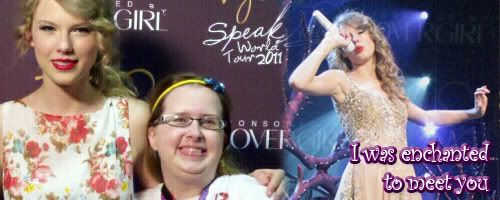 We were also upgraded to the pit, so that's where we went after leaving the backstage area. We gave our original floor seats away to a couple with a little girl since we knew she would be going down the floor & be close on the B stage.
Replies to This Posting
TC Founder - Joined the new Taylor Connect during the preview period (Feb 2012 - May 2012)

Attention Grabber - How to achieve: draw attention to your profile!

So Popular - How to achieve: become friends with over 130 other Taylor fans!

Conversationalist - how to achieve: reach a certain threshold of wall posts on your profile from other users. How many you ask? You'll have to wait and see!

Casual Poster - How to achieve: reach the threshold of 13 posts in the forums.
Serious Poster - How to achieve: reach a certain threshold of posts in the forums. How many you ask? You'll have to wait and see!
Super-Serious Poster - How to achieve: reach a certain threshold of posts in the forums. How many you ask? You'll have to wait and see!
Slight Obsession - - How to achieve: reach a certain threshold of posts in the forums. How many you ask? You'll have to wait and see!
Taylor Connect Is Life - How to achieve: reach a VERY high threshold of posts in the forums. How many you ask? It will take you a while to get there :)

RE: June 14, 2011 Up close with Taylor

Here's all the stories that involve Taylor and me. I provided my info here on the site & got lucky when she decided to contact me!

Taylor & me
Jennifer


TC Founder - Joined the new Taylor Connect during the preview period (Feb 2012 - May 2012)

Attention Grabber - How to achieve: draw attention to your profile!

So Popular - How to achieve: become friends with over 130 other Taylor fans!

Conversationalist - how to achieve: reach a certain threshold of wall posts on your profile from other users. How many you ask? You'll have to wait and see!

Casual Poster - How to achieve: reach the threshold of 13 posts in the forums.
Serious Poster - How to achieve: reach a certain threshold of posts in the forums. How many you ask? You'll have to wait and see!
Super-Serious Poster - How to achieve: reach a certain threshold of posts in the forums. How many you ask? You'll have to wait and see!
Slight Obsession - - How to achieve: reach a certain threshold of posts in the forums. How many you ask? You'll have to wait and see!
Taylor Connect Is Life - How to achieve: reach a VERY high threshold of posts in the forums. How many you ask? It will take you a while to get there :)

RE: June 14, 2011 Up close with Taylor

By the way, March 9 this yr will be 2 years since I talked to Taylor on the phone! I provided my # in my info on Taylor Connect. I got 2 e-mails before the call & finally met her last summer!

When we're on the phone and you talk real slow

And here's the video when I was in the same exact spot a little later. It doesn't involve the actual call but what I was doing & where I was when I got it.

video

Jennifer


TC Founder - Joined the new Taylor Connect during the preview period (Feb 2012 - May 2012)

Attention Grabber - How to achieve: draw attention to your profile!

So Popular - How to achieve: become friends with over 130 other Taylor fans!

Conversationalist - how to achieve: reach a certain threshold of wall posts on your profile from other users. How many you ask? You'll have to wait and see!

Casual Poster - How to achieve: reach the threshold of 13 posts in the forums.
Serious Poster - How to achieve: reach a certain threshold of posts in the forums. How many you ask? You'll have to wait and see!
Super-Serious Poster - How to achieve: reach a certain threshold of posts in the forums. How many you ask? You'll have to wait and see!
Slight Obsession - - How to achieve: reach a certain threshold of posts in the forums. How many you ask? You'll have to wait and see!
Taylor Connect Is Life - How to achieve: reach a VERY high threshold of posts in the forums. How many you ask? It will take you a while to get there :)

RE: June 14, 2011 Up close with Taylor

Amazing experience! I'm happy for you.
_____________________________________________
Taylor Swift and Harry Potter is the reason I am here today.

TC Founder - Joined the new Taylor Connect during the preview period (Feb 2012 - May 2012)

Attention Grabber - How to achieve: draw attention to your profile!

So Popular - How to achieve: become friends with over 130 other Taylor fans!

Conversationalist - how to achieve: reach a certain threshold of wall posts on your profile from other users. How many you ask? You'll have to wait and see!

Casual Poster - How to achieve: reach the threshold of 13 posts in the forums.
Serious Poster - How to achieve: reach a certain threshold of posts in the forums. How many you ask? You'll have to wait and see!
Super-Serious Poster - How to achieve: reach a certain threshold of posts in the forums. How many you ask? You'll have to wait and see!
Slight Obsession - - How to achieve: reach a certain threshold of posts in the forums. How many you ask? You'll have to wait and see!
Taylor Connect Is Life - How to achieve: reach a VERY high threshold of posts in the forums. How many you ask? It will take you a while to get there :)

RE: June 14, 2011 Up close with Taylor

Awesome story. :)
___________________________________________

http://30.media.tumblr.com/tumblr_lykxnjiGaN1r86q2ro1_500.png
/\ CREDIT TO FISHIE!


TC Founder - Joined the new Taylor Connect during the preview period (Feb 2012 - May 2012)

Attention Grabber - How to achieve: draw attention to your profile!

So Popular - How to achieve: become friends with over 130 other Taylor fans!

Conversationalist - how to achieve: reach a certain threshold of wall posts on your profile from other users. How many you ask? You'll have to wait and see!

Casual Poster - How to achieve: reach the threshold of 13 posts in the forums.
Serious Poster - How to achieve: reach a certain threshold of posts in the forums. How many you ask? You'll have to wait and see!
Super-Serious Poster - How to achieve: reach a certain threshold of posts in the forums. How many you ask? You'll have to wait and see!
Slight Obsession - - How to achieve: reach a certain threshold of posts in the forums. How many you ask? You'll have to wait and see!
Taylor Connect Is Life - How to achieve: reach a VERY high threshold of posts in the forums. How many you ask? It will take you a while to get there :)

RE: June 14, 2011 Up close with Taylor

In 1 hour & 15 minutes it will be exactly 2 years since she called!
Jennifer


TC Founder - Joined the new Taylor Connect during the preview period (Feb 2012 - May 2012)

Attention Grabber - How to achieve: draw attention to your profile!

So Popular - How to achieve: become friends with over 130 other Taylor fans!

Conversationalist - how to achieve: reach a certain threshold of wall posts on your profile from other users. How many you ask? You'll have to wait and see!

Casual Poster - How to achieve: reach the threshold of 13 posts in the forums.
Serious Poster - How to achieve: reach a certain threshold of posts in the forums. How many you ask? You'll have to wait and see!
Super-Serious Poster - How to achieve: reach a certain threshold of posts in the forums. How many you ask? You'll have to wait and see!
Slight Obsession - - How to achieve: reach a certain threshold of posts in the forums. How many you ask? You'll have to wait and see!
Taylor Connect Is Life - How to achieve: reach a VERY high threshold of posts in the forums. How many you ask? It will take you a while to get there :)

RE: June 14, 2011 Up close with Taylor

Thats awesome ! wow, its been 2 years already ? (since that phone call) time sure flies, i still remember reading your story here like it was yesterday, ahh nostalgia, nostalgia :P

TC Founder - Joined the new Taylor Connect during the preview period (Feb 2012 - May 2012)

Attention Grabber - How to achieve: draw attention to your profile!

So Popular - How to achieve: become friends with over 130 other Taylor fans!

Conversationalist - how to achieve: reach a certain threshold of wall posts on your profile from other users. How many you ask? You'll have to wait and see!

Casual Poster - How to achieve: reach the threshold of 13 posts in the forums.
Serious Poster - How to achieve: reach a certain threshold of posts in the forums. How many you ask? You'll have to wait and see!
Super-Serious Poster - How to achieve: reach a certain threshold of posts in the forums. How many you ask? You'll have to wait and see!
Slight Obsession - - How to achieve: reach a certain threshold of posts in the forums. How many you ask? You'll have to wait and see!
Taylor Connect Is Life - How to achieve: reach a VERY high threshold of posts in the forums. How many you ask? It will take you a while to get there :)

RE: June 14, 2011 Up close with Taylor

FYI I'm not giving out the e-mail or phone #. I saw nothing and heard nothing that I was allowed to share it. Please be happy I shared the e-mail messages, phone call & backstage experience.
Jennifer


TC Founder - Joined the new Taylor Connect during the preview period (Feb 2012 - May 2012)

Attention Grabber - How to achieve: draw attention to your profile!

So Popular - How to achieve: become friends with over 130 other Taylor fans!

Conversationalist - how to achieve: reach a certain threshold of wall posts on your profile from other users. How many you ask? You'll have to wait and see!

Casual Poster - How to achieve: reach the threshold of 13 posts in the forums.
Serious Poster - How to achieve: reach a certain threshold of posts in the forums. How many you ask? You'll have to wait and see!
Super-Serious Poster - How to achieve: reach a certain threshold of posts in the forums. How many you ask? You'll have to wait and see!
Slight Obsession - - How to achieve: reach a certain threshold of posts in the forums. How many you ask? You'll have to wait and see!
Taylor Connect Is Life - How to achieve: reach a VERY high threshold of posts in the forums. How many you ask? It will take you a while to get there :)

RE: June 14, 2011 Up close with Taylor

Just so more of you know my personal back story I hardly had any friends when I was still in school (graduated 2001). My parents divorced when I was 16, and my dad's dad passed away June 5, 2005 (he was more like a dad to me). My life has been anything but perfect. I also have hypothyroidism and Asperger's, plus I'm nearsighted (need glasses full time) on top of that. A couple of my step mom's pets I loved died.

Taylor's music makes all of that go away for me when I listen. I do what I can online to support her & attend the nearest possible show (almost 200 miles away even though I live in the state!) when she comes. I sat in the lowers twice on the Fearless tour close to the stage and we would've had floor seats near the small stage last year, but I got an e-mail the day before the show (June 13) saying that we were upgraded to pit and going backstage. I was so happy that I CRIED as I finished reading the e-mail. I know Taylor loves to bake, likes Christmas & pegacorns so I gave her brand new Christmas cookie cutters & a small pegacorn. I think she'll remember me forever!

I posted this to inspire other Swifties with a less than perfect life and give them hope. She tours the world (not just America) so she can get close to as many fans as possible.
Jennifer


TC Founder - Joined the new Taylor Connect during the preview period (Feb 2012 - May 2012)

Attention Grabber - How to achieve: draw attention to your profile!

So Popular - How to achieve: become friends with over 130 other Taylor fans!

Conversationalist - how to achieve: reach a certain threshold of wall posts on your profile from other users. How many you ask? You'll have to wait and see!

Casual Poster - How to achieve: reach the threshold of 13 posts in the forums.
Serious Poster - How to achieve: reach a certain threshold of posts in the forums. How many you ask? You'll have to wait and see!
Super-Serious Poster - How to achieve: reach a certain threshold of posts in the forums. How many you ask? You'll have to wait and see!
Slight Obsession - - How to achieve: reach a certain threshold of posts in the forums. How many you ask? You'll have to wait and see!
Taylor Connect Is Life - How to achieve: reach a VERY high threshold of posts in the forums. How many you ask? It will take you a while to get there :)

RE: June 14, 2011 Up close with Taylor

Thats amazing. Congrats! :)



Graphics made by Ours13.

Avatar mad

TC Founder - Joined the new Taylor Connect during the preview period (Feb 2012 - May 2012)

Attention Grabber - How to achieve: draw attention to your profile!

So Popular - How to achieve: become friends with over 130 other Taylor fans!

Conversationalist - how to achieve: reach a certain threshold of wall posts on your profile from other users. How many you ask? You'll have to wait and see!

Casual Poster - How to achieve: reach the threshold of 13 posts in the forums.
Serious Poster - How to achieve: reach a certain threshold of posts in the forums. How many you ask? You'll have to wait and see!
Super-Serious Poster - How to achieve: reach a certain threshold of posts in the forums. How many you ask? You'll have to wait and see!
Slight Obsession - - How to achieve: reach a certain threshold of posts in the forums. How many you ask? You'll have to wait and see!
Taylor Connect Is Life - How to achieve: reach a VERY high threshold of posts in the forums. How many you ask? It will take you a while to get there :)

RE: June 14, 2011 Up close with Taylor

Love your story!
Swiftie forever!

Thanks FearlesslyEnchanted!

Thanks FearlesslyEnchanted!

TC Founder - Joined the new Taylor Connect during the preview period (Feb 2012 - May 2012)

Attention Grabber - How to achieve: draw attention to your profile!

So Popular - How to achieve: become friends with over 130 other Taylor fans!

Conversationalist - how to achieve: reach a certain threshold of wall posts on your profile from other users. How many you ask? You'll have to wait and see!

Casual Poster - How to achieve: reach the threshold of 13 posts in the forums.
Serious Poster - How to achieve: reach a certain threshold of posts in the forums. How many you ask? You'll have to wait and see!
Super-Serious Poster - How to achieve: reach a certain threshold of posts in the forums. How many you ask? You'll have to wait and see!
Slight Obsession - - How to achieve: reach a certain threshold of posts in the forums. How many you ask? You'll have to wait and see!
Taylor Connect Is Life - How to achieve: reach a VERY high threshold of posts in the forums. How many you ask? It will take you a while to get there :)

RE: June 14, 2011 Up close with Taylor

Awesome story! You are very lucky. :)
______________________________
LoveLoveLove,
-M-



TC Founder - Joined the new Taylor Connect during the preview period (Feb 2012 - May 2012)

Attention Grabber - How to achieve: draw attention to your profile!

So Popular - How to achieve: become friends with over 130 other Taylor fans!

Conversationalist - how to achieve: reach a certain threshold of wall posts on your profile from other users. How many you ask? You'll have to wait and see!

Casual Poster - How to achieve: reach the threshold of 13 posts in the forums.
Serious Poster - How to achieve: reach a certain threshold of posts in the forums. How many you ask? You'll have to wait and see!
Super-Serious Poster - How to achieve: reach a certain threshold of posts in the forums. How many you ask? You'll have to wait and see!
Slight Obsession - - How to achieve: reach a certain threshold of posts in the forums. How many you ask? You'll have to wait and see!
Taylor Connect Is Life - How to achieve: reach a VERY high threshold of posts in the forums. How many you ask? It will take you a while to get there :)

RE: June 14, 2011 Up close with Taylor

June 13 this year my Mom and I will be on a bus trip to a MN Twins home game, so I'll celebrate & watch Speak Now sometime on the 14th (1 yr anniversary) when I'm back, but not at 2 am haha! I'm sending my cat on a local kitty sleepover to a friend who has 2 cats, I'll take him early and see how they react (he's only been the only cat in my apartment). That way I can get some sleep when I get home by 2 am & get him back the next day.
Jennifer


TC Founder - Joined the new Taylor Connect during the preview period (Feb 2012 - May 2012)

Attention Grabber - How to achieve: draw attention to your profile!

So Popular - How to achieve: become friends with over 130 other Taylor fans!

Conversationalist - how to achieve: reach a certain threshold of wall posts on your profile from other users. How many you ask? You'll have to wait and see!

Casual Poster - How to achieve: reach the threshold of 13 posts in the forums.
Serious Poster - How to achieve: reach a certain threshold of posts in the forums. How many you ask? You'll have to wait and see!
Super-Serious Poster - How to achieve: reach a certain threshold of posts in the forums. How many you ask? You'll have to wait and see!
Slight Obsession - - How to achieve: reach a certain threshold of posts in the forums. How many you ask? You'll have to wait and see!
Taylor Connect Is Life - How to achieve: reach a VERY high threshold of posts in the forums. How many you ask? It will take you a while to get there :)

Re: June 14, 2011 Up close with Taylor

That's awesome! SO glad you finally got the chance to meet her!

TC Founder - Joined the new Taylor Connect during the preview period (Feb 2012 - May 2012)

Attention Grabber - How to achieve: draw attention to your profile!

So Popular - How to achieve: become friends with over 130 other Taylor fans!

Conversationalist - how to achieve: reach a certain threshold of wall posts on your profile from other users. How many you ask? You'll have to wait and see!

Casual Poster - How to achieve: reach the threshold of 13 posts in the forums.
Serious Poster - How to achieve: reach a certain threshold of posts in the forums. How many you ask? You'll have to wait and see!
Super-Serious Poster - How to achieve: reach a certain threshold of posts in the forums. How many you ask? You'll have to wait and see!
Slight Obsession - - How to achieve: reach a certain threshold of posts in the forums. How many you ask? You'll have to wait and see!
Taylor Connect Is Life - How to achieve: reach a VERY high threshold of posts in the forums. How many you ask? It will take you a while to get there :)

Re: June 14, 2011 Up close with Taylor

Just to make it clear to the younger fans, the times I hear from Taylor are getting further apart and I never know how it will be, so I can't take messages, pass on info, etc. I can't give out the details she uses to contact me with either. I just took the contact form off my Swift Sorority fan site before it could cause any problems.
Jennifer


TC Founder - Joined the new Taylor Connect during the preview period (Feb 2012 - May 2012)

Attention Grabber - How to achieve: draw attention to your profile!

So Popular - How to achieve: become friends with over 130 other Taylor fans!

Conversationalist - how to achieve: reach a certain threshold of wall posts on your profile from other users. How many you ask? You'll have to wait and see!

Casual Poster - How to achieve: reach the threshold of 13 posts in the forums.
Serious Poster - How to achieve: reach a certain threshold of posts in the forums. How many you ask? You'll have to wait and see!
Super-Serious Poster - How to achieve: reach a certain threshold of posts in the forums. How many you ask? You'll have to wait and see!
Slight Obsession - - How to achieve: reach a certain threshold of posts in the forums. How many you ask? You'll have to wait and see!
Taylor Connect Is Life - How to achieve: reach a VERY high threshold of posts in the forums. How many you ask? It will take you a while to get there :)

Re: June 14, 2011 Up close with Taylor

I can't believe it's almost a year since this all happened to me! When I wasn't sleeping in the car all night (how could I without pillow & blanket) I was thinking about how beautiful she looked backstage & onstage. I looked through the pics on my camera & then when we were an hour from home & stranded with car trouble we went to Wal-mart where I bought a purple frame for my photo with Taylor. Had McDonald's at the break of dawn for breakfast then a Subway pizza. My arm bands were on until I got home, I needed to take them off with scissors to preserve them & added them, the fake snow & new confetti in my book I created online through American Greetings (the Taylor themed one).
Jennifer


TC Founder - Joined the new Taylor Connect during the preview period (Feb 2012 - May 2012)

Attention Grabber - How to achieve: draw attention to your profile!

So Popular - How to achieve: become friends with over 130 other Taylor fans!

Conversationalist - how to achieve: reach a certain threshold of wall posts on your profile from other users. How many you ask? You'll have to wait and see!

Casual Poster - How to achieve: reach the threshold of 13 posts in the forums.
Serious Poster - How to achieve: reach a certain threshold of posts in the forums. How many you ask? You'll have to wait and see!
Super-Serious Poster - How to achieve: reach a certain threshold of posts in the forums. How many you ask? You'll have to wait and see!
Slight Obsession - - How to achieve: reach a certain threshold of posts in the forums. How many you ask? You'll have to wait and see!
Taylor Connect Is Life - How to achieve: reach a VERY high threshold of posts in the forums. How many you ask? It will take you a while to get there :)

Re: June 14, 2011 Up close with Taylor

I love reading all your stories and I'm so happy you got a chance to meet Taylor and experience the pit :)

TC Founder - Joined the new Taylor Connect during the preview period (Feb 2012 - May 2012)

Attention Grabber - How to achieve: draw attention to your profile!

So Popular - How to achieve: become friends with over 130 other Taylor fans!

Conversationalist - how to achieve: reach a certain threshold of wall posts on your profile from other users. How many you ask? You'll have to wait and see!

Casual Poster - How to achieve: reach the threshold of 13 posts in the forums.
Serious Poster - How to achieve: reach a certain threshold of posts in the forums. How many you ask? You'll have to wait and see!
Super-Serious Poster - How to achieve: reach a certain threshold of posts in the forums. How many you ask? You'll have to wait and see!
Slight Obsession - - How to achieve: reach a certain threshold of posts in the forums. How many you ask? You'll have to wait and see!
Taylor Connect Is Life - How to achieve: reach a VERY high threshold of posts in the forums. How many you ask? It will take you a while to get there :)

Re: June 14, 2011 Up close with Taylor

Next time I see her I'll take something for Meredith. My cat is very spoiled himself so gotta share the love with other kitties! We gave some of his toys to my cousin for her kitty.
Jennifer


TC Founder - Joined the new Taylor Connect during the preview period (Feb 2012 - May 2012)

Attention Grabber - How to achieve: draw attention to your profile!

So Popular - How to achieve: become friends with over 130 other Taylor fans!

Conversationalist - how to achieve: reach a certain threshold of wall posts on your profile from other users. How many you ask? You'll have to wait and see!

Casual Poster - How to achieve: reach the threshold of 13 posts in the forums.
Serious Poster - How to achieve: reach a certain threshold of posts in the forums. How many you ask? You'll have to wait and see!
Super-Serious Poster - How to achieve: reach a certain threshold of posts in the forums. How many you ask? You'll have to wait and see!
Slight Obsession - - How to achieve: reach a certain threshold of posts in the forums. How many you ask? You'll have to wait and see!
Taylor Connect Is Life - How to achieve: reach a VERY high threshold of posts in the forums. How many you ask? It will take you a while to get there :)

Re: June 14, 2011 Up close with Taylor

Around this time last year I was turning my tv on and saw a Taylor video, then I got my tour book & poster in the mail. Then best of all I got the e-mail from Jordan about backstage & pit! :)

I'm getting ready to go to the Twins game tonight.
Jennifer


TC Founder - Joined the new Taylor Connect during the preview period (Feb 2012 - May 2012)

Attention Grabber - How to achieve: draw attention to your profile!

So Popular - How to achieve: become friends with over 130 other Taylor fans!

Conversationalist - how to achieve: reach a certain threshold of wall posts on your profile from other users. How many you ask? You'll have to wait and see!

Casual Poster - How to achieve: reach the threshold of 13 posts in the forums.
Serious Poster - How to achieve: reach a certain threshold of posts in the forums. How many you ask? You'll have to wait and see!
Super-Serious Poster - How to achieve: reach a certain threshold of posts in the forums. How many you ask? You'll have to wait and see!
Slight Obsession - - How to achieve: reach a certain threshold of posts in the forums. How many you ask? You'll have to wait and see!
Taylor Connect Is Life - How to achieve: reach a VERY high threshold of posts in the forums. How many you ask? It will take you a while to get there :)

Re: June 14, 2011 Up close with Taylor

I never get tired of reading everyones meet and greet stories!! hope I get the chance to meet taylor someday. I bet you can't believe its almost been a year!! time flies by so fast haha :) xx

TC Founder - Joined the new Taylor Connect during the preview period (Feb 2012 - May 2012)

Attention Grabber - How to achieve: draw attention to your profile!

So Popular - How to achieve: become friends with over 130 other Taylor fans!

Conversationalist - how to achieve: reach a certain threshold of wall posts on your profile from other users. How many you ask? You'll have to wait and see!

Casual Poster - How to achieve: reach the threshold of 13 posts in the forums.
Serious Poster - How to achieve: reach a certain threshold of posts in the forums. How many you ask? You'll have to wait and see!
Super-Serious Poster - How to achieve: reach a certain threshold of posts in the forums. How many you ask? You'll have to wait and see!
Slight Obsession - - How to achieve: reach a certain threshold of posts in the forums. How many you ask? You'll have to wait and see!
Taylor Connect Is Life - How to achieve: reach a VERY high threshold of posts in the forums. How many you ask? It will take you a while to get there :)

Re: June 14, 2011 Up close with Taylor

I never to tired to know how did they meet Taylor and they all have great stories.
I wish to have 1 chance to meet her but that maybe impossible. But anyway I am happy for you
" Always stay Fearless and Speak now"

made by ^^Tanyax Oh