Hey! I'm enchanted to see you here!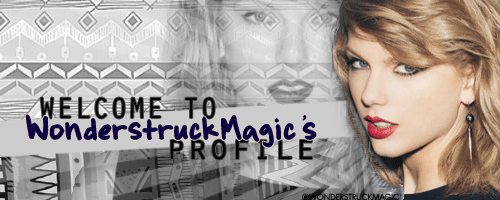 In case you're wondering, I'm WonderstruckMagic, but you can call me FrenchFry (ask Allyouareismean why :D).
I'm just an European Swifty, scorpio in horoscope, and a junior in high school.
And the most important thing about me is that - I LOVE YOU!


Should I say what I like now? Yes?
Well...
Books! Harry Potter. Lord of the Rings (don't you love Legolas?). The Perks of being a Wallflower.
Guitar. My lovely guitar.
Green Day. Linkin Park. Fall Out Boy.
Rain. Hot chocolate. Tumblr. Cats.
I can even make you a graphic if you want. Order it my graphic shop! Yay!

What about you? Tell me! Now! I really want to meet you. And I don't bite.


Don't go away. Or at least take this hug with you. :)


1989 is here! New era! Taylor is taking us back to 80s with her new sick beats. She is not that curly-hair-sweet-country-girl, she is a mega famous superstar. Do you miss the old Taylor? Do you like the new Tay? Or maybe both? What's your favourite song on the album? Have you managed to listen to all of them yet? Ahh, I'm so excited, I even don't know what am I writing!!!