Hi everyone! I'm staybeautiful137, or you can call me Caroline! I am enchanted that you visited my profile!



Here are thirteen facts about me:
1) I'm from Atlanta, GA, but currently live DEEP IN THE HEART OF TEXAS.
2) I attend the University of Texas at Austin, the best school in the world obviously. Hook 'Em Horns!!
3) I love songwriting. I've been doing it since I was a very little girl and randomly sang stuff that rhymed, but seriously since I was 10. It's my life!
4) I'm a Kappa Delta!!!! It's my sorority and it is awesome. GO CONFIDENTLY, GO KD.
5) I love Taylor, duh.
6) I enjoy cupcakes. Very much.
7) Seven is my lucky number!
8) I have seen Taylor twice, Speak Now and RED. I went with my best friend Lauren (sparksfly713), and it was flawless.
9) Country music is the bomb.
10) I've been dating my boyfriend for 5 years now. He's the best and looks good without a shirt.
11) I'm a geology major! And it absolutely rocks.
12) I have NO idea what I want to do with my life. UPDATE: I want to do something in energy and help figure out our looming energy crisis.
13) I love Lilly Pulitzer, taking pictures, going on adventures, the beach, and soap.

When I lived in CT, I was ten minutes away from Newtown. It shook us all up pretty bad. I was driving to church one day and ended up writing this song. I would be honored if you watched it!

http://www.youtube.com/watch?v=TFLMO3U4xpo





My Songwriting Awards!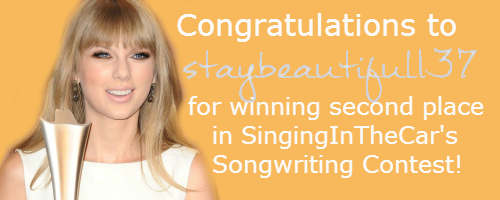 Hey y'all. I wrote this song for Newtown back in December and I'm a 100 views short of 2,000!!!! Mind helping me out? Thank you so so much! Please share! Love, staybeautiful137 Twenty Little Angels: http://www.youtube.com/watch?v=TFLMO3U4xpo