Hey! Im Hannah! Username is still the same from the old TC!! :)My birthday is July 13th:) I relate to Taylor Swift more than anything else honestly. She is my inspiration. No matter how bad of a day I'm having she always makes me smile.I am the "Taylor Swift obsessed girl" at my school. I can't tell you a single person that I know that loves her more than I do.My room when you walk in is basically purple and Taylor themed.You can't look at a single corner and not see something relating to Tay.It's because I love her so much.I became super obsessed during the fearless era but when I went to get tickets it was sold out::( June 18th,2011 was my 1st Taylor Concert.Seeing her for the first time was amazing.She came out and I was so happy.She walked by me in the crowd and waved to me when she was on her mini stage.I couldn't even believe it.I had tickets to see her this year on the Red Tour however I couldn't go so we had to sell my tickets.That was the hardest thing to do because I wanted to go more than anything.A lot of people I knew were going and it just crushed me.I hope Ill get to see her again soon.

The day I meet taylor all my dreams will finally have come true.She means the world to me.I couldn't imagine her not being a part of my life.She is the best honestly.My dream is to be like her someday. Who knows maybe ill get the chance to sing with her or be an opening act.


Well something happened that I never thought would happen....TAYLOR SWIFT NOTICED ME. She commented on my instagram on 4-28-14 and AGAIN on 5-1-14. She said that she hopes to meet me. MEEEEEE!!! Let's just say I bawled.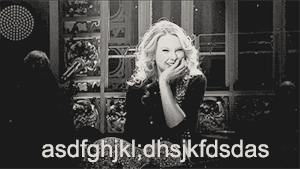 No Items

There is nothing to display yet, check back soon.
Recent Blogs
No Items

There is nothing to display yet, check back soon.