30 Day Taylor Challenge Boiled into 1 Blog Post
DAY 01 THE FIRST TAYLOR SWIFT SONG YOU HEARD: Our Song - it was love at first music note :)

DAY 02 WHEN YOU BECAME A TAYLOR SWIFT FAN: The instant I heard Our Song on the radio, many moons ago!

DAY 03 YOUR FAVORITE TAYLOR SWIFT SONG: Overall: Sparks Fly; Currently: Eyes Open & Bette Davis Eyes cover

DAY 04 YOUR FAVORITE TAYLOR SWIFT MUSIC VIDEO: Probably love story, too precious! :)

DAY 05 NUMBER OF TAYLOR SWIFT CONCERTS YOUVE BEEN TO: five! obsessed much...

DAY 06 YOUR FAVORITE TAYLOR SWIFT PERFORMANCE: probably Mean at the Grammys - love the lyric change in the end.

DAY 07 YOUR FAVORITE TUMBLR PAGE/S OF TAYLOR SWIFT: Not sure I have a favorite, but I have one as well, so maybe my own? I just love compiling photos of that pretty lady! Check it out: http://nicholepacifico.tumblr.com/

DAY 08 THE TAYLOR SWIFT SONG THAT YOU MOST RELATE TO: It used to be The Way I Loved You, but nowadays, probably something more like Never Grow Up

DAY 09 YOUR FAVORITE TAYLOR SWIFT PICTURE: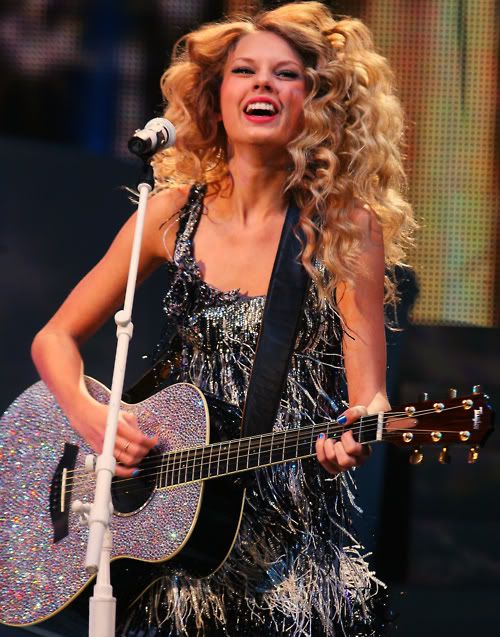 DAY 10 SOMETHING THAT YOU MISS ABOUT TAYLOR SWIFT: Her curls! The bangs are growing on me, but I really miss those gorgeous curls

DAY 11 YOUR FAVORITE TAYLOR SWIFT LYRIC: She's such an amazing songwriter but this is definitely top 5: Youll add my name to your list of traitors who dont understand / And Ill look back and regret how I ignored when they said, Run as fast as you can

DAY 12 YOUR FAVORITE VIDEO OF TAYLOR SWIFT ON YOUTUBE: This is an easy one! The video of Taylor winning the CMA Horizon Award: http://www.youtube.com/watch?v=NdSmZodCQtQ

DAY 13 YOUR FAVORITE TAYLOR SWIFT ALBUM: AH! That's so hard! I can not choose. Potentially the new one coming in October?! I am so excited for it!

DAY 14 HAVE YOU MET TAYLOR SWIFT?: Surely! TWICE!

DAY 15 YOUR LEAST FAVORITE TAYLOR SWIFT SONG: Love them all, but I listen to Best Day the least b/c I cry every single time. I still absolutely love it & it's beautifully written, but because I cry like a baby every time, I usually skip it.

DAY 16 YOUR FAVORITE TAYLOR SWIFT MAGAZINE COVER: Although I do miss the curly hair, I do adore her Vogue cover, I'm in love with the sunhat & her EPIC eyes! I also love the April 2009 Allure cover.

DAY 17 A TAYLOR SWIFT SONG THAT YOU WISH HAD A MUSIC VIDEO: ENCHANTEDDD! I NEED to see her vision of the song. (& Claire Callaway MUST be in it somewhere rockin' out those pointe shoes)

DAY 18 WHO WOULD YOU WANT TO DO A DUET WITH TAYLOR SWIFT: Hmm maybe Dave Matthews or maybe some pretty harmonies with Lady A.

DAY 19 A TAYLOR SWIFT SONG THAT YOU WOULD LOVE TO HEAR LIVE: Something throwback like Mary's Song..

DAY 20 FAVORITE TAYLOR SWIFT QUOTE: It's never been about trying to look well-behaved. It's just how I am. I guess it's a weird thing to be 19 and not ever have been drunk, but for me, it just feels normal because I don't really know any other way. I don't know if I'd be comfortable getting wasted and not knowing what I've said. That doesn't mean when I'm older I won't have a glass of wine. I just don't think it's such a strange thing for me not to be wasted all the time.

DAY 21 SOMETHING TAYLOR SWIFT RELATED THAT YOURE EXCITED ABOUT: NEW ALBUM! NEW ALBUM! NEW ALBUM!

DAY 22 A TAYLOR SWIFT SONG THAT YOU CAN PLAY/WISH TO PLAY ON AN INSTRUMENT: I can play bits & pieces of Our Song & Mean on the violin :)

DAY 23 FIVE THINGS YOU LOVE ABOUT TAYLOR SWIFT: 1) Her awkward quirky personality 2) Her family 3) Her patience and dedication to her fans 4) Her song writing skills 5) Her values

DAY 24 WHICH DO YOU PREFER: TAYLOR SWIFTS BLOG, VLOGS, OR TWEETS: tweets w/ instagrams :)

DAY 25 DO YOU OWN ANY TAYLOR SWIFT MERCHANDISE?: REALLY?! Ok lets see...many bracelets, all CDs, Speak Now live DVD/CD, all tour books, a Fearless tour tee, 3 Speak Now tee's including a long sleeve, picks, the robe, the sliver heart ornament, the love love love stocking, Wonderstruck, the purse, all calendars, laptop skin, stickers, Speak Now blanket, lightstick, various posters, & 8 x 10s...YIKES, SO MANY THINGS!