Hello, it's nice to meet you. My name's Madeleine and my birthday's November 12th. Taylor is my idol. I love her so much. She means everything to me and my biggest dream is to meet her someday. I heard 'Love Story' on the radio one day and fell in love. I know that I will be a Swiftie forever. I'm also a huge hopeless romantic. I became one when I watched Han and Leia share their first kiss on Star Wars. That one kiss was all it took. I'm a romantic who believe there's someone out there for everyone and I also believe it love at first sight. I dream of what it would be like to kiss someone, to be with someone, to feel your heart race when you're around the one you love and hope that feeling you get never ends. When you're with them everything else is a blur and it's like you're the only two people in the world. When you're with that person you feel like you can do anything. You feel like you can touch the stars and every single moment with them is heaven because of the way they make you feel. Every second with them is truly magical. I dream of someone who will write me hand written letters even though they see me almost every day. Someone who would just want to watch the stars in the sky at night and someone who would want to go for romantic walks on the beach whilst the sun sets. Someone who would see some flowers and pick them for me because they would make them think of me. I would love to dance with someone in the pouring rain. To run across a field in the summer holding hands with the one I love. I would love to have picnics under the moonlight and have the most romantic and passionate kiss in the rain. To have them hold me in their arms. I'm always dreaming of what my wedding would be like and I like watching romantic movies like The Vow, Dear John, The Notebook, The Best of Me The Time Travellers' Wife... I'm scared of love though. I'm scared of being with someone and it not being how I've dreamed it to be for so many years. I know that the love I dream of probably doesn't really exist but I will never stop dreaming. I will never stop hoping that it could be that way. On the 7th of March I met 'The Shires' (Crissie and Ben) at Country 2 Country. They're a UK country duo who are just amazing! Crissie has the voice of an angel and Ben is an amazing guitar player with a beautiful voice as well. They are so friendly and just really nice people. I told them how much I loved them and Crissie told me she thought I was cute. I got their autograph and a photo with them and I even got to hug them! I just can't believe I got to meet them. My favourite colour is pink and I love creative writing. My favourite movie is Enchanted (I love Disney. I've lost count of how many times I've seen it). I love dresses, candles, chandeliers, cookie dough flavour ice cream, gazing at stars, sunsets, weddings, unicorns, fairies, and the smell of bonfires. My favourite singer is Taylor Swift but I like some other are well like Faith Hill, Colbie Caillat, Lauren Alaina, Lady Antebellum, Carrie Underwood, The Shires, Lucy Hale, Florida Georgia Line, Cassadee Pope, Raintown, Danielle Bradbury, Martina McBride, Lea Michele, Sara Evans, The Band Perry, Hunter Hayes... (country is my favourite). My favourite television programme is Once Upon a Time and my favourite character is Regina. I also like some others programmes as well like Nashville, The Vampire Diaries, Heartland, Glee, Pretty Little Liars...I'm always daydreaming and I there is a part of me that believes in magic and I wish that I could fly. I love to sing ( I'm not very good at it though) and I get really easily excited. I love reading fanfictions and I love to bake. Christmas is my favourite time of year (it's so magical). I also love hearts, castles, hugs, things that sparkle, hand fans, Wonderstruck Enchanted, grand staircases, fairy tales, rainbows, concerts, and red roses. Thank you for reading this. Never stop dreaming. Never forget those moments that leave you completely wonderstruck and truly enchanted.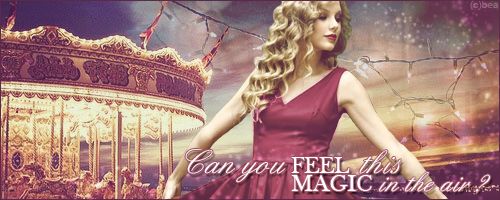 Get your own valid XHTML YouTube embed code
Avatar Credit: Arcilia Graphic Credit: 1. CC 2. bea 3. Tanya 4. Jazzy 5. ColdDecember 7. All Too Treacherous 9. geaserswift 11. Swifticorn 12. Dani_Panzl 13.Istifania 16. Tanya 17. Bree 18. Primafacia 20. Reshmi4Bieber 21. Marie 22. tswiftie18 23. Tanya 24. Gabriella 26. Brooker27 29. Brooker27 30. All I know is a simple name 31. CC 32. VickyThe Swiftie 33. Tanya 34. Reshmi4Bieber 35. Innocent22 36. DancingRoundAllAlone 38. Tanya 39. Gabriella 40. Innocent 22 41. Innocent22 43. Tanya 44. Tanya 46. Swifticorn 47. Innocent22 48. Tanya 49. Tanya 50. 37. Thief In Ripped Up Jeans 38. Tanya 39. Gabriella 40. Innocent 22 41. Innocent22 42. Liz 43. Tanya 44. Tanya 46. Swificorn 47. Innocent22 48. Tanya 49. Tanya 50. Thief In Ripped Up Jeans 51. Brooker27. Reshmi4Bieber 53. Tanya 56. Innocent 22 57. Brooker27 58. All I Know Is A Simple Name 59. Dani_Panzl 60. Tanya 61. Shadows 62. Brooker 27 63. Hayley 64. Brooker27 65. Nia 66. A State Of Newfound Grace 67.Tanya. 68. A State Of Newfound Grace 67. Hayley 68. Brooker27. 69. Celia Jones 70. Kathryn 71. smell of the rain. 72. All I Know Is A Simple Name 73. Istifania 74. Brooker27 75. Mint 76. Tanya 77. Kathryn 79. Maddie 81. Reshmi4Bieber 82. Violet 83. Jazzy 84. Arcelia 85. Jazzy 86. Jazzy 87. shadowsinafadedlight 88. Innocent22 89. ileftmyscarfthere 90. ileftmyscarfthere 91. Swiftiecorn.
Taylor Swift: Tim McGraw Fearless: Love Story Speak Now: Enchanted Red: Starlight 1989: Wildest Dreams