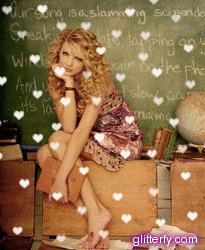 Glitterfy.com - Taylor Swift Glitter Graphics





Hello my fellow Swifties!:)

My name is Maggie and I love Taylor Swift! She is my role model and she always will be!

So here is a little bit about me:
I have a horse named Chip and I love him to death! He is very funny but my best friend too. I also now have a four month old puppy named Tucker. OMG he is hilarious! Anyway my horse is a Quarter horse and my puppy is a German Short Haired Pointer.

Okay now for how I found about Taylor Swift,
So my family and I were watching tv and she came on singing. I asked my dad what she was singing about and he said she was mad at her ex boyfriend. (she was singing "Picture to Burn") That moment I fell in love with her and I've been a fan ever since.
Little more about me:
I do dance, I love to ride horses, and I used to do volleyball but I don't anymore.
I love to write stories (go check out my stories on wattpad I am magz1126) I also love to type lol.
I also love to make new TC friends! So friend me, comment, or PM me!

I have Type 1 Diabetes. Yes it sucks but there is nothing I can do about it. No i didn't eat too much sugar, no I am not overweight or anything like that. But if you have questions you can ask me in PM:)


Go follow my accounts on Instagram @_insulindependent_ @magzzzzzz_1126



thanks and remember to friend me or PM!


xoxoxoxoxoxoxoxoxoxoxoxoxoxxoxoxoxoxoxo-Maggie:)
Alright people of this Swift world, I am really sorry I haven't been on. I have been super busy over the summer and next weekend I am going to camp so I won't be on for a little while. Kik me if you want to its Maggieboo1234. I love you guys and I hope to be on more often!