Hi, I'm swiftie a long time - 5 years now! My name is Vicky and I'm 19.
I'm here often but I don't make anymore graphics shops and other stuffs because I don't come here everyday.
But I like meet new people and if you
add me as friend
I would be so
HAPPY!




Song which has been humming to myself when I am doing something is IKYWT and now also sometimes Shake it OFF




One of my biggest dream is meet Taylor - I know a chance to meet her personal is not big, but I hope that she will come to my country with her tour. Like c'mon OneRepublic will be in November, Lady Gaga was here and even Ed Sheeran is coming to Latvia. So I hope so much that she will come to Latvia. So I'm very very EXCITED about 1989 tour!!!





After the 2014 olympic games I start watching hockey, because I realise it's pretty interesting!




My favorite qoute from Taylor is:




1. Welcome to New York: Everybody here wanted something more,
Searching for a sound we hadn't heard before




2. Blank Space: You're the king baby I'm your queen



Audra

3. Style: You got that long hair, slicked back, white t-shirt.
And I got that good girl fig and a tight little skirt
4. Out of the Woods: Twenty stitches in a hospital room
5. All You Had to Do Was Stay: People like you always want back the love they pushed aside
But people like me are gone forever
When you say goodbye
6. Shake It Off: I go on too many dates
But I can't make them stay
7. I Wish You Would: I miss you too much to be mad anymore
8. Wildest Dreams: He's so tall, and handsome as hell.
He's so bad but he does it so well
9. Bad Blood: You live like that, you live with ghosts
10. How You Get the Girl: Broke your heart, I'll put it back together
11. This Love: This love is glowing in the dark



Carol

12. I Know Places: They are the hunters, we are the foxes and we run.
13. Clean: I screamed so loud but no one heard a thing
-------------------------------------------------------------------------------------------------------
14. Wonderland: Didn't it all seem new and exciting
15. You R in Love: One night he wakes, strange look on his face
Pauses, then says, you're my best friend
And you knew what it was, he is in love
16. New Romantics: I could built a castle out of all the bricks they threw at me.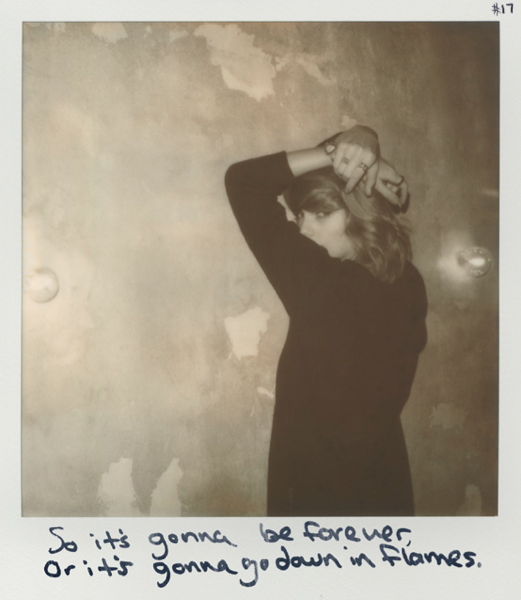 I like a lot of tv shows, I don't have one type but a lot of them are about medicine (Saving Hope, Trauma, Grey's anatomy..)




I think "Primeval" is one of the show who is unrated and it should have more series




In time I found out that I pretty much like a country music (not only Taylor's)




I have two cats and rat




I'm bad at singing but I can dance ; D




I had a official Latvian page, but I had to delete because I didn't have a time to post a news in time, but I like that experience and it was intresting.




My fave color is white




"I have friends around me all the time. I've started painting more. I've been working out a lot. I've started to really take pride in being strong. I love the album I made. I love that I moved to New York. So in terms of being happy, I've never been closer to that." /TS/




Thanks for reading all this! : )





Thanks about graphics to: Nia;Emily; Starburst; ASecretStory; Mint; ShakeItOff; Starburst; justanotherday; Maddie; StarlightKathy

No Items

There is nothing to display yet, check back soon.
Recent Blogs
No Items

There is nothing to display yet, check back soon.