(made by Spirit)
"
You will never be betrayed..."
–––
Kaname Kuran
Welcome!

Hello, I'm Arcelia but my swiftie (friends) call me Alice, I'm 17 yrs old born on December 13 of 97. I live in the United States, I'm the youngest of two older brothers and, whom is always doing requests for one those crazy brothers of mine. :P Anyways, I love reading YA paranormal-romance novels, Twilight saga, Hush, hush saga, TMI (The Mortal Instruments) series, Fallen Series, and, Everneath series. I guess you can say, I'm a nerd for reading books and comics. But that's everyone here, if you're gonna call someone a nerd then you're flat out a nerd as well. Be aware that words do have a meaning as well.
I love listening to different type of music styles, mostly gothic, country, pop and hard rock, along with japan music.
If I'm not making graphics, you can find me reading manga, comics or watching movies... Or last place to find me...
Sleeping with my two beautiful pets.
Unlike girly girls, I'm not much into romance (type). I rather watch a action or horror movie over, a romance movie. I love watching the old classic horror movies, to newer ones.
My favorite Holiday is: Halloween
(tumblr)
* * * * * * *
(made by me)
(made by Sepia)
(made by JayTS)
(made by Jazzy)
(made by Silver)
(made by Smitha)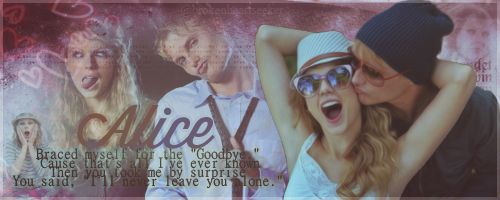 (made by Maria Andrea)
* * * * * * *
I am a big fan of anime, and manga. I love watching em'
because, they're amazing. I started watching more anime shows recently because of one show, that my older brother have shown me, and I fell in love with the show and the game as well. Cardfight!! Vanguard. Cardfight Vanguard, will always be my main favorite because it was the first anime show since I stopped watching, and since then I started watching more anime shows. The second anime show, I watched is SAO (Sword Art Online), then Death Note, now Vampire Knight.
* * * * * * *
This request was given by my brother, whom trust me of always doing it right. But on 5/25/15
I have given this request to not just a friend. But my swiftie sister, who took time to learn and allowed me to teach her from her mistakes... Have proven herself, and by doing that. I gave a request that needed not just my approve but my brother approve.

And doing so, I gave her this request. And she have proved herself, by giving my brother a graphic that made him really happy. Thank you, Jazzy for giving him a graphic that made him smile. Thank you.
––
Arcelia (Alice)
Tumblr
|
Graphic Tumblr
(made by Jazzy)
* Ask before using Examples * Icons Signatures Gif Graphics