I used to be MiserableMagical13 as well as a lot of other things, but that was my very first username.
Hello! Call me Sam =).

I've been a Swifty(with a 'y' not an 'ie') since the pre-Fearless days, right after her debut album came out, and I've loved her ever since. Other than Taylor, I love One Direction, and have been fan since the X-Factor(I voted). I'm obsessed with Harry Potter, and have been reading the series since I was a kid, and am a proud member of the Slytherin house. I like to read, I like to write, I like to drink Starbucks, and I love Disney. Disney is a massive obsession, and as much as I love the new Disney movies, Aladdin will always be my favourite, though Frozen is also a new obsession.

I find it hard to classify myself as one type of girl, and often, my interests conflict with my likes and dislikes. I love hiking and camping, but I hate bugs and dirt, which is a terrible mix. I love going to the shops with my friends, but I also enjoy a quiet day of Netflix. I like just relaxing on the beach, but I love surfing as well. I like to dress in quite "girly" clothing, but I also love sports--horseback riding and football(soccer). I enjoy going on long drives, but I absolutely hate sitting still too long. I don't like being scared, but I love to watch horror movies. I think it would be amazing to be a surgeon, but I'm terrified of blood.

As I've lived in both, I consider both London and California to be home, while they are both very different, regarding the people, places, and atmosphere.

I'm completely obsessed with Wicked and Les Mis, both the book and the musical. It's quite clear that the books are loads more depressing than the musicals, but both are amazing. I was lucky enough to see Aaron Tviet as Fiyero, the original Wicked cast(Idina, Kristin), and Samantha Barks in the 02 for the 25th anniversary of Les Mis.

Current favourite songs:
Hey There Delilah -- Plain White T
Iris -- Goo Goo Dolls
Mary's Song -- Taylor Swift
Wildest Dreams -- Taylor Swift
Just One Yesterday -- Fall Out Boy
See Me Now -- Little Mix
Who Are You -- Fifth Harmony
Fool's Gold -- One Direction
American -- Lana Del Rey
Uma Thurman -- Fall Out Boy
Rainbow Veins -- Owl City
Phoenix -- Fall Out Boy
Robbers -- the 1975
Good Girls -- 5sos
Amnesia -- 5sos
We Know -- Fifth Harmony
Don't Forget Where You Belong -- One Direction
Smooth Criminal -- Michael Jackson
Brought Up That Way -- Taylor Swift[unreleased]
She's Not Afraid -- One Direction
Lonely Lullaby -- Owl City

13 Facts:
1. I love Doctor Who.
2. I actually really love Miley Cyrus.
3. I like to draw. Whether I'm good at it is debatable.
4. I'm obsessed with tea. But I also love Starbucks; I never get cold tea, always hot tea, but I never get hot coffee, always cold coffee. Not sure why. Even if it's snowing outside, if there are no good tea options, I'll get a cold drink.
5. Moving and talking to people in California after living in London my whole life was one of the weirdest experiences ever. Americans and American things are weird, but now that I see it from their perspective--Brits are as well. :)
6. I like horseback riding.
7. I like Fifth Harmony.
8. Fanfiction is definitely a guilty pleasure.
9. I'm a Scorpio.
10. I've always wanted a diary or a journal, however I'm so terrified of it being found I never have had one.
11. Modern Family is an addiction.
12. I can't believe PAINT/Jon Cozart has not been on Ellen yet.
13. For some reason, I always find About Me sections really strange. I always either write too much or too little.

Friend me, PM me, don't be shy =)xx

GIFs...

Javert is me talking about school.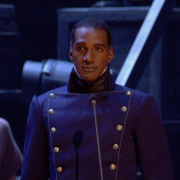 Niall Horan.



Why is this so perfect



I'm sorry Lauren(don't hate me), but Camren is the real otp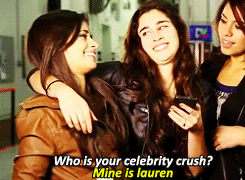 Summary of this gif: intense crying

No Items

There is nothing to display yet, check back soon.
Recent Blogs
No Items

There is nothing to display yet, check back soon.