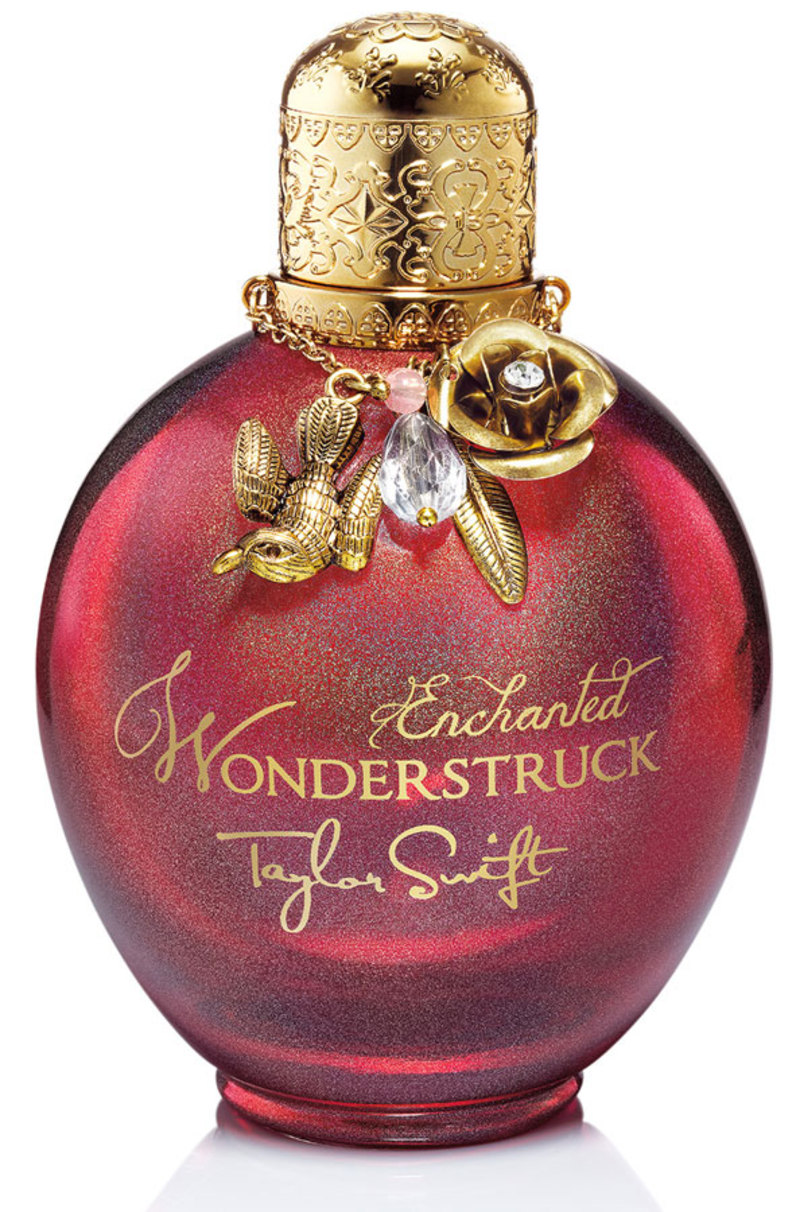 Taylor Swift and Elizabeth Arden introduce Wonderstruck Enchanted
Following the success of Wonderstruck, one of the most influential celebrity fragrance launches of 2011, multi-Grammy Award winning singer/songwriter and beauty icon Taylor Swift introduces Wonderstruck Enchanted. The new fragrance launches in October 2012 at prestige stores nationwide.
THE INSPIRATION
Taylor, herself, is the muse for Wonderstruck Enchanted – forever captivating and always confident. Wonderstruck Enchanted continues the magical journey, from the first spark of connection to that moment when you know you're enchanted.
THE FRAGRANCE
An Oriental Gourmand, Wonderstruck Enchanted introduces a new dimension to the Wonderstruck portfolio, with an irresistible blend of luscious wild berries and sugar-glazed petals, wrapped in a touch of sensuality for a captivating signature. Wonderstruck Enchanted's addictive balance of creamy flowers and sensual woods blends harmoniously and adds an alluring quality to the fragrance.
THE PACKAGING
The bold crimson bottle glows with Wonderstruck's signature iridescent finish. Bejeweled with a cluster of antiqued gold charms hand-selected by Taylor, the bottle takes on a vintage feel.
The charms on the Wonderstruck Enchanted bottle represent natural beauty, things we find in the world that don't have to be anything more than what they are naturally – a bird, a flower, a leaf, a sparking crystal. And on this bottle, all the charms have a more antiqued look to them, which reflects Taylor's personal style.
The carton carries elements of the original Wonderstruck packaging, including the signature gold frame and embossed 13. Its rich red color palette, adorned with gold swirls and gilded script, reflects Taylor's unique style.
"Wonderstruck Enchanted is the next chapter in the story of my Wonderstruck fragrance. Wonderstruck is about that moment when you instantly feel a connection to someone, but then there's that feeling of being completely enamored – enchanted -- when you know a little more about that someone and still feel that strong connection."
- Taylor Swift
Featuring never before seen, behind-the-scenes and live footage from The 1989 World Tour , the 'New Romantics' music video is a love letter to Taylor's fans and a celebration of the 1989 era.

BMI will present Taylor Swift with an award bearing her name in recognition of her incomparable creative and artistic talent and influence on music lovers...

She takes home 5 awards including Album of the Year!